Texas Teen Volunteers at Library, Putting Smiles on Kids' Faces One Book at a Time
Meet Daily Point of Light Award honoree Heather Alegria. Read her story and nominate an outstanding volunteer or family as a Daily Point of Light.
17-year-old Heather Alegria of Dallas, Texas is one busy teen. When she isn't in class as a senior in high school, she's either running with her cross country and track team, participating in her school's biomedical program, or working a part-time hosting job at a restaurant.
But twice a week, she finds a bit of peace and quiet while volunteering at Valley Ranch Library. What started as a National Honor Society (NHS) requirement has turned into more of a hobby for Heather as she enjoys conversing with the librarians and seeing children's faces light up when she rolls in a new cart of books.
Balancing such a busy schedule isn't easy, but Heather makes it work because she understands that books play such an important role in children's lives.
Describe your volunteer role at Valley Ranch Library.
I first started for NHS. I needed to get 12 community service hours. When I got there for my first day, they told me that I was going to reach it fairly quickly because I'm there for 2 hours twice a week and I needed 12. So they asked me if I'd be willing to stay with them for a while and I said yes. Once I had gotten to the 12 hours, I continued to stay and I started to really like it. I made connections with the people that were there, with some of the other librarians. It's just a different outlet for me.
When I get there, I'll clean up the library and make sure the shelves are clean and in order. I'll pick up any straggling books. Once I'm done with that, I'll put them on carts to be shelved and order them alphabetically or in Dewey decimal order. People will return books and I'm the person that has to put them on carts and get them checked in and everything.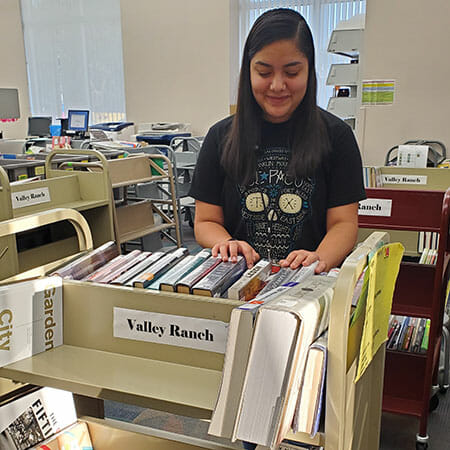 What other responsibilities do you have outside of volunteering?
I am in cross country and track. Besides from NHS, I am in choir and a biomedical program at my school. I have a hosting job at a restaurant where I work about 20-21 hours a week. I usually stay up late or I do my homework during school to make it all work together.
What do you do with the money you make while working at the restaurant?
I'm saving it towards college, getting a new car, and if need be, I give some of it to my parents. My family, we all work, and we all like contributing towards the family, trying to keep ourselves up there.
Why do you like volunteering at the library?
I like the people. At first, I thought it was a little too quiet for me, but as time went on and I started talking to more people, I grew a friendship with one of the other librarians. It's kind of fun. I find new books that I can read and I love seeing the kids being so happy when they see new books being put out. A lot of the kids run up, try to get stuff off my cart or ask me if I know where certain books are. I've been asked a couple times for book recommendations.
What books do you typically recommend? What's your favorite book?
One of my favorite books is "Simon vs. the Homo Sapiens Agenda." That's usually a Young Adult kind of book. For little kids I always recommend "Pinkalicious." I used to like it growing up. And "Diary of a Wimpy Kid."
Why do you think books are important to a child's growth?
Books really build up a lot of imagination. Seeing how other people think and building on this platform of new things to learn. A lot of the books I read when I was little had a big influence on me. My grandma used to read to me a lot. She had a day care and I would be there and she would read to us every day. When I was there older, I would read to the kids and they really enjoyed it.
What inspires you to volunteer?
I just like being there. It makes me feel like I'm doing something important. There's some days where I'm like "Oh man, I'm so tired," but I genuinely like going.
What's been the most rewarding part of your service?
When everything's calm after we finish a big rush in the library. It's kind of that relaxing accomplishment that we were able to catch up with everything. And also seeing kids happy when I bring books out.
Why is it important to volunteer?
It's just giving back to the community. You're part of it and you should do your part to make the community a better place to keep it running. Also, it's just a reason to get out of the house. I know if I wasn't doing it I would just be inside all day in my house doing nothing.
What do you want people to learn from your story?
It's never that you don't have time to volunteer. Even though I do a lot — I go to school, I do sports, I have an actual job — I still make the time to volunteer.
Do you want to make a difference like Heather? Find local volunteer opportunities.
Share this post