High School Junior Bridges Digital Divide During Pandemic and Beyond
Meet Daily Point of Light Award honoree Ankita Sundar. Read her story and nominate an outstanding volunteer or family as a Daily Point of Light.  
The COVID-19 pandemic took the world by storm in 2020, especially the world of education. Instead of remaining discouraged while learning virtually, Ankita Sundar set out to provide quality education and gender equality for girls around the world.  
The current high school junior co-founded the nonprofit Digital Educate and bridges the digital divide through free programming and leadership classes to youth. Her programming has reached over 300 students and multiple countries throughout the pandemic and her podcast connects women changemakers to young aspiring leaders.  
Describe Digital Educate and why you co-founded the organization.
When I was in middle school, I spent time volunteering at a community nonprofit that focused on bringing educational resources to low-income families. I tutored a young elementary-school girl, and I was shocked to hear that her family couldn't access certain technology resources at home since they didn't have the internet. I really noticed the digital divide. That realization led me to co-found Digital Educate, a nonprofit organization that provides access to education and digital media to underprivileged youth.  
One of its main missions is to close the gender gap and gender disparities throughout the STEM (Science, Technology, Education, and Mathematics) field by encouraging girls to participate in more leadership activities.  
As I became more involved in Digital Educate, I decided to also teach computer programming classes and leadership workshops to students in elementary and middle school — which was needed especially during the COVID-19 pandemic. I taught free virtual classes to over 350 students and wrote accessible blog content so more people could have mentorship resources.  
How did Digital Educate help fill the education divide during the COVID-19 pandemic? 
Since the pandemic started, it's created a drastic impact on the world in terms of access to resources and education. But it really enabled us to prioritize education and the use of digital media to help students stay more engaged with learning and with school in general.  
Everything shifted online, so I began to teach Python and Scratch programming to students worldwide. I also hosted a free virtual programming contest for middle school girls around the world and we had over 80 girls participate. We had several speakers and partnerships with local libraries and technology startups. Girls said they really felt a sense of belonging and identity. I was grateful to be able to reach out to different people and organizations to help me support this journey.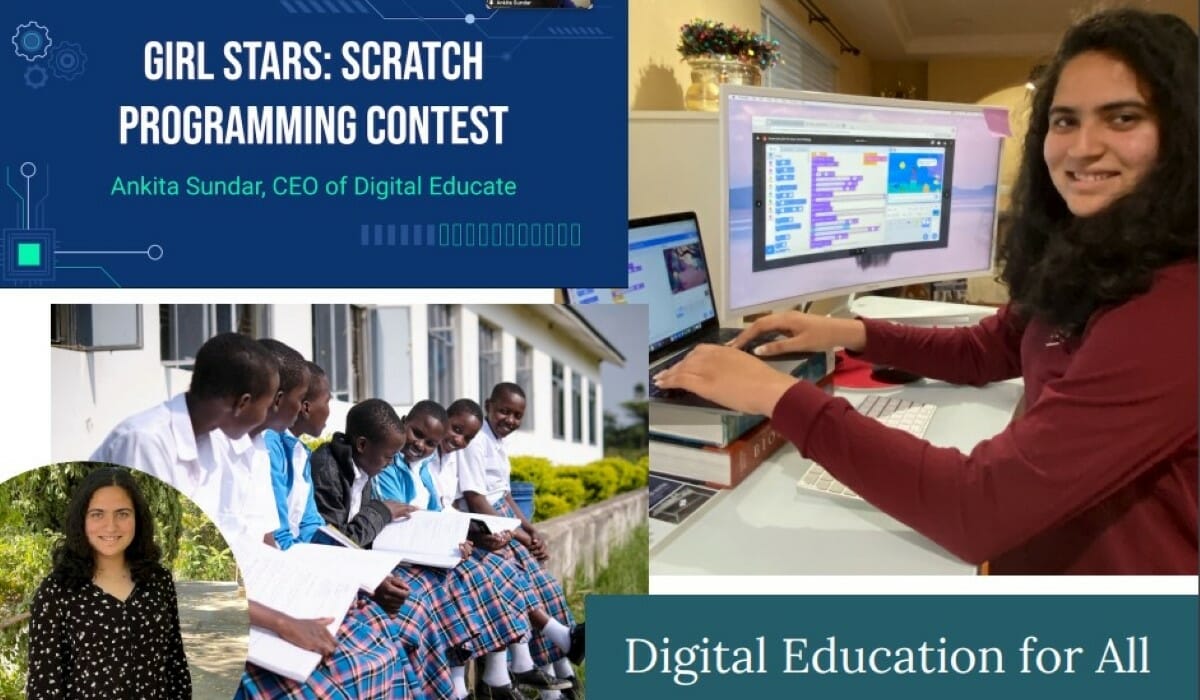 How has Digital Educate grown?
We've taught more online classes virtually and the pandemic emphasized that education is super important for youth worldwide since they are the next generation. We've also grown our partnerships with teachers around the world and with local libraries so students can participate in our resources. Overall, teaching and mentoring these students has been a really great experience. I'm really grateful to have this opportunity to create a more welcoming environment for these students to learn amidst the pandemic.  
I'm also the host and founder of the podcast Power2LeadHER, which is all about promoting girls and women in high school and college who don't have access to women leaders on a daily basis. Listeners can find mentorship throughout their career journeys, the lack of which is usually is a major problem — especially with this generation of students. We connect women changemakers to aspiring young women leaders in high school and college. I interview leaders mostly about technology, healthcare, journalism, and art among other things. Listeners can hear about their career journeys and hear advice. It's all about building an inclusive community that really allows young women access to opportunity.  
What inspires you to volunteer?
The joy and heartwarming effect that I get after helping someone in my community is so motivational and inspirational. During virtual classes, the students are always so proactive and excited to join with their cameras on and really big smiles on their faces. Their vibrant energy really just radiates throughout the Zoom screen. And even though it's a virtual setting, it's definitely something that makes me want to continue volunteering and the experience is truly humbling and rewarding. 
What have you learned through your experience as a volunteer?
Giving back to my community and helping one another is one of the most important lessons I've learned in my life so far. I really learned that volunteering is a two-way street. So, if you provide people with the opportunity to share what they're capable of doing, you're making a difference in society — whether it may be big or small. 
Why is it important for others to give back, especially students? 
The importance of giving back is unmatched because it provides you with a sense of belonging and purpose in your community. By helping one another out, you are creating an environment where everyone has equal access and equal opportunities to learn, to grow and to lead. That brings communities closer together and ultimately creates a more inclusive community worldwide. 
Are there any partnerships, programs, or events that you are excited about?
Recently, we've partnered with the Girls Education Collaborative, a nonprofit organization that provides access to education for girls in Tanzania. We're hosting a fundraiser to help these girls in Tanzania continue their high school education and I'm really excited about this partnership and our support in enriching these girls with a strong and foundational education. 
Do you want to make a difference in your community like Ankita? Find local volunteer opportunities. 
Share this post