High School Senior Takes on Gender Inequality by Empowering Girls to Pursue Underrepresented Fields
Meet Daily Point of Light Award honoree Sahana Ahuja. Read her story and nominate an outstanding volunteer or family as a Daily Point of Light.
Marian Wright Edelman, Founder and President of the Children's Defense Fund once said, "It's hard to be what you can't see," in regards to the lack of female role models in computer science. Sahana Ahuja, now a senior in high school, was just 13 when she was inspired to show young women some of the many things they can be. When she founded The Launch Project in 2019, Sahana decided to build critical skills and equitable opportunities in the underrepresented areas of business, politics and STEM for girls. Her goal is to address gender gaps for women by empowering, educating and developing girls – particularly those in middle school, high school and college – to become tomorrow's leaders, changemakers and entrepreneurs. And she's off to a great start.
With 65 chapters worldwide and thousands of members, people are taking note of The Launch Project. The organization has been covered in the press, and Sahana has been a featured guest on the Wharton School of the University of Pennsylvania's podcast. One of the organization's crowning achievements was the soon-to-be annual Female Empowerment Summit held at the US Patent and Trademark Organization (USPTO) offices in Alexandria, Virginia. Over 200 girls and women of all ages attended in-person and many more virtually. There were speakers and sponsors from government agencies, small businesses and Fortune 500 companies.
Sahana seeks out many leadership roles and currently serves as the head of day students at her boarding school, one of the two highest student government positions.  She also co-led a team with her younger sister and vice-president of The Launch Project, Ariana, that raised nearly $100,000 for the Leukemia and Lymphoma Society and gave a TED talk last fall about gender equality. As she prepares for her college career, she plans to study business and bring more chapters of The Launch Project to campuses everywhere.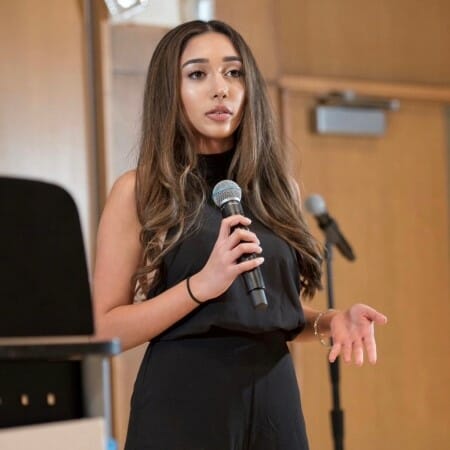 What inspires you to volunteer?
Volunteering allows me to contribute to causes that I'm really passionate about, and I love making a positive impact on society. Witnessing the transformative power of volunteering and the difference it can make in people's lives is truly inspiring. And I love having a personal connection with like-minded individuals, and forming a community dedicated to a shared purpose. 
What led you to start The Launch Project?
I decided to start The Launch Project because of two transformative experiences. The first was when I was very young. I encountered a girl abroad who had to work in a rock mine while her brother was able to go to school. It really highlighted the harsh realities of gender inequality. 
The second was attending a Girls in Leadership Conference when I was 13 years old. It helped me realize the transformative power of bringing together successful female leaders as role models and mentors for teenagers. Speakers were really open to sharing their stories, and it emphasized the idea that you can be what you can see, because they were women in such powerful positions. So, I combined my passion for mentorship, education and gender equality. And these became the driving force of the organization. 
Describe your volunteer role with The Launch Project.
I'm the founder and president, so my role entails overall strategic planning, organizational management, and overseeing the implementation of programs and initiatives. I do everything from social media to executing and organizing all of our events. And I work closely with the chapter presidents and volunteers to provide guidance, support, resources and templates for everything they need. We focus on developing leadership, financial literacy, networking skills and more, and building organizational networks that include girls from underserved communities. 
I train all chapter presidents and meet with the national leaders regularly. I'm always happy to do anything the organization needs, because I really enjoy the work. I'm also able to collaborate with our partners and speakers to create opportunities. This has led me to develop some mentors in the process, which has been incredible. 
What was your biggest challenge along the way?
One challenge was in planning the Female Empowerment Summit. The night before, my sister and I were getting everything together, and we had two speakers cancel around midnight. The summit was early in the next morning, so being able to adapt and pivot quickly has been a really important skill. And, also, not letting small things throw us off our game. We were able to adjust the schedule, and it ended up being amazing.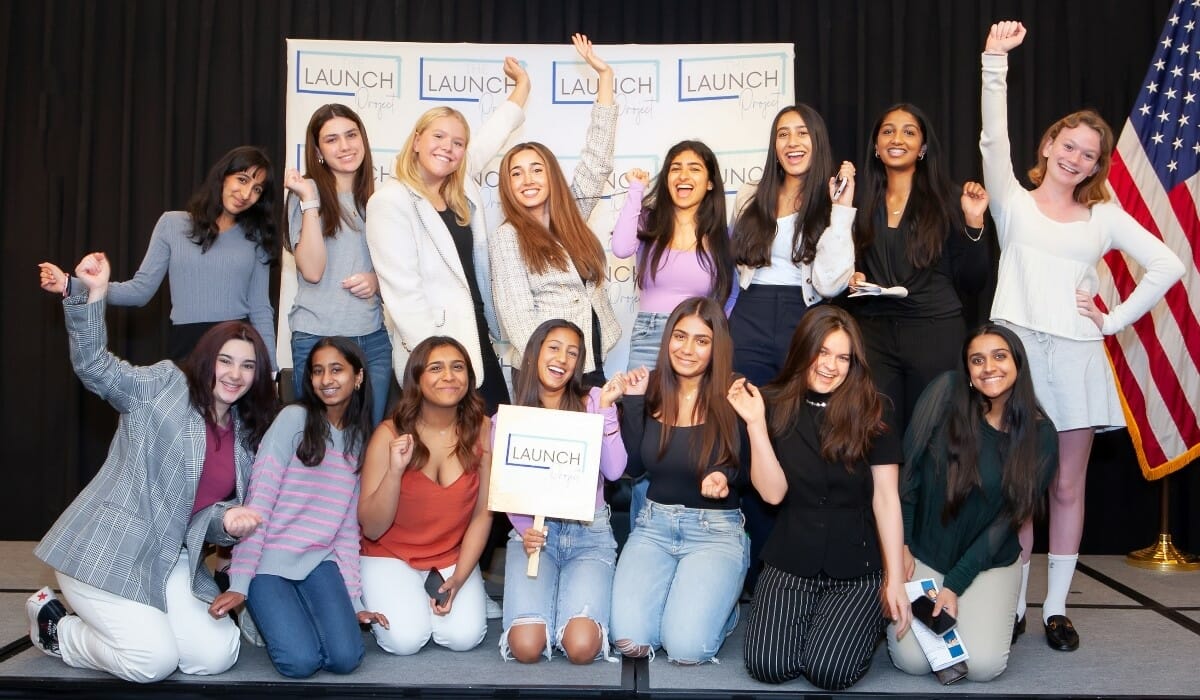 What's been the most rewarding part of your work?
The most rewarding part has been witnessing the impact that we've had on the lives of young girls. After all the events, girls have come up to me saying that it's helped them gain confidence and build skills. Some have actually said that it helped them start their businesses. It's incredible to see them gain confidence and pursue their dreams. 
The connections and relationships that I've formed have enriched my life and continue to inspire me. I find immense fulfillment in working towards creating a more inclusive and equitable society for everyone. It extends beyond just gender-related issues and encompasses supporting marginalized communities as a whole and so much more. 
What have you learned through your experiences as a volunteer?
I've learned the power of perseverance and determination. Being able to build and grow an organization like The Launch Project requires a lot of dedication and adaptability. I've also learned the importance of collaboration and bringing together individuals with diverse backgrounds and skill sets. It leads to innovative solutions and a greater impact, and it brings different perspectives to the table. Change starts with small steps and believing in the mission. 
Are there any future partnerships, programs, or events that you are excited about?
I'm definitely looking forward to this year's Summit. But I'm also excited about our partnership with the Shatter Fund. Through this and University of Maryland Smith School of Business, we'll be providing a free six-week, online entrepreneurship program for high school girls. Our vision is to democratize education for every girl irrespective of socioeconomic background. The first cohort will be starting this fall. 
The founder of the Shatter Fund, Shelley Kapoor Collins, has been an incredible mentor. I'm really grateful for her help growing the organization. 
Why is it important for others to get involved in causes they care about?
Change starts with you. Getting involved in causes that one cares provides an opportunity to use your skills and passions to address pressing issues. Not only does it benefit others, but it leads to personal growth and a sense of fulfillment. 
What do you want people to learn from your story?
Action and pursuing your passions is important. Small steps lead to significant impact, and everyone has the ability to make a difference. I hope to inspire others to believe in themselves and embrace change. I want people to recognize the importance of empowering and supporting the next generation and the potential that they hold to shape the future. 
Do you want to make a difference in your community like Sahana? Find local volunteer opportunities. 
Share this post