High School Senior Teams Up with Community Businesses to Ease Food Insecurity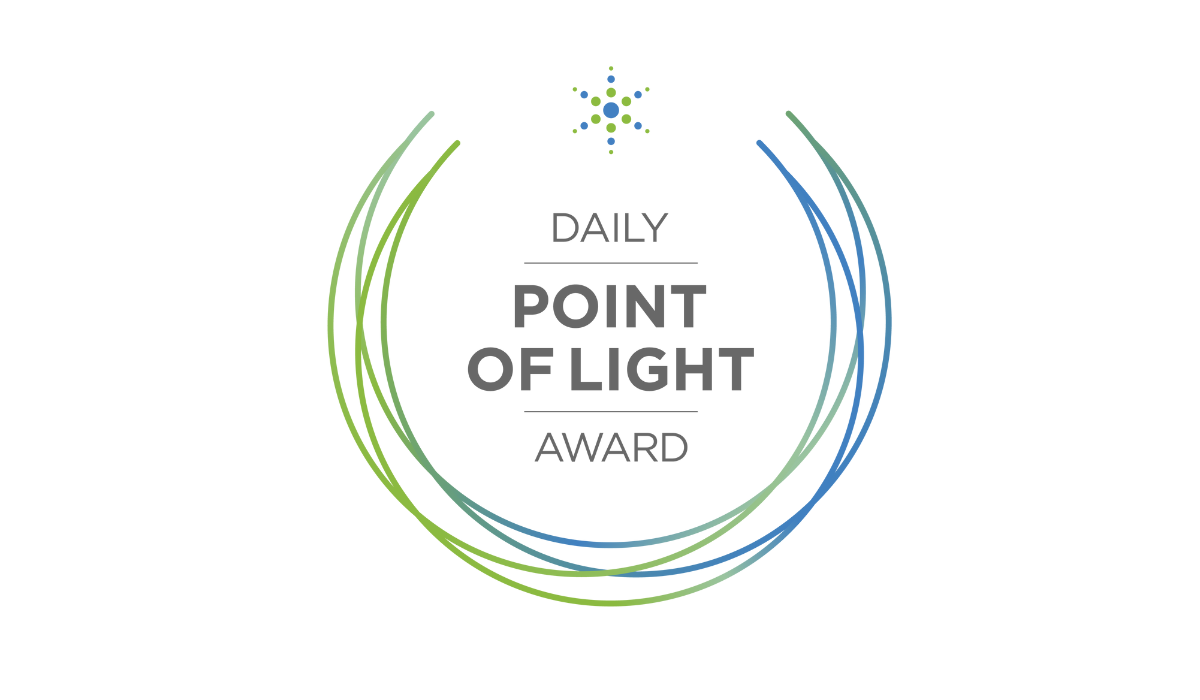 Meet Daily Point of Light Award honoree Adler Xu. Read his story and nominate an outstanding volunteer or family as a Daily Point of Light.
Adler Xu, 17, loves outer space. The 2014 film Interstellar captivated his imagination, and working with museums and observatories has only solidified his intent on a future in aerospace engineering after graduation. With many science competitions under his belt, he's well on his way. It should come as no surprise that his reading habits align with his passion, and he notes Andy Weir's The Martian as one of his favorite works of science fiction.
Adler also loves his community. As secretary of The Food Lounge, both the Dallas chapter and the national organization, Adler collects donated food and necessities from restaurants and grocery stores, and packs and distributes it to those in need as well as assisting at local food banks, churches and other nonprofits. He manages 700 members from chapters across the country, keeps detailed membership records and ensures things run smoothly. The organization has served nearly 400,000 individuals so far.
During the summer, Adler spends 20 hours a week volunteering but has stepped back to 5-10 hours while he applies to colleges and goes to classes. His future may be out of this world, but his free time focus is firmly on Earth. Leaning toward colleges in Austin or Houston, both cities with chapters of The Food Lounge, he plans to continue to be involved.
What inspires you to volunteer?
I've always volunteered, but I think one of the turning points for me was volunteering for my school district's back-to-school event. A lot of people came together to help out underserved people in my area. I witnessed a lot of families who were really reliant on these resources we gave them — food, clothing, school supplies — and seeing their faces and hearing their stories struck a chord within me.
I want to restore long-standing community and dignity within my community by offering a path that makes a lasting impact, not just temporary. I want to make sure that children and adults alike have the necessary resources to succeed in their lives.
Tell us about your volunteer role with The Food Lounge.
I'm secretary of The Food Lounge. I make sure we're running properly by managing fundraisers and keeping detailed membership and partnership records. I've teamed up with local businesses to get donations. I'll lead in-person events that bring our mission to life. I put on food distribution events to ensure people get healthy meals and pitch in at nearby food banks. We've also helped to pack food for people around the world with Feed My Starving Children. These hands-on events help our group to connect with the community and the people we serve.
Nationally, I make sure every chapter is running smoothly. I designate roles and make sure volunteer records are done correctly so I can put them all into one database. I also handle new memberships and partnerships that we have with restaurants around the country.
Members got together for the recent cookbook project, designed recipes and made a cookbook that we sold at an event to raise funds. We cooked the food ourselves and sold it alongside the cookbooks. One of my main roles on that project was assembling the cookbook, getting people to make the recipes and general oversight. I made my own recipes, too. I don't get to cook very much, but when I do it's like chemistry.
What are your long-term plans or goals for the organization?
Right now, we're up to around 13 chapters in the United States. We're working to eventually grow that to 20 to 30. We also want to grow the chapter in our own community through new partnerships and increased membership.
What's been the most rewarding part of your work?
It's seeing the joy on people's faces. Not only are you helping them, but you're creating a community that they can rely on. One moment that was really impactful for me was while helping families get groceries and food at an event we hosted with our school district. I started to help a woman who was struggling with her things take food back to her car. She said, "You have no idea how much this means to me." I couldn't help but smile.
What have you learned through your experiences as a volunteer?
I've learned how building a community works. I've really started valuing collaboration with my team and our members. I've learned that perseverance in daily life is really important as well. We've had a lot of challenges getting organizations on board, but it's all been worth it.
Tell us about future partnerships, programs or events that you are excited about.
Before Thanksgiving and Christmas, we've been trying to reach out more and help our local children's hospital get food and toys. That's something we do every year, so I'm pretty excited about it. It's one thing to see adults happy, but kids smiling is my favorite thing.
Why is it important for others to get involved with causes they care about?
I'm in an AP U.S. Government class right now, and we've been learning about the importance of stepping up and popular sovereignty, taking an active role in democracy. In the context of our organization, it's about getting involved in causes you care about. That's kind of the goal of America, what I think America does best. If you really want to make a difference in the community, you have to care about what you want to do.
Any advice for people who want to start volunteering?
Resolving food insecurity starts with just reaching out to restaurants and grocery stores. People think it'll be hard, that they might have to spend a lot of money on buying food or getting a lot of people to help pack it. But once they actually start reaching out, they'll realize that businesses want to help. There are people everywhere who want to make a difference in their communities. Finding those people is the hard part, but after you do, it just snowballs from there. Apply to create a new chapter. We'll help you take steps from there.
What do you want people to learn from your story?
I hope my story inspires others to take leadership roles in their own communities. It's the passion and commitment behind it that makes a difference. And fostering people. Community is driven by love and energy.
Do you want to make a difference in your community like Adler? Find local volunteer opportunities.
Share this post