AmeriCorps Leader Builds Next Generation of Environmental Leaders in Hometown of Winston-Salem
Meet Daily Point of Light Award honoree Christopher Perdomo. Read his story, and nominate an outstanding volunteer or family as a Daily Point of Light.
After working as a (VISTA) volunteer from August 2022 to August 2023, 24-year-old Christopher Perdomo returned to his hometown of Winston-Salem, N.C., to join the Piedmont Environmental Alliance (PEA), an AmeriCorps program focused on educating students around how to create a more environmentally sustainable world. Perdomo always tries to incorporate his community in every environmental program he does. So far, he has helped engage thousands of students in Winston-Salem/Forsyth County's Title 1 Schools, including 11 high schools and nine middle schools.
After finishing college, Perdomo was working in a job that didn't have much to do with his major, environmental science. He wanted to use his degree to do something meaningful and was looking to find a way to not only grow his education in environmental science into a career, but also contribute to his community in a meaningful way. AmeriCorps, a federal program that brings people together to tackle the country's most pressing challenges through national service and volunteering, became the perfect opportunity for Perdomo, who was living in New York City at the time.
"I was looking for a way to go back to Winston Salem and do something for the community in a meaningful way," Perdomo said. "I grew up here. I went to middle school and high school here. So, it's like I grew up alongside kids like this, and it just feels so much more meaningful."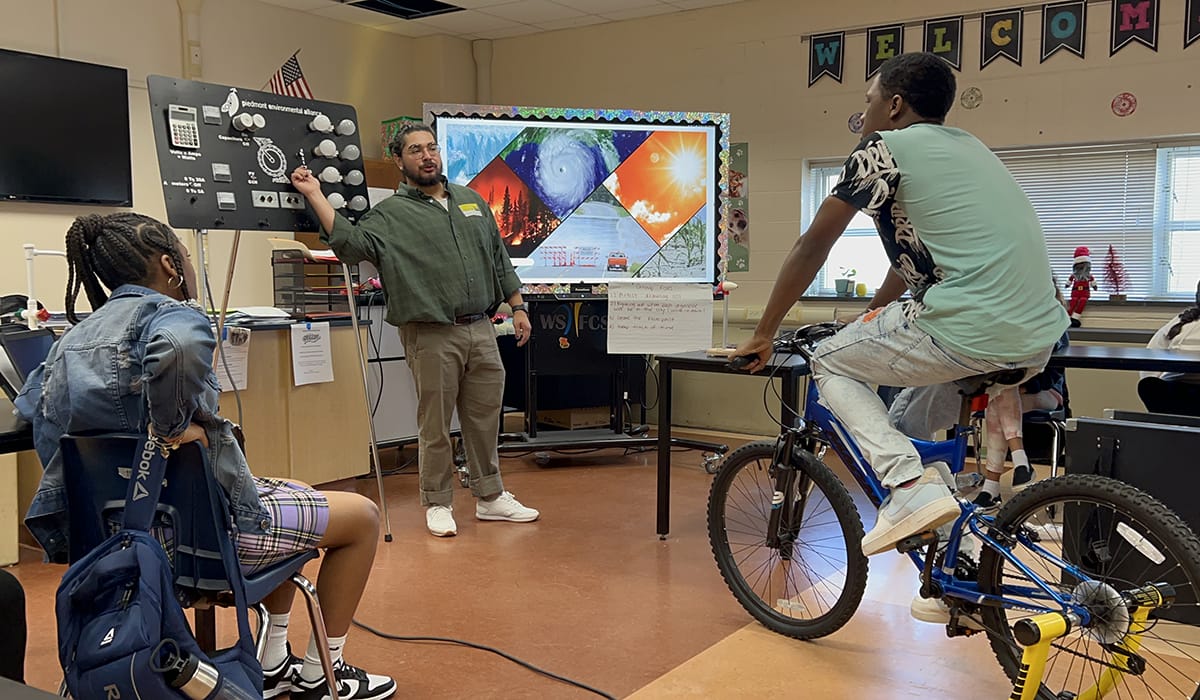 Perdomo works with the director of science curriculum for the county and tries to get into as many science classes in the district as he can. He brings vital topics into underserved classrooms and creates the environmental leaders of the future. He's also been instrumental in the growth of PEA's Environmental Debate Tournament, which recruits and trains students from 15 high schools to participate in a debate tournament on environmental issues. Building on this success, Christopher, along with a volunteer team that he has recruited and trained, will soon be presenting their Energy Explorers curriculum to more than 3,000 students attending 7th grade.
Depending on the day, Perdomo can be found either at an office or high school or middle school classroom in the district. When he's at school, he's teaching hands-on lessons in classrooms filled with environmental science activities. For about six months out of the year, he's in and out of classrooms doing the supplemental environmental education programs — especially programs focused on energy conservation and water quality education — that he supplies to the various schools, specifically to seventh graders.
One of Perdomo's favorite activities he does with his students involves a bike, light bulbs and a board. The kids get the opportunity to see the bike pedal light the light bulbs and learn how much actual work goes into lighting bulbs, helping them learn about wattage and energy. He also hosts an annual environmental science debate tournament for high schoolers in which Perdomo helps train students in public forum debates and preliminary research.
He'd like to see more community members get involved in environmental education and believes that there are many qualified people to teach about water conservation in Forsyth County. He knows that even when kids and students don't want to pursue a career in environmental science, the moments where he's engaging with them with his own passion are meaningful and can help them discover their own dream job.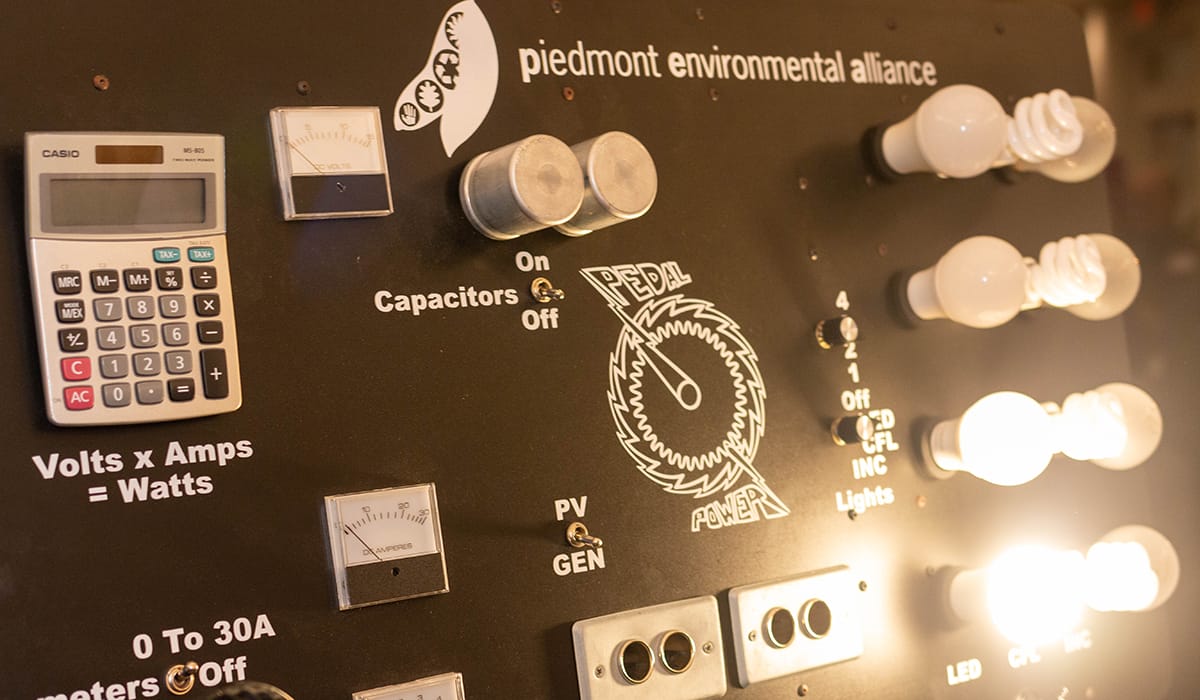 "I don't have a background in education, so for me to go into the classroom, especially during that first AmeriCorps year, was something new for me and something I had to learn and grow in. It was so rewarding, and one of my 7th graders came up to me and told me he wished I were his teacher."
Perdomo says that programs like PEA help with teacher turnover and burnout, and that working in environmental science education has taught him true kindness and how to spread that kindness to others around him.
Perdomo is looking forward to an upcoming partnership with the City of Winston Salem where students and the community will come together in celebration of local bodies of water in the form of a "creek crawl," where participants can stop and learn about natural water sources in the area.
"The people that do the best work are the people that are the most passionate about their work. If you care about something, you should put yourself in a position to do it," Perdomo said.
Do you want to make a difference in your community like Christopher? Find local volunteer opportunities.
Share this post