Texas Teen Leads Nonprofit to Support Unsheltered Individuals in His Community
Meet Daily Point of Light Award honoree Ishaan Cheng Patel. Read his story, and nominate an outstanding volunteer or family as a Daily Point of Light.
After growing up volunteering with his family in the Dallas-Fort Worth area, 16-year-old Ishaan Cheng Patel co-founded his own nonprofit, Under My Umbrella, to continue serving the unhoused community and beyond. Ishaan helps coordinate weekly food distributions and deliver supplies directly to people experiencing homelessness. With support from local businesses and individual donations, his family has become the go-to distribution site for Ishaan's neighbors and community.Under My Umbrella has a multitude of programs tailored to meet the various needs of the community, including neighbor outreach, holiday giving, a rainy-day fund, youth camps, an upcoming basketball camp and more.
What inspires you to volunteer?
Volunteering is just something that we've always done as a family. We volunteered around our community before Under My Umbrella was ever officially a nonprofit, so it became a habit. I volunteered for around nine years. One of the places was at a shelter, and my friend and I began wondering how the children who live in that shelter have decorations for Christmas and the holidays. They didn't have much space, and they didn't have a Christmas tree, so we had the idea to give them miniature trees and let them decorate them.
It took us a while to officially become a nonprofit because my mom works full time, and she was looking into outreach that fit all of our schedules and that she could take us to. Eventually she decided that we don't really have to follow a schedule, we could just do it ourselves on our own schedule. We also tried to build Under My Umbrella in a way that students can get service hours while volunteering.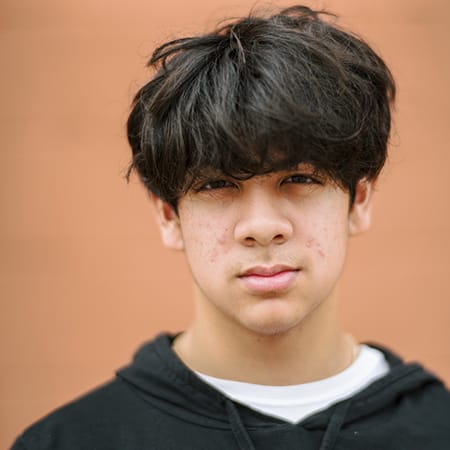 Tell us about your volunteer role with Under My Umbrella.
We have different programs that occur during different times of the year. We do the holiday program with the Christmas trees, decorations and gifts every December. We also have a neighbor outreach program that we do every week where we give out hot meals, bottles of water and coffee. We go to downtown Dallas for this and serve around 50 to 130 people each week. We have a third outreach that's called the rainy-day program. It kind of fills in the gap by providing families with the little things they're lacking, like school supplies or a bus pass.
We're working on starting a new program that will be our new youth academy where we can host different camps and activities for kids. We also hosted our first basketball camp in June of this year, and we want to start doing that every couple of months. We're just trying to reach out to people of all ages who need a little extra help or don't have access to opportunities.
What's been the most rewarding part of your work?
Going out and meeting people and seeing people's reactions to our programs. It's nice to know that you can always help someone.
What have you learned through your experiences as a volunteer?
I've learned that it's really important to bring the community together and help, because when we're together, we have such a bigger impact in serving our neighbors.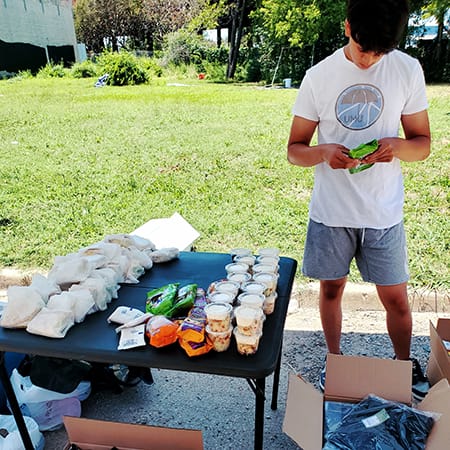 Any advice for people who want to start volunteering?
Just get started — that's the most important thing. We started small by helping people in our community as a family. We grew and built a small nonprofit where we continue to build up adults and build tailored programs to their needs. The important thing really is to just dive in and begin because once you do that, you can develop a schedule and make volunteering a habit like brushing your teeth. It's not work to us, it's just something that we do.
What do you want people to learn from your story?
I want them to learn that they can help. It's important to learn that we're not special — we're just ordinary people. We also rely on our community to help us out because it's a grassroots effort.
We also try to push mindful giving because we don't have the capacity to sort through so many donations or clean and store things. We try to upcycle and be mindful about decreasing our carbon footprint with Under My Umbrella — we're as eco-friendly as we can, such as by using compostable containers for food.
Tell us about future partnerships, programs or events that you are excited about.
We have another basketball camp coming up this fall. Right now, we have a program where we're doing care packages, and anyone can take these packages and give them out to people who need them.
Why is it important for others to get involved with causes they care about?
Because it's really important to have our community together. We're based out of our home. We're not a big nonprofit. We can't help everyone. But the hopeful thing is that people can help others outside of Under My Umbrella, too, and can reach people we can't.
Do you want to make a difference in your community like Ishaan? Find local volunteer opportunities.
Share this post