California Teen Works for Youth Sports Equity
Meet Daily Point of Light Award honoree Rishan Patel. Read his story and nominate an outstanding volunteer or family as a Daily Point of Light.
Rishan Patel has been active in school sports since elementary school. His older brother played basketball and Rishan followed in his brother's footsteps, playing in AAU Basketball tournaments in elementary and middle school.
When Rishan's team would play in nearby cities around his home state of California like Oakland and Palo Alto, Rishan noticed kids who were playing with worn-out equipment and uniforms. The sadness and empathy he felt for these kids led him and his brother, Shay, to form Alley-Oop Kids and Lending Lockers, which provides kids with sports equipment they may not have access to otherwise. Since launching Lending Lockers in the summer of 2022, they have provided sports gear to over 100,000 kids worldwide.
What inspires you to volunteer?
I realized that without proper equipment, many of the kids from underserved areas wouldn't be able to continue playing their sport. Some had school support but did not have the resources to buy uniforms, shoes, and equipment. For example, not having the right shoes for a particular sport can hold an athlete back, if they don't have the right traction or support. I believe that all kids have the right to play sports, regardless of background, gender or ability. I want to do everything I can to fight for youth sports equity.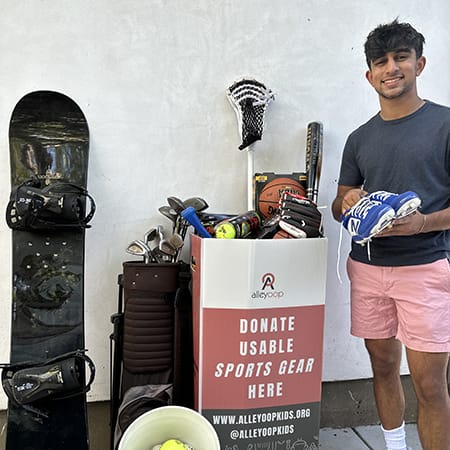 Describe your volunteer role with AlleyOop Kids
I am the founder of Lending Lockers, and co-founder of Alley-Oop Kids with my brother, Shay Patel. I started Lending Lockers during the summer of 2022 which was my sophomore year in high school. Lending Lockers provides kids with sports equipment they may not have access to otherwise. There are currently over 130 Lending Lockers globally, bringing sports gear to over 100,000 kids.
These aren't your typical school or gym lockers. They are equipment sheds that volunteer helpers and I install at schools that need them. The lockers are purchased with donated funds and grants, and are stocked with equipment based on each school's needs. The equipment is meant to be used at school and then returned. We have supplied equipment for soccer, basketball, baseball, football and, more recently tennis, lacrosse and other sports.
We started locally and now we've expanded to helping globally. These lockers are stocked with gear donated by a company called Good Sports, which donates new unsold sports equipment. We also obtain equipment by running gear drives after every sports season at schools from elementary through high school. The community also donates used sports equipment. I've found that people have a surprising amount of unused sports gear in their garages and basements and are happy to donate it.
I run the project. I find schools to donate lockers to, and reach out them. Many times, schools and organizations come to us through Instagram and other platforms asking for equipment. To date, local volunteers have installed lockers in Uganda, Colombia and India. Over half of these lockers, over sixty, are in India. I volunteer on average around five hours a week, sometimes more depending on the need.
Most of the work is done by myself and a few adult advisors who help manage day-to-day operations. When we install lockers, high school volunteers come help build and stock them.
What's been the most rewarding part of your work?
When I started the project, I would go with friends and physically install the shed and stock it. Seeing the kids' reactions has always been incredibly fulfilling. They are so incredibly happy! While I can't personally be there to install every locker in countries around the world, the photos I get back tell the real story of happiness that these lockers bring to the kids. I especially love hearing about kids trying out a new sport because of the Lending Locker at their school.
What have you learned through your experiences as a volunteer?
I've learned so much! The first lesson is from seeing how this project has blossomed. Don't be afraid to start. I started it when I was 15. I didn't have a direction, just a basic idea. I saw a need and I thought about ways to solve that need. More recently, I have learned how to stay organized with everything from fundraising to communicating with potential partners. I've learned how to use connections to get more people involved in the project.
TELL US ABOUT FUTURE PARTNERSHIPS, PROGRAMS OR EVENTS THAT YOU ARE EXCITED ABOUT.
I won an ESPY, an award for individual and team athletic achievement as well as other sports-related performance, for my work through the Billie Jean King Youth Leadership Award, As a result of the platform that honor gave me, I am excited to be collaborating with Gatorade to install more lockers nationwide. We are figuring out the logistics now. This is the biggest organization we've worked with to date and I believe this partnership will make a huge impact.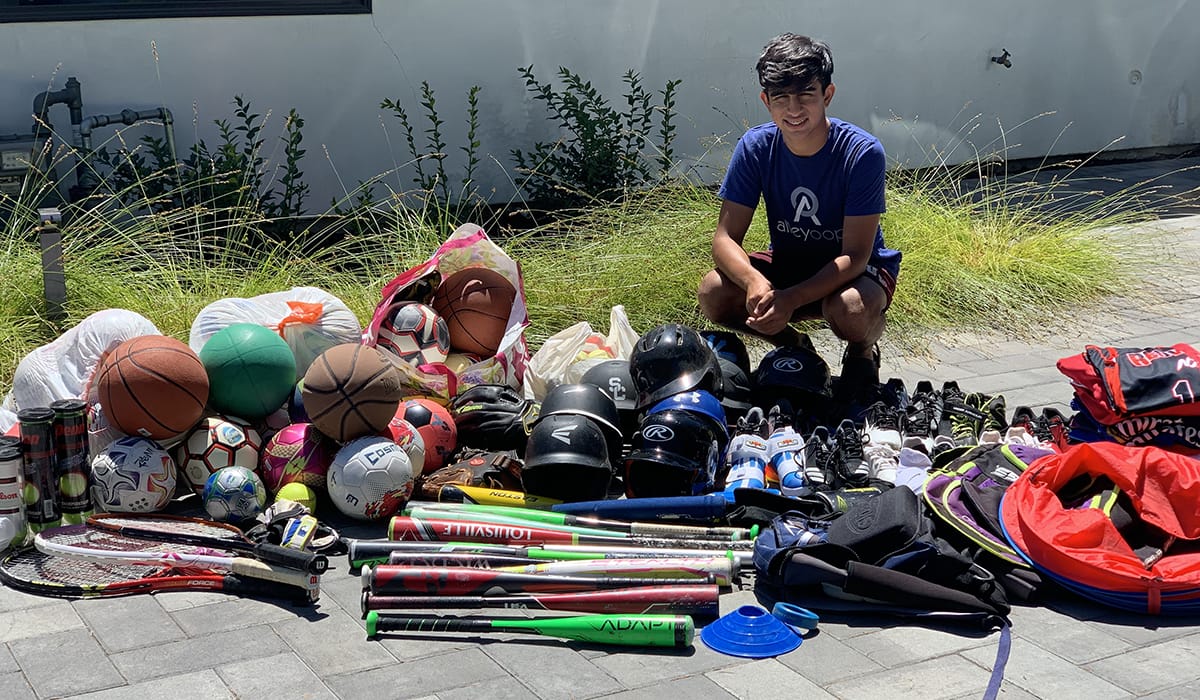 Why is it important for others to get involved with causes they care about?
Whatever you're passionate about, there's always a problem in that area that needs to be solved. These problems, like lack of sports equipment for kids, may go unnoticed. The kids who don't have the proper equipment often stop playing by the time they reach high school, so you don't really see them and the problem doesn't get noticed.
If you notice a need, do something. Meeting a need is always fulfilling! A great place to start is to check out the School Sports Equity Toolkit that I helped the Aspen Institute create.
What do you want people to learn from your story?
Go for it! There's a big perception that you need to be older, connected, smart, and so on but just going for it and following your passions can go a long way. People get excited to help when your passion shows. There will be obstacles but if you stay committed and persist, things will work themselves out.
Do you want to make a difference in your community like Rishan? Find local volunteer opportunities.
Share this post