High School Student Volunteers to Support Millions Diagnosed with Alzheimer's Disease
Meet Daily Point of Light Award honoree Bill Zhang. Read his story and nominate an outstanding volunteer or family as a Daily Point of Light.
'Devastating' is the word 17-year-old Bill Zhang uses to describe his grandfather's Alzheimer's Disease diagnosis, and the subsequent impact on his family. Explaining how frustrating it was to not be able to better support his grandfather through the disease, the Holmdel, New Jersey teen decided to learn more about those suffering from neurological diseases like Alzheimer's and dementia.
Launching DementiAid in 2019, Bill is volunteering to help the more than 50 million people who live with Alzheimer's Disease or some other form of dementia. Recognizing the alarming growth of the disease and shedding light on its stigma, the high school senior is empowering youth volunteers to support caretakers by serving at memory care and long-term care facilities. Harnessing the power of 250 volunteers from six chapters around the world, including in New Jersey, Bill has connected with hundreds of seniors thus far, helping our oldest generation and combating social isolation in underserved senior facilities through youth engagement.
What inspires you to volunteer?
As a first-generation son of two Chinese immigrants, I am incredibly fortunate to have the support system I have. I am where I am today because of the service of others. That motivates me to do good things and seek solutions to problems.
Describe your volunteerism with DementiAid.
As founder and executive director of DementiAid, I manage our three primary initiatives: Music4Memories, Makerspace and COVID-19 relief. We also solicit donations from local businesses.
Music4Memories: Our volunteers who play musical instruments perform in nursing homes. This program was sparked by a YouTube video I saw of a man who suddenly became more connected to the world around him after putting on headphones and listening to music. We also collect old iPods and MP3 players and volunteers compile playlists for seniors of their favorite songs.
Makerspace: This project is designed to build a scientifically literate community that is equipped with the foundational skills to contribute to the fight against neurological diseases like Alzheimer's Disease on the research front.
Share one personal story with me from your volunteerism.
When I first started volunteering at a memory care facility, I walked in on a woman who was lying on the ground. She'd fallen from her wheelchair, and I later found out she had Lewy body dementia. When I first found her, I was overwhelmed with questions and emotions. I wondered how long she'd been there for. At first I was angry with the caregivers but in reality, this facility was supporting nearly five times more patients than they had staff. The lack of personnel came at the expense of quality care, and that experience spurred me to recruit youth volunteers to better help staff at these facilities.
Why do you think it's important for others to give back?
Being able to improve someone else's quality of life makes me feel better. Also, seeing others volunteer gives me hope. It's a beautiful thing to see people from all walks of life coming together to dedicate their time and energy into an important cause.
What's been the most rewarding part of your service?
It's really rewarding to receive appreciation from others. Although some of the seniors can't show much reaction, when they do, they'll smile, or say thank you to the best of their abilities. Their family members and staff members also are appreciative of our help.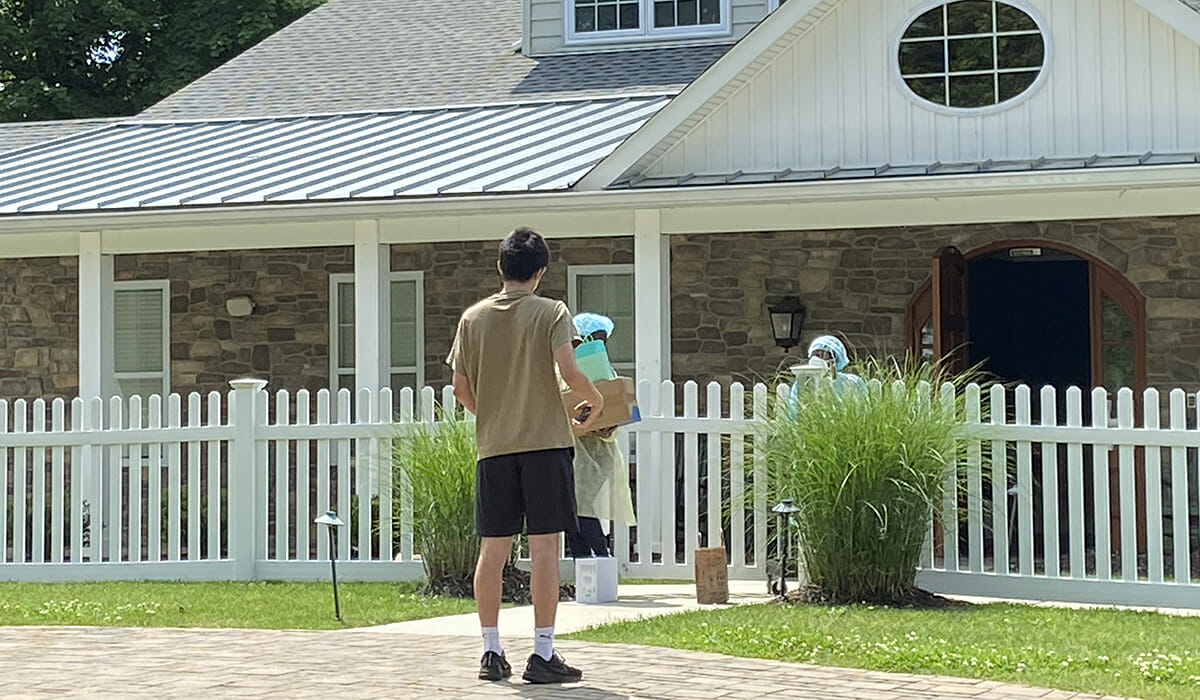 How have you continued to volunteer throughout the pandemic?
We've adjusted the Music4Memories program so that music can be played virtually. We've put student videos of performances specifically requested by seniors on our website so seniors can watch. Also, we've distributed COVID-19 materials to nursing homes. Since the start of the pandemic, we've donated around 1,800 pieces of PPE around the world, all items that we were able to obtain from organizations that had extra to spare.
In one word, what does volunteering mean to you?
Community.
When you're not busy volunteering or in school, what do you do for fun?
I enjoy playing basketball with friends and watching movies.
How can readers help?
Please visit our website for more information about how you can help.
Do you want to make a difference in your community like Bill Zhang? Find local volunteer opportunities.
Share this post
---