High School Students Combine Talents to Empower Underserved Kids
Meet Daily Point of Light Award honorees Kelly Tou and Edward Jung. Read their story and nominate an outstanding volunteer or family as a Daily Point of Light. 
Rising high school seniors Kelly Tou and Edward Jung started volunteering at KidWorks where they developed a passion for sharing their interests with others. Discovering the difficulty many kids face participating in extracurricular activities because of cost and accessibility, the two have teamed up to work with underserved youth.  
Launching TalentShare in 2021, Kelly and Edward, both 17-year-olds from Irvine, California, are offering positive environments and free extracurricular activities for kids where they can thrive. These uplifting experiences, says Kelly, are where kids can be kids, and not worry about the challenges in life. Thus far, more than 100 student volunteers have connected with more than 100 kids in the Santa Ana area. 
What inspires you to volunteer?
Kelly: I'm inspired being with the kids and learning about their hobbies, family and aspirations. I wish to give them the resources and opportunities they need to succeed, and make a difference in underresourced communities.  
Describe your volunteerism with TalentShare.
Edward: TalentShare volunteers have completed over 500 volunteer hours thus far. We host monthly events at KidWorks that provide youth in underresourced communities with quality extracurricular education. We also hold drives and fundraisers and have partnered with clubs on our school campus and across the school district. Our first event was a huge success, it was a back to school drive where we received enough items to fill more than 40 backpacks with school supplies for kids. We have introduced high school students including our own classmates to volunteerism, to help them realize they can make an impact too.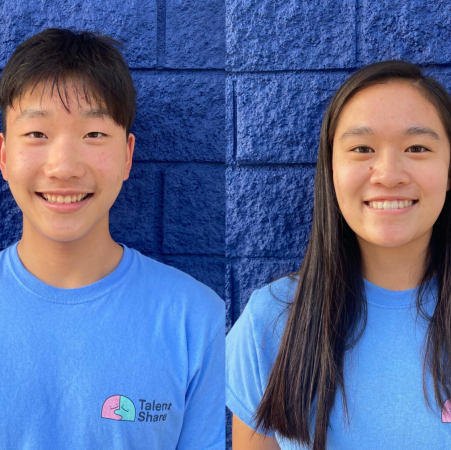 Share one personal story with me from your volunteerism. 
Kelly: We held a model rocketry event and partnered with a model rocket club at school. At the end of the event, we launched paper rockets outside with the help of volunteers. One boy put a lot of effort into assembling and decorating, and he was the last one to launch his rocket and it went up the highest. He yelled out in celebration after his hard work came to life and you could see the increase in his self-esteem and confidence. Contributing to causes you care about is empowering; not only does it make you feel good but it also encourages others to get involved as well. It makes me feel like I've found my purpose in life.  
Why do you think it's important for others to volunteer?
Edward: Volunteering is about gratitude. Seeing how much the world has given to you and trying to reciprocate. For me personally, the world has given so much to me, I need to contribute something back. Service helps you realize you're effectively carrying on the cycle so that you can inspire others to get involved; it's a positive feedback loop. 
What's been the most rewarding part of your service? 
Kelly: It's rewarding allowing kids to find their passion and providing them with resources to pursue that passion. Our events cover diverse topics to expose kids to as many hobbies, careers options and skills as possible. It's empowering when they're able to find a passion at our events. 
In one word, what does volunteering mean to you?
Kelly: Opportunity. Volunteering not only gives others the opportunity to build a better life but also gives volunteers the opportunity to gain new perspectives and strengthen their community.  
Edward: Kindness. You are giving your time and energy for other people and for a great cause. Volunteering is not motivated by money and other things; you're doing it because you want to. You have a spirit and a passion for it.  
When you're not busy with school or volunteering, what do you do for fun?
Edward: I love playing basketball, watching sunsets and also writing poetry.   
Kelly: I love to play lacrosse, work on any coding projects, spend time with my twin brother and watch mystery shows and movies. 
How can readers help?
Please visit TalentShare's website for more information about how you can help.  
Do you want to make a difference in your community like Kelly Tou and Edward Jung? Find local volunteer opportunities. 
Share this post