Honoring Grandfather's Legacy of Kindness, Teen's Service Raises Cancer Awareness
Meet Daily Point of Light Award honoree Viraj Mehta. Read his story and nominate an outstanding volunteer or family as a Daily Point of Light.
His dadaji – Hindi for grandfather – was a really good cook, says 17-year-old Viraj Mehta. The Phoenix, Arizona teen remembers baking pumpkin pancakes alongside his beloved grandfather, who died following a diagnosis of Stage 4 lymphoma just a few years ago. Wanting to create something positive out of the devastating loss, Viraj decided to help others recognize the signs and symptoms of cancer.
Launching OncoVision in 2016 to educate underserved people how to screen themselves for cancer, Viraj is empowering those around the world who lack access to routine care and advanced medical technology. The high school senior says in his quest to empower people to identify the warning signs of early stage cancer before it's too late like it was for his grandfather, he is hoping to prevent some of the 7.6 million global cancer deaths that happen each year. Connecting with more than 1,000 people thus far in the United States, Poland, Malaysia and India through online seminars, Viraj is using his personal loss to effect positive change.
What inspires you to volunteer?
I realized the devastating effects that cancer has not only on the people diagnosed but their families too. Through my volunteerism, I wanted to prevent other people from being diagnosed too late and dealing with that loss.
Describe your volunteerism with OncoVision.
As someone who lives in the U.S., I have more access to quality healthcare, whereas in rural areas, people lack access to medical professionals and quality care. Through OncoVision, I am offering information and resources so that people can take care of their own health and recognize their own potential symptoms. As founder and director, I create content for and coordinate our seminars, which includes warning signals and methods for screening for cancer. We have about one dozen volunteers internationally who help to lead our seminars.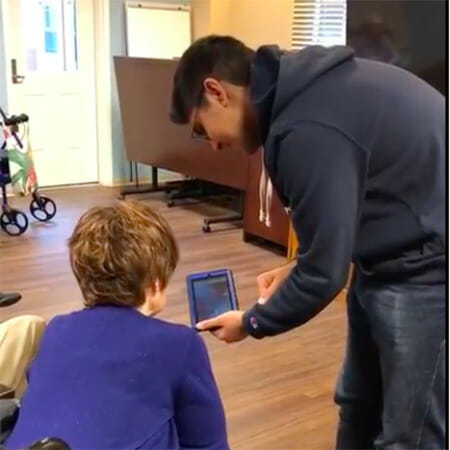 You're using technology to expand the impact your volunteerism has. Explain.
Our OncoVision app helps individuals screen themselves for cancer early on. I am passionate about computational biology, so I developed this app which uses machine learning to provide insights into individual risk of cancer and recommendations for next steps based on the person's risk. We developed the app because I realized having a uniform system where people could import information and receive results was the best way to empower people to control their own health and monitor for symptoms.
Share one personal story with me from your volunteerism.
I hosted my first seminar at a retirement home in Phoenix. After the presentation, a woman in a wheelchair came up to me and said her husband had passed away from lung cancer. She said she really believed in the importance of the work I am doing, and that even though it was too late for her husband, it wasn't too late for others. Hearing her say I could have an impact on others really meant a lot to me. It means everything to me even if I save one life! Every life is valuable and so all of the hours organizing seminars and leading teams and creating content, it's all worth it, because those small actions can really lead to huge changes.
What would your grandfather say to you about your volunteerism?
I hope he'd say that he's proud of me. My volunteerism honors his legacy, especially because I knew how compassionate and kind he was to others. OncoVision is advancing my grandfather's values and what he stood for.
Why do you think it's important for others to give back?
Volunteering is really important because people who are privileged should give back to society. There are some people that are disadvantaged, and that's based purely on luck. It's our duty as citizens of the world to support those who are disadvantaged.
What's been the most rewarding part of your service?
It's been rewarding to see our impact and receive messages from people who I've helped through OncoVision find tumors early on.
How have you continued to volunteer throughout the COVID-19 pandemic?
We used to host in-person seminars, but as a result of the pandemic, we're now just hosting virtual seminars. We've also started to host virtual training on telemedicine, a practice which is being used much more frequently now during the pandemic.
In one word, what does volunteering mean to you?
Kindness.
When you're not busy volunteering or in school, what do you do for fun?
I'm passionate about computational biology, so I take on different research projects in that field. Additionally, I play piano and tennis for fun.
How can readers help?
Please visit OncoVision's website for more information about how you can help.
Do you want to make a difference in your community like Viraj Mehta? Find local volunteer opportunities.
Share this post