Hospital Volunteer Offers Peace and Comfort to Patient Caregivers
Meet Daily Point of Light Award honoree Fran Treston. Read her story and nominate an outstanding volunteer or family as a Daily Point of Light.
A volunteer at the Hospital of the University of Pennsylvania for nearly a decade, Fran Treston describes herself as a familiar face to those supporting their loved ones.
Currently serving as a volunteer at the Family Caregiver Center, Fran, an Abington, Pennsylvania resident, welcomes caregivers, whether in the surgical waiting room or intensive care unit, to the center and its resources. Recognized for her selfless service, Fran is helping to provide respite to many in need across her community and beyond through volunteerism.
 What inspires you to volunteer?
I've been pretty fortunate in my life. If possible, it's important to give back. I'm inspired to volunteer because I feel as though I have something to contribute.
You're recognized as a role model for service. What does that mean to you?
It's very flattering. I don't think of myself that way, but it's really very flattering to think that's how I'm perceived. Volunteering is very gratifying.
 Describe your volunteerism with the Family Caregiver Center.
There are some people who are literally at the hospital for weeks or months at a time, so we offer them respite through our service. As a volunteer at the Family Caregiver Center, I visit different units around the hospital to make people aware of the center so they can avail themselves of our services while they have a loved one in the hospital. In addition, I welcome people at the center and help to put them at ease, whether that's offering them a quiet place to sit or using our massage chair. Prior to this role, I worked on the information desk and also volunteered in the emergency room.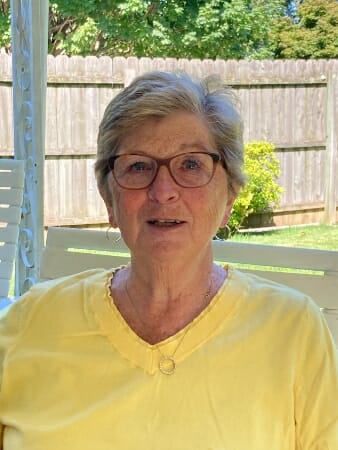 Share one personal story with me from your volunteerism.
One woman whose partner was in the hospital for over two months visited us at the center. She'd come every day, sit down, have a cup of coffee and talk with us just about anything. She said the center provided something she didn't even know she needed. She called the center her oasis. It was her break from the day to see friendly, familiar faces. I'm grateful for the opportunity to serve others and it's gratifying to know that being available provides so much to others.
Why do you think it's important for others to give back?
Everyone has something to give. The world is a better place when people open themselves up to opportunities and share their talents and abilities that might be helpful to others.
What's been the most rewarding part of your service?
It's rewarding when someone thanks me for just being there, or for making them aware of the center and offering them respite. People say the center is like stepping out of the hospital and into a quiet space. We've eased their journey by talking to them and helping them.
How have you continued to volunteer throughout the COVID-19 pandemic?
I was one of the first volunteers to return to duty at the Family Caregiver Center once restrictions began to lift in March. Strict restrictions were in place when we first returned, so we've adjusted our service based upon hospital guidelines.
What do you want people to learn from your story?
You get as much as you give. I've met so many wonderful, nice people who are in difficult circumstances, yet they are pleasant, they're doing the best they can. If you can help anyone in any way, that's the important thing, whether it's helping someone at the center, or just across the street.
 In one word, what does volunteering mean to you?
Gratitude.
 How can readers help?
Please visit the Family Caregiver Center's website for more information about how you can help.
Do you want to make a difference in your community like Fran Treston? Find local volunteer opportunities.
Share this post