Teen Volunteer Unites Community with First Responder "Read-Along" Book Bags
Meet Daily Point of Light Award honoree Griffyn Burrage. Read her story and nominate an outstanding volunteer or family as a Daily Point of Light.
Griffyn Burrage is just 17-years-old, but the Anniston, Alabama high school senior is uniting her greater community through service, one book at a time.
Launching the "Read-Along" program in response to concern over interactions between community members and the police, Griffyn decided that books were the answer. Collecting children's books that are then distributed in book bags to first responders across Calhoun County, Alabama, Griffyn is helping to facilitate positive interactions between first responders and civilians in her community. Donating more than 2,000 books thus far, Griffyn is offering hope and healing amidst troubling times.
What inspires you to volunteer?
If you are capable, you should put in the effort to help others. I'm very blessed, and that inspires me to help others who are not as blessed.
Explain the meaning behind "Read-Along".
"Read-Along" is a play on words. A "ride-along" is an opportunity for a civilian to observe the work day of a police officer, firefighter, or paramedic. It's my hope that the books will serve as a positive way for officers to interact with children and give them hope in troubling times.
Describe your volunteerism with the Read-Along program.
As founder, I pick-up and receive donated children's books for kids ages two to thirteen, and then fill book bags and deliver them to first responder recipients around the county. We have book drop off locations and sometimes, I'll pick books up at individual homes.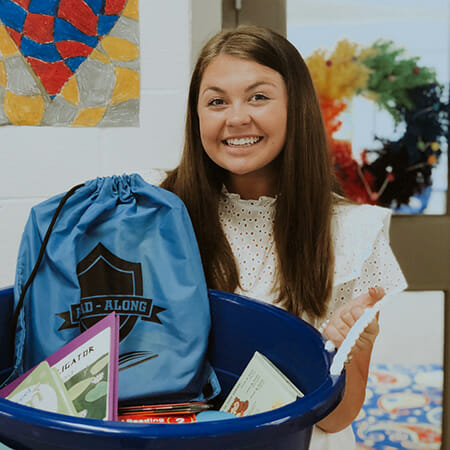 Share one personal story with me from your volunteerism.
I brought a bag of books to police, and they told me the donation would really help children. They were really excited about the program. Being able to make a difference on my own time makes me feel really good, because it's not something I'm forced to do, but volunteering is something I do because of the happiness it'll bring to others.
Why do you think it's important for others to give back?
Anyone who is able to give back, should. When you're there for others it reflects well on you and hopefully, how others would treat you if you were in the same situation.
What's been the most rewarding part of your service?
It's rewarding to see how many people donate books because they support me and they support my projects. That's very fulfilling.
What's in the future for your volunteerism?
I expect to continue the Read-Along program. I want to get more book bags out to first responders across the state of Alabama.
What do you want people to learn from your story?
There are so many ways you can help people. Even doing something little that you aren't sure is going to take off has the potential to help many people.
What's your favorite book?
"To Kill a Mockingbird" by Harper Lee.
In one word, what does volunteering mean to you?
Selflessness.
When you're not busy volunteering or in school, what do you do for fun?
I cheer and I'm a lifeguard.
How can readers help?
We rely on financial donations to continue our program. It cost $11 to assemble two book bags. Please email us for more information about how you can help.
Do you want to make a difference in your community like Griffyn Burrage? Find local volunteer opportunities.
Share this post