Hospitalized Children Experience a 'Moment of Magic' Thanks to a College Student with a Big Heart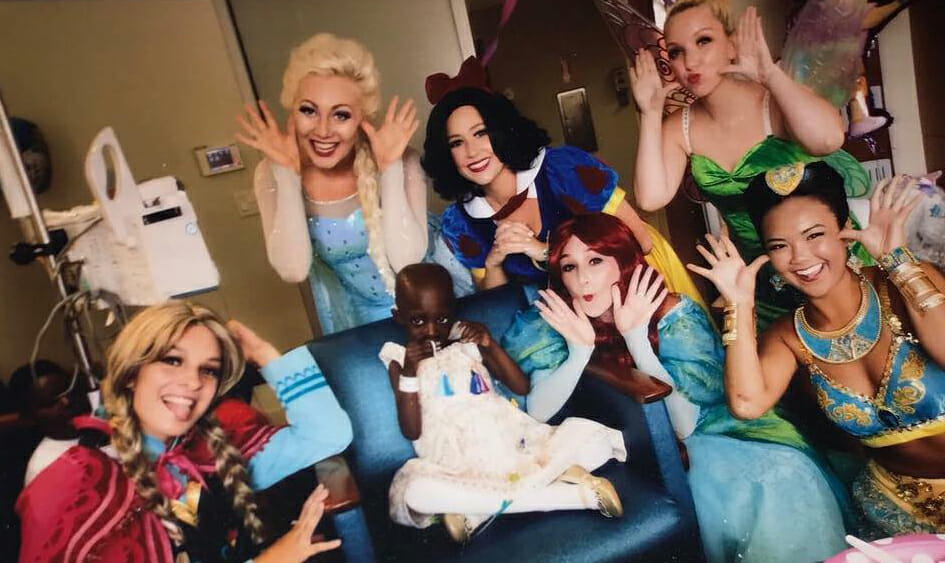 Meet Kylee McGrane, the recipient of the 6000th Daily Point of Light Award. Read her story and nominate an outstanding volunteer, family or organization as a Point of Light.
When Kylee McGrane sat down with her family to watch Frozen, it gave her a great idea – and she just couldn't let it go.
Realizing that she looked like Elsa and that her best friend, Maggie McAndrew, looked like Anna, she had an "a-ha moment" that would become her next service project: she wanted to start visiting hospitals as the princesses from Frozen.
At first, Kylee and Maggie had a hard time getting started. But after a series of cold calls and presentations to pitch the idea, Cohen Children's Medical Center on Long Island took a chance on the new princesses and allowed them to come in.
And A Moment of Magic was born.
Eventually, the women were not only visiting children in hospitals during treatments, but also attending nonprofit fundraisers and participating in other events, such as book readings and sing-alongs. As the program expanded, they began recruiting other students to volunteer as princesses and superheroes to meet the needs of the requests coming in.
"Every week is different, but now we make between one and five visits every week, plus attend special events," said Kylee.
As A Moment of Magic grew from an idea into an organization, its mission becomes clear: "Restoring the magic of believing at a time when a child needs to 'just be a kid' and reminding them to be brave, strong, and fearless". The program also seeks to raise awareness of pediatric cancer – the leading cause of death by disease for children, with an estimated 250,000 new cases of pediatric cancer each year. That is 250 children worldwide, every day.
Kylee said one of the greatest parts of A Moment of Magic is that they get to be part of a larger story.
"We form these incredible bonds, not only with kids but with parents, and get to be part of big milestones," she said. "A month later we'll get a [call] to come back for the happy milestones – a child's last chemotherapy treatment or their first day of kindergarten. To be part of that full story and part of these beautiful moments, we are so appreciative of that."
Through their work, volunteers at the organization also become a support system for people – especially families who have had to travel out of state to a new hospital to receive treatment.
"When people have to travel and don't have a support system, there is so much we can do," said Kylee. "Getting to see first-hand the impact one person can have on another person, and see the power of what love and kindness can do, it's been so rewarding."
With her college graduation just a few weeks away, Kylee plans to become the full-time executive director for A Moment of Magic and expand the organization, announcing 10 new chapters across the country. The program is designed to be easily adopted by student volunteers on any college or university campus, and applications for new chapters will open again in the fall. Kylee has set a goal for 2018 to work with children in at least 30 states and 5 countries, totaling more than 15,000 children served.
"Our plan is to expand so there can be chapters at colleges across the country," said Kylee "It's so sad to have to turn people away if we don't have volunteers in a certain area."
As the organization grows, Kylee said they're always looking for innovative ways to engage young people in giving back. Kids, teens and adults can get involved in A Moment of Magic through different service projects, including hosting their own events like the Color It Gold coloring contest, Wear Your Crown Day and Play 4 Play Challenges.
Kylee hopes to inspire the next generation of volunteers and spread female empowerment, and she encourages everyone to take a leap of faith and find an opportunity to volunteer.
"The best kind of service work is the service work you're passionate about," Kylee said. "There are so many ways to get involved and help make the world a better, more sparkly place!"
Want to bring a little magic to your community? Visit the A Moment of Magic website to learn about the various ways you can get involved. And, discover more volunteer opportunities near you with All For Good.
Share this post
---