Houston Native Serves Police Department to Improve Law Enforcement Efficiency
Meet Daily Point of Light Award honoree Ila Harris. Read her story and nominate an outstanding volunteer or family as a Daily Point of Light.
A Houston, Texas native, Ila Harris had long supported the city's police department through volunteerism alongside her husband, a military veteran. Passionate about supporting law enforcement and fostering safety in their community through citizen action, the two volunteered together for many years before his death in 2006.
Recommitting herself to serving her community and law enforcement in the wake of the deaths of her mother and husband, Ila rejoined Houston Citizen Police Academy Alumni Association (HCPAAA), where she volunteers alongside other Houston Citizens' Police Academy graduates to enhance relations between the community and police. As an advocate for the police department, Ila shares the department's values with her fellow citizens. By supporting officers at community activities, Ila is providing a valuable service to the department to enhance the overall delivery of police service to the citizens of Houston.
What inspires you to volunteer?
Houston has always been good to me and to my family. I've lived here for 70 years, and volunteering gave me a purpose in my life after losing my husband and mother. I really felt lost after their deaths, and by doing volunteer work, I found a place for myself again. I am helping people, and they've in turn helped me to remain a vital part of my community.
Describe your role with HCPAAA.
Through shared responsibilities and resources, HCPAAA volunteers give their time so that police officers are able to focus on their public safety responsibilities. I assist with the annual Comida/Food Drive which is put on by the Houston Police Department. I provide and serve meals to officers conducting No Refusal weekends, as they work to combat drunk driving. I also participate in continuing education, ride-alongs with officers and other police activities and large-scale public events. I've connected with hundreds of officers over the years as we support the police department.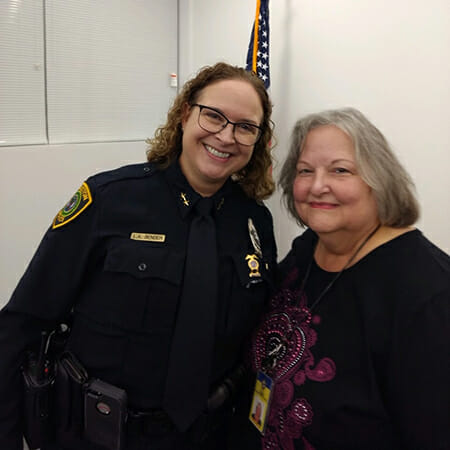 Your volunteerism isn't limited to supporting police officers. Explain.
I have volunteered with the Travis Manion Foundation for the past eleven years. This organization empowers veterans and families of fallen heroes to develop character in future generations. I volunteer for their 9/11 Heroes Run and at their Houston office performing various duties. In the aftermath of Hurricane Harvey, I helped with the phone banks at the U.S. Army Combined Arms Center, contacting veterans to determine their status and see if they needed assistance. While I never served in the military, a number of men in my family have served, and my service is a way to honor them and other service people for their dedication and sacrifice.
Share one personal story with me from your volunteerism.
During one recent Comida/Food Drive, an elderly man approached our donation table and pulled out a wrinkled dollar bill, placed it in the donation jar and looked up and smiled at us. He was Hispanic and in broken English, he said, 'Last year, you all helped me. I can't do much this year, just this one dollar.' I thought to myself, that's what this is all about. We help people and when they can, they in turn pass it on to others.
What's one way you hope to inspire others in your service?
There's always a need for volunteers. You might have to try two or three different things to find the one service that speaks to you and to your heart, but whatever time you give back to the community, you're going to increase it tenfold back to yourself.
What's been the most rewarding part of your service?
Gosh. So much of it is rewarding. The smiles that I get from the police officers and from the people I serve at the Travis Manion Foundation. It's rewarding when these people know that somebody is willing to come out and help them like they are helping us.
You volunteered alongside your husband before he passed away. What would he say about your service?
I know he would be so proud of my service, and he would be right there with me. He was involved in private security work and he was a military vet, so I think about him and how he would feel about a lot of what I do. I know he would be so happy and so proud.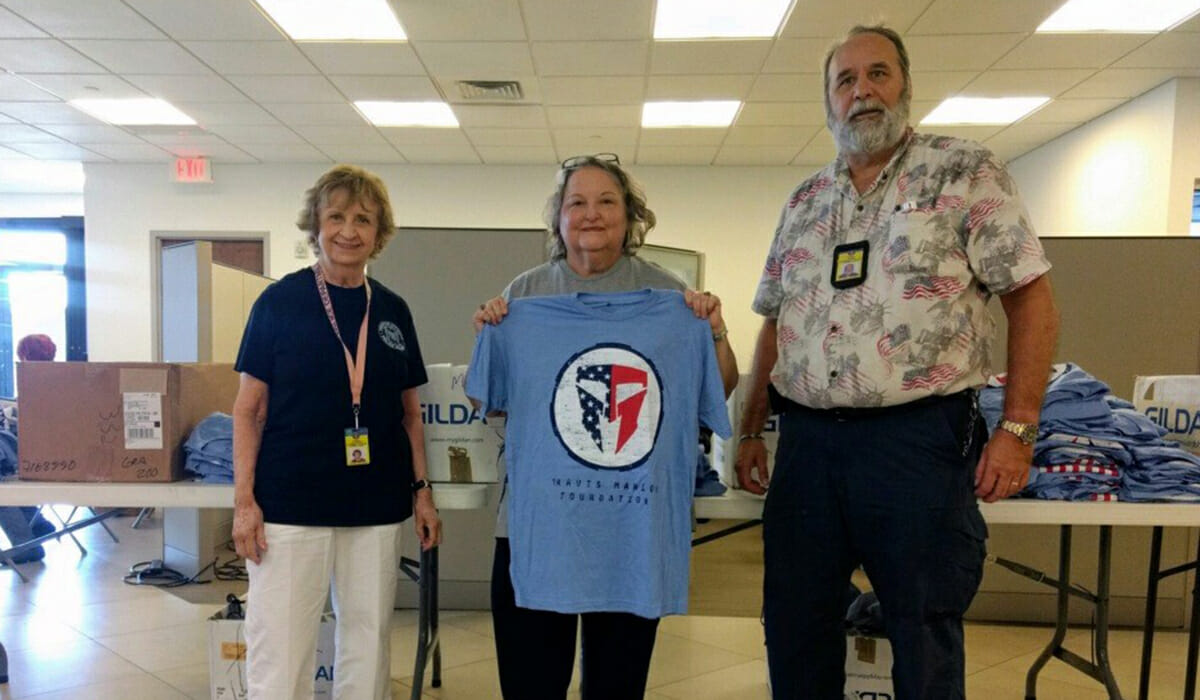 What's your life motto?
I've adopted the statement that guides the Travis Manion Foundation. When Travis was asked why he was going back for a 3rd tour of duty, he said, 'If not me, then who?' And that's the way I feel. If I don't go out there and volunteer, then who's going to do it?
What have you learned through your experiences as a volunteer?
I've learned tremendous things about safety in our community and the police department. The police are the people that we call when we're in trouble, but citizens often don't know what police do proactively to control crime. Personally, I learned that I'm much stronger than I thought I was. Not only do I feel like I'm helping people, but a lot of the activities I participate in are really fun.
How can readers help?
Please visit the Houston Citizen Police Academy Alumni Association website for more information about how you can help.
Do you want to make a difference in your community like Ila Harris? Find local volunteer opportunities.
Share this post