Volunteer Empowers Sexual Trauma Victims and Fights for Healing for Survivors
Meet Daily Point of Light Award honoree Lavinia Masters. Read her story and nominate an outstanding volunteer or family as a Daily Point of Light.
At the tender age of 13, Lavinia Masters was raped by a stranger at knifepoint in her bedroom. It was only after her case was reopened by Dallas Cold Case police detectives that critical evidence from her rape kit was reviewed. Like thousands of other victims in Texas, Lavinia's rape kit had sat untested for years due to a backlog, as the serial rapist who had attacked her continued to attack other unsuspecting victims. By the time Lavinia's case was resolved, she says the statute of limitations had expired, and the suspect didn't face prosecution.
Empowered by her own personal experience, Lavinia decided to offer hope to other victims so that they too could be empowered to heal. Launching HOPE S.A.V.E.S. Ministry in 2004, Lavinia's mission is to offer hope to the hopeless after being victimized by sexual trauma, raise awareness about sexual assault and fight to eliminate the national backlog of rape kits.
"When I realized that this was a national issue, and that my rape kit was one of thousands in my state that had gone untested," Lavinia says, "I decided I'd start fighting and speaking up, and being a voice for other survivors."
What inspires you to volunteer?
When I came through my healing process, I knew I had to do something. I had lived in such a dark place for so long, I knew I had to be a voice for victims to empower them.
Explain what 'HOPE S.A.V.E.S.' stands for.
S.A.V.E.S. is an acronym that stands for "Sexual Assault Victims Empowered to Speak". When my case was resolved, I realized my rape kit was one of thousands – 19,000 pieces of peoples lives – that was just sitting on the shelf in the state, and there was absolutely nothing we could do about it. We'd suffered for all of these years, and for what? Where was the justice? I advocate and work to empower victims who have gone through pain just like me.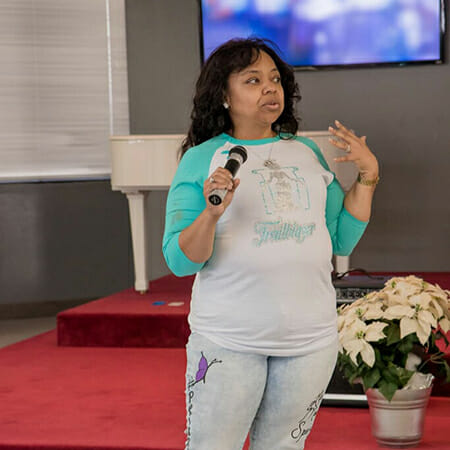 Describe your role with HOPE S.A.V.E.S. Ministry.
As founder and director of HOPE S.A.V.E.S. Ministry, I empower victims and raise awareness about sexual assault and the national rape kits backlog. We also raise money to fund decreasing the rape kit backlog in the state of Texas. We work with Denton County Friends of the Family and other area crisis centers and have connected with thousands of survivors in Texas and beyond.
You recently had a law named after you. Explain.
The Lavinia Masters Act was passed this summer to make sure rape kits are processed in a timely fashion across Texas, and give prosecutors more time to file charges if they're not. The new law also creates a system to notify rape survivors of the process. The passing of this law was rewarding because it means I'm making a difference and people are being healed.
Share one personal story with me from your volunteerism.
I met a woman about 10 years ago, she is now a volunteer with HOPE S.A.V.E.S. She had been through such a traumatic experience: childhood rape, abortion, trauma, trauma, trauma. I connected with her. She always told me that she saw the fight in me, and that I was not willing to give up. She said I impacted her life and made her want to get up and fight every day.
What's one way you hope to inspire others in your service?
I hope people can realize that they are the change. Whatever has happened to you, embrace it and see what change you can make with it. I finally embraced my pain and realized what I had to do to make a change not only in my life, but in others as well.
What's a saying you live your life by?
I feel like a chihuahua in a big world, but I stand tall like a rottweiler for all survivors out there. My little voice is making a big sound in this world. No matter how small you think your fight is, if it's making a difference or making or an impact in someone's life, it's huge.
What have you learned through your experiences as a volunteer?
Sometimes pain can be blind. You can be so overconsumed by pain that you don't even realize how toxic it's become to you. Service has changed me a lot personally because it has taught me so much more compassion. People act out because of past pain and trauma, and service has taught me how to better understand people.
How can readers help?
Please visit our website for more information about how you can help.
Do you want to make a difference in your community like Lavinia Masters? Find local volunteer opportunities.
Share this post