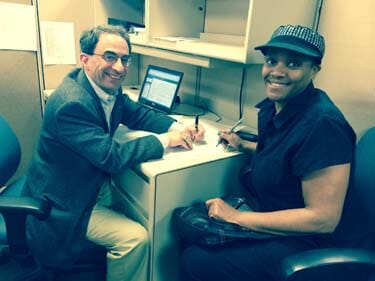 After retiring from a 28-year career as a financial manager with Chrysler Corp., Howard Baron wanted to give back to the Detroit community. A finance expert, Baron started volunteering last year as a tax preparer for the Accounting Aid Society, which provides free tax help to low- and middle-income families in southeast Michigan.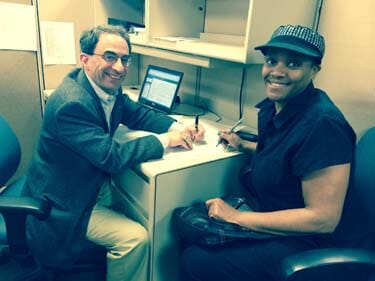 Howard Baron meets with tax client Beverly Kimble at the Accounting Aid Society.
In Baron's two tax seasons as a volunteer, he has helped about 90 clients claim more than $99,000 in tax refunds and credits. In 2013, the agency, which has around 500 volunteers, helped families claim around $24 million such credits and refunds.
In addition, Baron was a member of the first group trained by the Accounting Aid Society to work as a financial coach through the Financial Opportunity Corps program, which recruits and trains volunteers as financial coaches who then help people from low- and moderate-income households achieve financial stability.
Since the end of 2013, Baron has worked on an ongoing basis with two clients, helping them to straighten out their debts, set budgets and work toward long-term financial goals.
"My career gave me a good pension," says Baron, of Bloomfield Hills, Mich. "I wanted to help others to have the same kind of secure lifestyle during their retirement."
Baron also teaches others to become certified as tax preparers through classes offered by AARP.
"AARP was so pleased with the tax preparation work that I had done for both them and the Accounting Aid Society they tapped me to become an instructor," he says.
On top of his volunteer tax preparation and financial coaching work, Baron has a passion for public education. He volunteers as a member of the Bloomfield Hills School Board.
"School funding is not what it used to be, and I wanted to use my financial skills to help schools improve their budgeting and their advocacy with the state and federal legislatures," says Baron. "In addition, I am working to help boost the performance of students who are underachieving."
Though his volunteer schedule keeps him busy, Baron says all of his community activities are gratifying.
"The Detroit area has seen a lot of economic pain, beginning back in the 1980s with the downturn in the auto industry and continuing today with the effects of the nationwide recession," says Baron. "I want to do my part to help in any way I can."
Baron says he gets an especially good feeling from helping tax clients learn about credits they have coming to them.
"Many of my clients have pretty low incomes, and they are able to get refunds on the taxes withheld from their pay. But often they don't realize they qualify for special federal and state tax credits as well," says Baron. "They need this money to pay bills, and it's great to be able to help. … I look forward to every day I volunteer."
Share this post