Husband-Wife Volunteer Duo Commit to Child Safety with Fingerprint ID Kits
Married for 50 years, Al and Lynda Uva finish each other's sentences, and cheer on each other's respective successes. After long careers in public safety and banking, this dynamic duo has dedicated their time to keeping their community safe.
The couple volunteer together through the Lee County Sheriff's Office in southwest Florida to keep kids in their community safe through ID kits. Recording fingerprints, key identifying information that parents can keep as a precaution in case of a missing child or an emergency, Lynda and Al have fingerprinted over 1,000 children in their community thus far. In addition, the two serve on MADD Victim Impact Panels once a month, helping drunk and drugged driving offenders understand the lasting and long-term effects of substance impaired driving. In addition to their joint service, the two both volunteer for their community in additional capacities.
Keeping their community safe, Al and Lynda are positively impacting their fellow neighbors, and are today's Daily Point of Light award honorees. Points of Light spoke to Lynda and Al to learn more about their volunteerism.
What inspires you to volunteer?
Lynda: Just the idea of helping people. I've always worked in customer service (laughs), so people are my thing. Al started volunteering first, and I thought it was a worthwhile project, so I joined. We enjoy ourselves, especially doing these special assignments like child fingerprinting.
Al, you are part of a volunteer group called V.O.I.C.E. Tell me more about it.
In addition to our joint service, I serve as a member of V.O.I.C.E., an initiative designed to help the Lee County Sheriff's Office provide a higher level of service to its citizens and visitors. V.O.I.C.E., which stands for Volunteer Observers Impacting Community Effort, allows citizens to patrol as extra eyes and ears in community neighborhoods, and enables law enforcement details to respond to more serious calls for service. I am a retired firefighter, and I wanted to get back into the action. I'm on the air all day, so if there's a crash, I respond to the crash. I help with traffic control at fires, crime scenes, parades and events.
Describe your role with MADD:
Lynda: We serve on MADD Victim Impact Panels at the justice center in Fort Myers. Al oversees things for the panels to support staff, and I help out with registering attendees. These are the people who get DUIs, ect. and they want to get their licenses back. In order to do so, they are court ordered to attend the victim impact panels.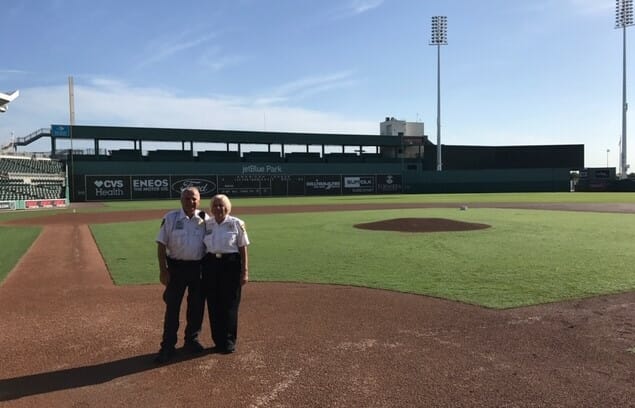 What have you learned through your experiences as a volunteer?
Al: I didn't think we'd ever volunteer like this. People look at you and say, you're not getting paid? What are you doing this for? I do it because I wanted to help people. And we are doing just that.
Share one personal story with me from your volunteerism.
Lynda: I enjoy fingerprinting the children for their ID kits. We have so much fun with that.
Al: There was one event at JetBlue Park in Fort Myers, and Lynda fingerprinted Red Sox mascot Wally the Green Monster's sister, Tessie. We believe in fingerprinting because it keeps kids safe. I'll fingerprint anything. I will fingerprint a paw if a dog is walking by. When we go out, and we're doing something like this, we get five times as many fingerprints as what anyone else gets.
Lynda: Al explains everything to people. A lot of people don't understand that the child fingerprinting is for their information. You take this ID kit home, and you have it in case your child gets lost.
What do you want people to learn from your story?
Lynda: The importance of giving back to the community. In the past, we've done volunteer work here and there. But this, and our impact, to me, is astronomical. It makes you feel good, being able to do these things. It's also given me a completely new outlook on our community and how to help people.
Al: I would never think I would have done something like this, but we are, and other people are joining us. We have people retiring from the sheriff's department, and joining V.O.I.C.E., because of the difference we are making.
How can readers help?
Lee County Sheriff's Office is always looking for more V.O.I.C.E. volunteers. Please visit their website for more information about how you can help: https://www.sheriffleefl.org/join_us/positions/v_o_i_c_e_volunteers.php.
Do you want to make a difference in your community like Al and Lynda Uva? Click here for local volunteer opportunities.
Share this post