'ICU Grandpa' Shares Comfort, Hugs with Babies Who Need A Little Extra Love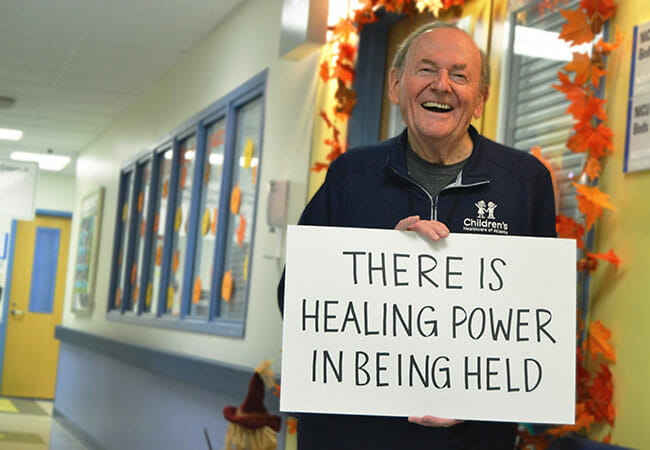 After retiring in 2000, David Deutchman was giving guest lectures at colleges and universities around Atlanta — but found it didn't occupy enough of his time.
He started volunteering at Children's Healthcare of Atlanta at Scottish Rite, and was teaching in a classroom when he noticed a couple of moms who looked like they needed someone to talk to. "I sat down for 30 minutes and they poured their hearts out to me," David said. "I realized I could fill a gap."
Before long, David carved out his niche volunteer role in the pediatric and neonatal intensive care units, offering comfort, support and hugs to parents and children. And he noticed that some patients, including those with Division of Family and Children Services, didn't receive many visitors. "There were some babies no one was visiting or hugging, so I did," he said.
The former marketing executive now goes by the title "ICU Grandpa," and he spends two days a week at the hospital. On Tuesdays, he visits the pediatric ICU and on Thursdays, the neonatal ICU. "It is a wonderful atmosphere; I enjoy it so much," said David, who has been volunteering at the hospital for more than 12 years now.
He says as a volunteer he has learned there are many children who are in need of kindness, and not just because they are sick or injured. Sadly, there are also kids who need a little more love. "That is a theme of mine — wanting to give as much to the kids who need it the most," David said.
David's role as ICU Grandpa became a viral sensation last September when Children's Healthcare of Atlanta posted a photo of him holding a premature baby. He has since joined Facebook, which has led him to reconnect with many of the families he once knew in the ICU. While he says it is great to revive relationships and hear how he made an impact in their lives, not all the stories have had happy endings.
"Meeting many of the families again brought a new focus on some of the kids who haven't done as well." David makes a point of visiting with these kids and their parents when they're back in hospital for treatment or because they're sick. From his story, he wants other people to learn the importance of getting up to do something.
"I have made this a priority in my life," says David, adding that he gets so much back from cuddling the babies. "I recommend everyone find a way to give back."
Want to make a difference like David? Visit allforgood.org to find volunteer opportunities near you.
Share this post
---