Idaho Teen Volunteer Tackles Low Student Proficiency Rates Through STEM Opportunities
Meet Daily Point of Light Award honoree Lilian Smith. Read her story and nominate an outstanding volunteer or family as a Daily Point of Light.
17-year-old Lilian Smith says she discovered competitive math at a young age, but lacked access to experimental science until she reached high school. Now interested in pursuing a future in chemistry, the Coeur D'Alene, Idaho teenager is doing her part to battle low math and science proficiency rates in her community and expose young children to more STEM education.
Launching Growing the STEM alongside her younger sister, Adeline, in 2017, Lilian is sharing her love for STEM through youth development programs across more than a dozen schools in her community. Offering fun ways for elementary and middle school students to learn new skills and participate in hands-on science and math education, Lilian has impacted more than 400 young students thus far.
What inspires you to volunteer?
I am inspired to volunteer because of the impact I see my service making. Our school district has a high college drop-out rate because of low math proficiency, so as a volunteer math coach, to have 5th graders tell me how math is cool, and how super excited they are, you can really tell that you're making a difference.
Explain your passion for STEM.
Growing up, I went to a small middle school that didn't provide a lot of opportunities for science, but I had a passion for competitive math. As the only freshman taking honors chemistry in high school, I learned how to incorporate my love for competitive math but in a more realistic situational way. Taking that class was one of the most important decisions in my life, as I now want to pursue chemistry in college.
Describe your role with Growing the STEM.
As co-founder, I serve as head coach at one of the schools we offer programs at, and run the math and STEM programs. I also help to plan STEM and competitive math activities, and meet with school leadership to establish additional programs. Additionally, I am the main recruiter for student volunteers and I manage our website.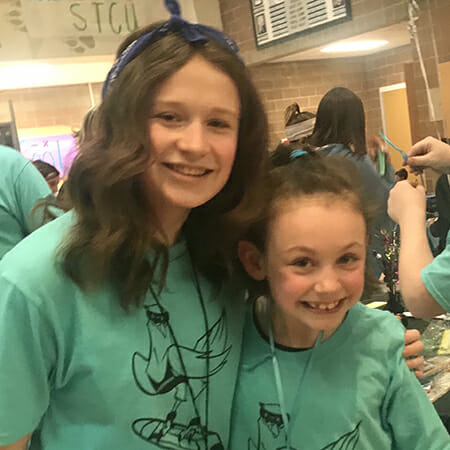 Tell me about the programs you offer.
We currently offer three different programs across 13 schools in our district with about 50 volunteers, and we hope to expand. The programs include:
 STEM club: Focused on science and scientific experiments.
Peer tutoring program: Older elementary student volunteers mentoring younger elementary students. Statistics show that peer tutoring is helpful in a classroom.
Competitive math team: We have several math teams across our participating schools, and older students help to prepare younger students for an annual math competition.
Share one personal story with me from your volunteerism.
Last year, we had a 4th grade student who hated math join the program. His parents had encouraged him to join Growing the STEM and he refused because he thought it would be a waste of time. His parents forced him to come to our first practice, just to give it a try. The student has continued coming back to our programs, and he's now one of our strongest students. He's always super excited to learn more math. It's awesome.
What's one way you hope to inspire others in your service?
If everyone takes their own passion and they go out and try to solve that problem, we can solve each other's burdens. If everyone did something positive for their community, it would make the world a better place.
What's been the most rewarding part of your service?
There are a lot of problems in the world, but through education, if you improve the lives of children and get them excited about the world, they can get out there and help to solve those problems. Our mission is to encourage kids to learn and problem solve.
In one word, what does volunteering mean to you?
Impact.
When you're not busy volunteering or at school, what do you do for fun?
We live near a lake, so a lot of my activities center around the lake including tubing and surfing. I also go to coffee shops with my friends, and drive around with the windows down and the music really loud (laughs).
How can readers help?
Please visit our website, Growing the STEM, for more information about how you can help.
Do you want to make a difference in your community like Lilian Smith? Find local volunteer opportunities.
Share this post