Illinois Teen Creates Music Academy for Low-Income Students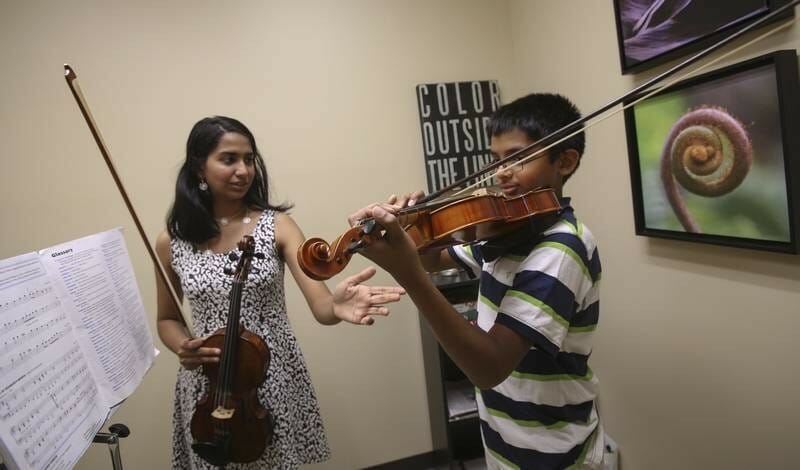 High school senior Abinaya Ramakrishnan founded the Muzik Academy, an organization that pairs volunteer high school student music teachers with elementary and middle school students, three years ago. Her goal was to make music lessons affordable for anyone with a desire to play, especially low-income individuals, as well as foster the love of music and support school music programs.
Points of Light spoke with Abinaya about Muzik Academy and the widespread impact the organization has had.
Why did you decide to start the Muzik Academy?
When I was in school, […] a lot of my friends that wanted to take music lessons couldn't afford to because it was expensive. Especially in the area I was brought up in, my lessons were $120 an hour. Many couldn't afford that high price. That's where the idea of having high school students start teaching and bringing lessons to middle school and elementary school students came about. That was my initial passion.
How is the program designed, and who do you recruit to volunteer for it?
It happened a lot through connections. I had amazing teachers through the last few years. They connected me with music directors and people who run orchestras. I connected with directors at high schools and have been able to market [my program] to high school students through them. High school students who choose to teach are rewarded through volunteer hours. We also have a program at the elementary and middle schools to reach kids who want to take up music lessons.
We recruit the students through the high school directors, and they go through a screening process. They send in video auditions tapes, and we have a student board that looks over the applications. Then, they pair the high school teachers with interested students based on personality, interest, type of teacher the student is looking for, and what music they want to play. We have workshops that we hold on a bi-monthly basis to teach the high school students how to teach lessons and also show them PowerPoints of how lessons should begin and what situations they might find themselves in.
What do you teach the students? What benefits are there for them to participate in Muzik Academy?
Students can take lessons as long as they want. We've been running the organization for about three years, so we've had a few of our high school students graduate. When that happens, we transition the students to another high school student that is eager to step in and help. Most of our students have stayed with us. Only a handful have left because they've wanted to continue with their music with a more professional teacher. Right now we have a couple thousand students and high school volunteers.
What are lessons like?
It depends on the level of the student. If it's a very beginner lesson, we'll sit with them and teach them how to hold their instrument, read notes, and work on position and posture. And, they slowly move up. With intermediate lessons, they're playing music that students would play in school, and teachers can identify other pieces of music they feel it would be pertinent for the student to play at that time. We do have a library of music that we give the teachers to use. We have our own book — it's a PDF that I've personally put together. If they have a certain point they want a student to reach, we can give them the steps to get to that point. Intermediate students are playing more pieces based on advanced music theory. Advanced student lessons are based mostly on what they want to play. It might be at a high concerto level, and the teachers help them get there.
What is the financial structure for Muzik Academy?
Our organization is structured so people pay a very cheap price. The pricing is on our website, themuzikacademy.org. You pay a certain price, but if you're low income, you are able to have lessons for free. And, we concentrate on low-income areas and work with schools to find students in these locations. Parents will sometimes tell us this is their situation, and we provide free lessons through a scholarship application. The benefit is there because it provides low-income students with the opportunity to pursue music at an in-depth level. With the money we receive for lessons, we also give back to school music programs. It helps low-income schools get instruments and make their music programs bigger and more interesting. It will help them have a higher retention rate in music. All the money for the scholarships and for the school music programs comes from the fees from the parents that can afford to pay for lessons.
How much of an impact do you feel like you've made?
At the very beginning, I had five students of my own. During that time, I think it helped that this was one thing I was passionate about. I wanted to grow the organization. That summer, I met a few students that taught me the importance that music had in their lives. They were just learning to play "Twinkle, Twinkle," and they were passionate about wanting to learn more. They wanted to practice. They would take my lessons and go home and work. In particular, some joined local youth orchestras. It only took a few months to realize what an impact my organization could have.
What are your future plans?
I think one of the greatest things about the organization is that, at this point, it's self-sustaining. It has a Board of Directors and is linked to several entrepreneurs in the area who have made it possible for me to not worry about marketing strategies or things that I don't have any expertise in. I want to continue to be part of the organization as I enter college, but it's comforting to know that I can hand-off the organization to someone else when I graduate.
Do want to make a difference in your community like Abinaya? Visit All For Good to find local volunteer opportunties.
Share this post