Illinois Woman Builds Community and Volunteers for Neighbors in Need
Meet Daily Point of Light Award honoree Tricia Ponicki. Read her story and nominate an outstanding volunteer or family as a Daily Point of Light.
Tricia Ponicki says she was an "independent" volunteer for almost a decade, and called herself and her supporters Ponicki's Angels, extending support wherever it was needed in places outside her community. But when the 45-year-old Burbank, Illinois resident turned her attention to her own backyard, she realized how much assistance her own neighbors needed.
Dedicating her time to offering resources and help within her community and surrounding towns, Tricia launched The BCA Hub Youth and Resource Center in 2017. Focused on providing resources to children and members of the community with the intention of "Building Communities across America," the center offers programs aimed to inspire and empower children to become well-rounded and successful adults, and provide assistance to adults in need. Connecting with over 700 in-need individuals across her community thus far, Tricia is fostering community awareness and initiating improvements to unite and improve her community.
What inspires you to volunteer?
For me, it's a calling. I am passionate about serving and caring for others. I don't judge people on their current situation, whether they are struggling with addiction, homelessness or something else, I simply focus on their wellbeing. They are just as human as you or I and they still need love and support.
Describe your role with BCA Hub Youth and Resource Center
As the founder of the Hub, I innovate where we have gaps in our community and find ways to unite people behind a common goal. You really don't know what's happening behind closed doors, but when neighbors help neighbors, we are able to form a bridge and connect people. It's my job to get people engaged, and serve as a friendly neighbor that is lending a helping hand.
Share one personal story with me from your volunteerism.
We recently we held a Thanksgiving drive, and it wasn't until then that I realized how many people in our community are really in need of help. I had moms coming up to pick up food baskets, and one was crying happy tears that the Hub was there to help. As a mom of four children who was on an assistance program myself as a young mother, that is really touching to me, because we are really making an impact on people who need the help.
How does your volunteerism empower families, children and mothers?
Most of these mothers and families are working, but they just can't get over that bridge. We are bringing kids and families together, helping those in need and empowering women and children to build up their confidence and teach them that anything is possible. We initiate projects such as collecting backpacks and school supplies for those in need.
What's your life motto?
To be the change, it starts with you. I plant the mustard seed, and then encourage others to help it grow. I want others to be good examples for the next generation, and encourage youth in our community to grow with service and have compassion for others.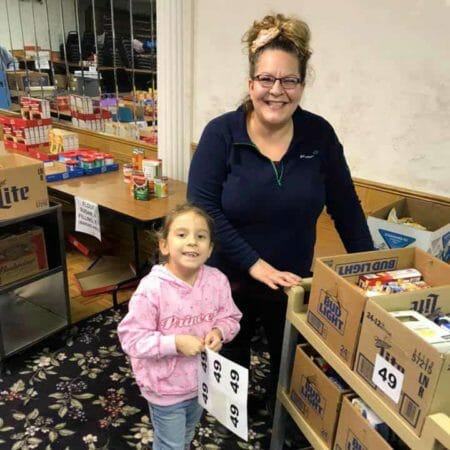 Tell me about your Secret "Hub Angels"
We recognize and in a way relate to the struggles these individuals face, because you do share some common ground. Some people don't want to ask for help, but they need it. Our secret angels are first responders – sometimes you overhear a conversation about how someone just lost a job, or something like that. We'll huddle together and figure out how to help. We're currently fulfilling the Christmas wish lists of 50 children as a surprise.
What's been the most rewarding part of your service?
The smiles and the hugs from people we help. They're genuine.
What have you learned through your experiences as a volunteer?
The impact that I've made through my volunteerism has been huge. My hidden talent is compassion and a deep caring for people, and I am realizing that I can utilize and share this talent with others.
What's in the future for the Hub?
We are planning a gathering place with a coffee shop for people to join together, to connect others and provide job opportunities for youth and members of the community. It will also act as a Clothes Closet and food pantry. We are currently fundraising for the center.
How can readers help?
We always need more volunteers and funding. Please check our website for more information about how you can help: https://www.thebcahub.org/
Do you want to make a difference in your community like Tricia Ponicki? Find local volunteer opportunities.
Share this post