Texas Adolescent Volunteers for Children with Kindness and "Kare"
Meet Daily Point of Light Award honoree Kadence Ann. Read her story and nominate an outstanding volunteer or family as a Daily Point of Light.
12-year-old Kadence Ann describes life at home as sometimes "crazy and hard", while living with her veteran father, a man who served in the Marine Corps all over the world for his country, and her grandfather, a Vietnam War veteran, both of whom grapple with PTSD. But according to the Austin, Texas child, the sometimes turbulent situation at home has motivated her to help others going through difficult times, through kindness, care and compassion.
Launching Kadence Kares in 2019, the 7th-grade student is on a mission to spread kindness to those in need, including children of veterans with PTSD, foster kids, the homeless and more. Helping 1,000 families in the Austin, Texas area and counting, Kadence is serving by example by being kind and supportive of others.
What inspires you to volunteer?
It feels amazing to know that I'm helping other kids. I am inspired by giving back to children and seeing them feel better.
Describe your role with Kadence Kares
As the founder of Kadence Kares, I work with several community organizations to connect with children and others in need, including the Ronald McDonald House, the Cpl. Chad Eric Lance Oligschlager Foundation for PTSD and more. We provide activities and other fun items for siblings of the children at the Ronald McDonald House.
You offer something called "Kindness Krates" – explain them to me.
Kindness Krates are bags filled with goodies and fun surprises to brighten a young girl's day. They are a mix of toys, stickers, a journal, arts & crafts and always a personalized Kadence Kares Kindness teddy bear.
Share one personal story with me from your volunteerism.
I gave toys to two children of a veteran suffering from PTSD. I let them choose which toy they wanted, and they said thank you so much, we love you. I explained that I know how hard life could be at home, and they started crying, and they all thanked me, including their dad. I don't know how to describe the moment, it was surreal. I hope that my kindness changes their lives for the better.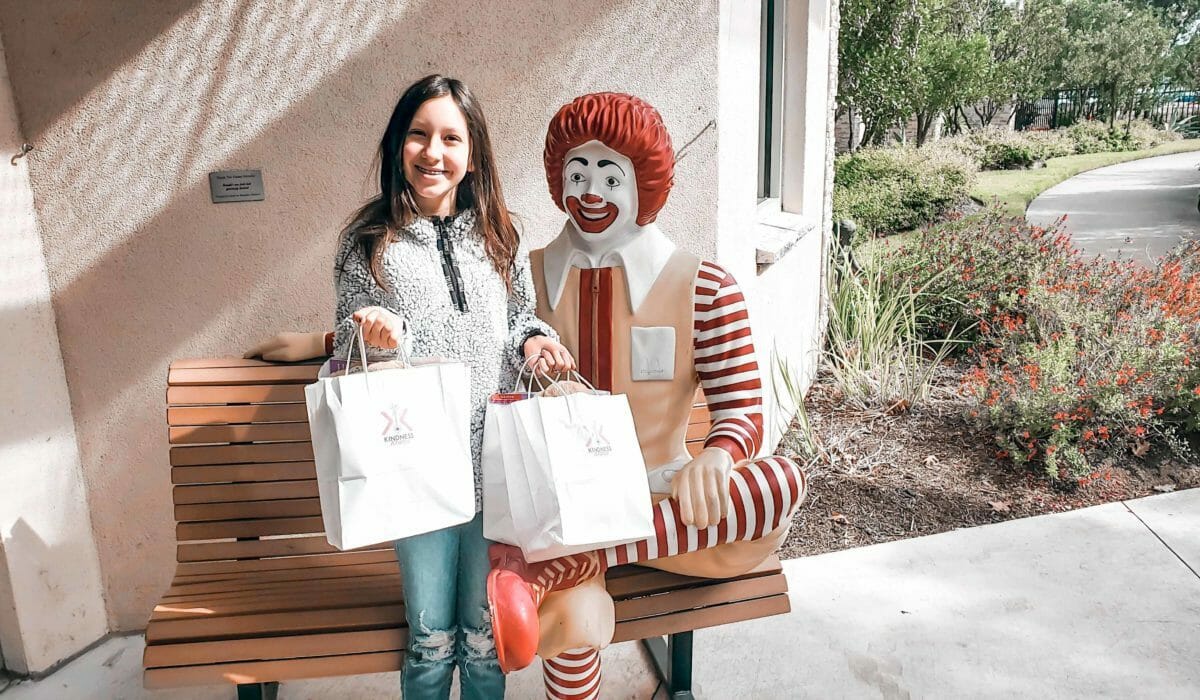 What's one way you hope to inspire others in your service?
I want people to be kind in any way. Also, I hope that I inspire others to not be judgemental, because you never know what's going on in their home, or how they're feeling on the inside.
What's been the most rewarding part of your service?
Being able to help others and make them feel better, even if it's just a little bit. You don't have to wait to be an adult to make your dreams happen. Make an impact now.
What do you like to do for fun?
I like science and doing theater. I also like singing.
How can readers help?
We rely on donations to help other families, so please visit our website for more information: https://www.kadencekares.org/donate-page.
Do you want to make a difference in your community like Kadence Ann? Find local volunteer opportunities.
Share this post