Child Sews to Serve Animal Shelters and Rescues
Meet Daily Point of Light Award honoree Lando Aldridge. Read his story and nominate an outstanding volunteer or family as a Daily Point of Light. 
Young Lando Aldridge was just six-years-old when he received a sewing machine as a gift. The Alabaster, Alabama child has combined his interest in sewing with another passion, his love for animals. 
Founding Hats for Cats, the now 10-year-old has donated more than $7,000 of his profits from handsewn items, connecting with individuals across his greater community and as far away as Hawaii and the United Kingdom as he supports animal shelters, rescues and sanctuaries. A pet owner himself who is dedicated to helping four-legged friends in need, Lando is volunteering to help give animals a second chance at life.  
Points of Light spoke with Lando and his mother, Francie-Ann Vono, about his volunteerism. 
What inspires you to volunteer?
Lando: Of course, I've loved animals always. When I was five, my cat Pewter died, our first rescue cat. I really thought, maybe there are other animals like this in shelters. There's dying animals and they need a home and this money helps provide them food and water. Volunteering makes me happy and a bit tired, because our work takes time and hard work.  
Explain Lando's passion for this cause.
Francie-Ann: After he received his sewing machine, he sewed presents for the entire family that year. He started with easy things like hats. My sister fosters cats, and Lando asked me why his aunt had so many cats, and we only got to have one. She explained what fostering was, and how cats live in shelters if they don't have homes. The exact words out of his mouth was, "I have to help the kitties." That's how he started. He now volunteers to support all animals. I cut things out and he'll sew, and now they let us go clean out cat condos and help socialize cats.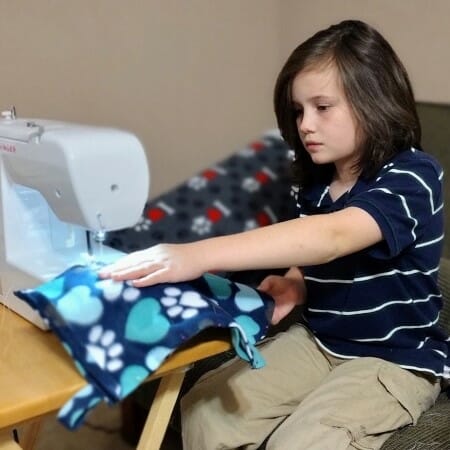 Describe Lando's volunteerism with Hats for Cats.
Francie-Ann: He started by selling fleece hats, and then added canvas bags, Christmas stockings, pillows and pet bandanas. All proceeds are donated, and we've worked with organizations including: Sanctuary Animal Rescue in Alabaster, Buddies Place Cat Rescue, Shelby Humane, Two by Two Rescue and Kitty Kat Haven & Rescue. 
Share one personal story with me from your volunteerism. 
Lando: We receive notes in the mail about how much we donated and sometimes the note says how many [animals] I helped or what they get to do, or how many [animals were] spayed or neutered [because of my donation,] and that warms my heart. 
Why do you think it's important for others to give back?
Lando: When people give back, it forms a stronger community that can help each other which will form an entire community that will help each other.  
What's been the most rewarding part of your service? 
Lando: It's rewarding hearing how many animals I've saved. The second part is receiving rewards from my mom (laughs). 
What has Lando learned through his experiences as a volunteer?
Francie-Ann: Like he mentioned, the organization will explain how his donation has helped 40 cats eat, or this number spayed. I really think it warms his heart. He loves animals and I think now he's done it enough that he does equate it with work, but someone needs to do it.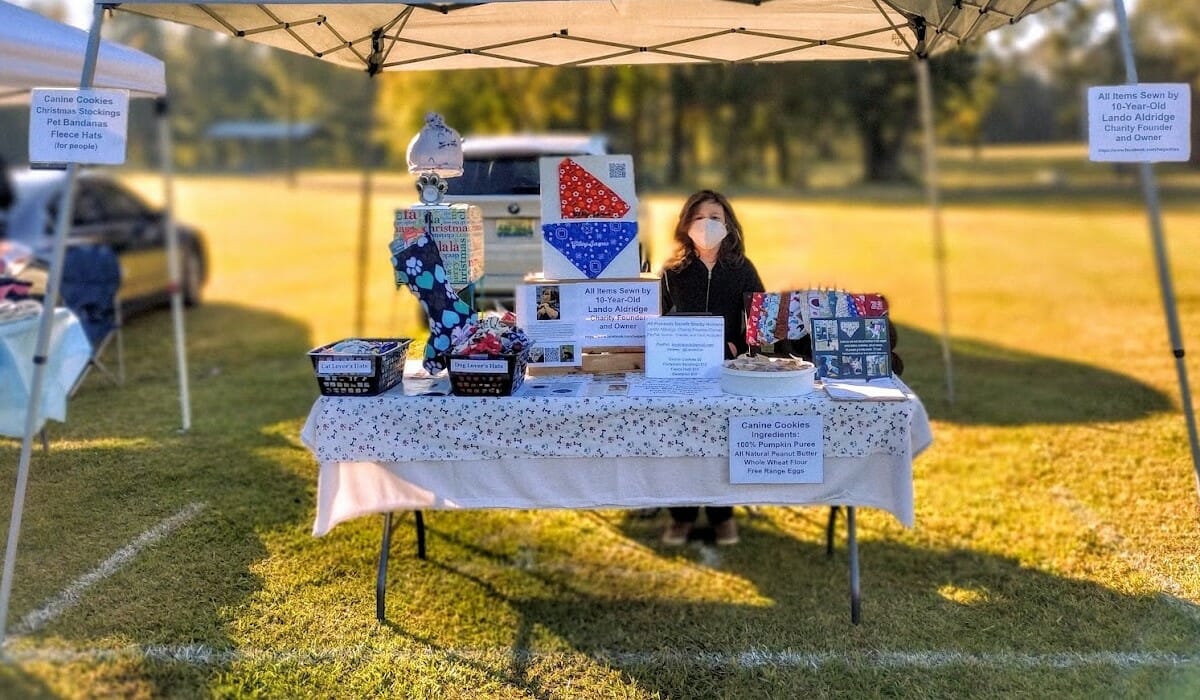 How have you continued to volunteer throughout the COVID-19 pandemic?
Lando: COVID has affected a lot of animal lives too.  
Francie-Ann: He started making masks through his Masks for Medical Workers / Masks for Mutts initiative. I let him watch press conferences about COVID-19, and he asked questions about the pandemic. Officials asked the community to make cloth masks, so [Lando] said, let's make them for doctors and vets. He donated many masks to essential workers, and sold some. 
In one word, what does volunteering mean to you?
Lando: Love.  
When you're not busy with school or volunteering, what do you do for fun?
Lando: Video games! I played chess and baseball before the pandemic.  
How can readers help?
Please visit our website for more information about our merchandise, or to sponsor an item for a shelter locally. 
Do you want to make a difference in your community like Lando Aldridge? Find local volunteer opportunities. 
Share this post