Nurse Collects Thousands of Bikes Across Minnesota for Kids In Need
Meet Daily Point of Light Award honoree Deb Fortner. Read her story and nominate an outstanding volunteer or family as a Point of Light. 
In Deb Fortner's yard, you won't find patio furniture or a garden. Instead, her yard is completely filled with hundreds and hundreds of bicycles. All year long, Deb collects bikes — searching for people getting rid of them on social media sites, reaching out to friends and neighbors, and researching if there will be any nearby whenever she travels anywhere in her home state of Minnesota. Her collection is not for a hobby or a side hustle. Instead, Deb is gathering them for kids who otherwise wouldn't be able to afford this childhood rite of passage.  
Deb began her journey 11 years ago when her employer Allina Health, where she has worked as a nurse for over three decades, partnered with the organization Free Bikes 4 Kidz MN. She started out helping at the collection sites, cleaning and fixing up bikes alongside her husband, as well as at the giveaways. After seeing the pure joy on the kids' faces when they were handed a free bike and helmet of their own, Deb was inspired to take her volunteerism even further. 
Describe your volunteer role with Free Bikes 4 Kidz MN.
I started at the collection sites. People would drop their bikes off and help load them into the trucks. My husband and I would go to the Free Bikes 4 Kidz warehouse where all the bikes were taken, and we would help clean the bikes. My husband would help fix them up so they would be running. We also helped with the giveaways, so when the kids came, helping them with the bikes. We did that for a few years, and I got to thinking, well, I could start collecting bikes. About six years ago or so, I talked to some friends and neighbors and I collected about nine bikes. Then I thought, well I could do a little better, and I think the next year was around 48 or so. Then the year after that, it was about 99. I started thinking, where can I find bikes for these kids? I started doing some of the socials like Craigslist and Nextdoor. One year I got a little under 500 bikes. The following year was 950 or 960 bikes. Last year, we got up to 1,120 bikes.  
I go around and now I do Facebook as well. When there's a free bike, I always explain what I'm getting the bikes for so people understand it's not for personal use and I'm not going to sell them again. I contact the people and if they're willing to donate the bike, I go pick it up. The collection to the warehouse is once a year, so we bring the bikes home. Fortunately I have a yard that's very secluded, so we store them on pallets and keep them under tarps. In early October, all the bikes get transported to the warehouse so they can be fixed and distributed to the kids. 
What inspired you to start volunteering once Allina partnered with Free Bikes 4 Kidz?
I didn't have grandkids and I was really looking for an opportunity to do something. … Our family has always been a really big biking family, so I thought this sounded kind of interesting. We were fixing these bikes and cleaning them. Then to be a part of the giveaway, oh my goodness. I can't even tell you the feeling you get when you see these kids, who otherwise wouldn't have an opportunity to have a bike, come and pick out a new bike. Allina gives each kid a new helmet. You send these kids out with I think one of the best gifts you can give a kid. When you think about it, biking can be something you enjoy for your lifetime. Just to see these kids have that opportunity got me hooked. That's when I decided I can do more.  
What does it mean to you that your family also volunteers with you?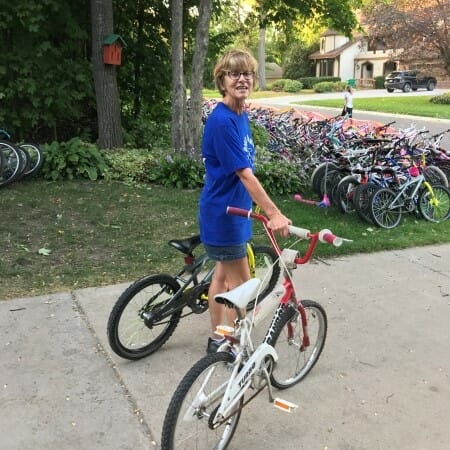 It kind of started out just being me, but now it's encompassed my whole family. It's such a good feeling to have the kids and the grandkids involved, and see they're as excited about it as I am. It means the world to me to have that opportunity not only to spend time with kids, but also to give back. Being a nurse and in the hospital setting, this has been something so positive to focus on during the last two years. 
Do you have any memories from the bike giveaways that have really stuck with you?
I remember a really memorable moment when we were at an elementary school. … What I liked about that one is that the older kids helped out during the bike giveaway. The older kids got a bike, but then they helped take the little kids through to help them pick out their bike. There was one kid, maybe 15 or 16, and he had a little brother. It was the end of the day and his little brother came to pick out a bike. The only bike left was a pink bike, and I could see this little boy was so down and out. His brother stepped up and said, "This could be the most radical bike. I'll get you some spray paint and we'll get this sprayed up with whatever color you want," and kind of made the best situation out of what was left. He really got his little brother excited about getting a new bike and that they were going to get it all painted up. The first giveaway I saw, there was a little girl who was about four or five. She just squealed. She ran to a little pink Barbie bike with training wheels, hopped on it, and started riding around. Those are two moments where I think oh my gosh, this is just so worth every minute I spend, every mile I drive, to see these kids who otherwise probably wouldn't have an opportunity to have a bike come pick out a bike and get a new helmet. 
What's been the most rewarding part of your work? 
I think the most rewarding part has been to see the kids receive the delight and the happiness that a bike brings. That is the key to it. But there's also so many other parts. It's meeting people in the community and talking to them and letting them know about the program. It's my kids and my family involved in an activity we can do together to try to make a difference. There's so many positives to it and so many things I find rewarding. It feels like it's the right thing to do. 
Why do you think it's important for others to give back?  
I think you get more back from volunteering than the effort you put in, and I think it can leave this world in a better place if we focus on the positive of what we can do rather than all the negative stuff we hear and all the problems. It changes our outlook and hopefully the outlook of others if we just focus on doing something positive.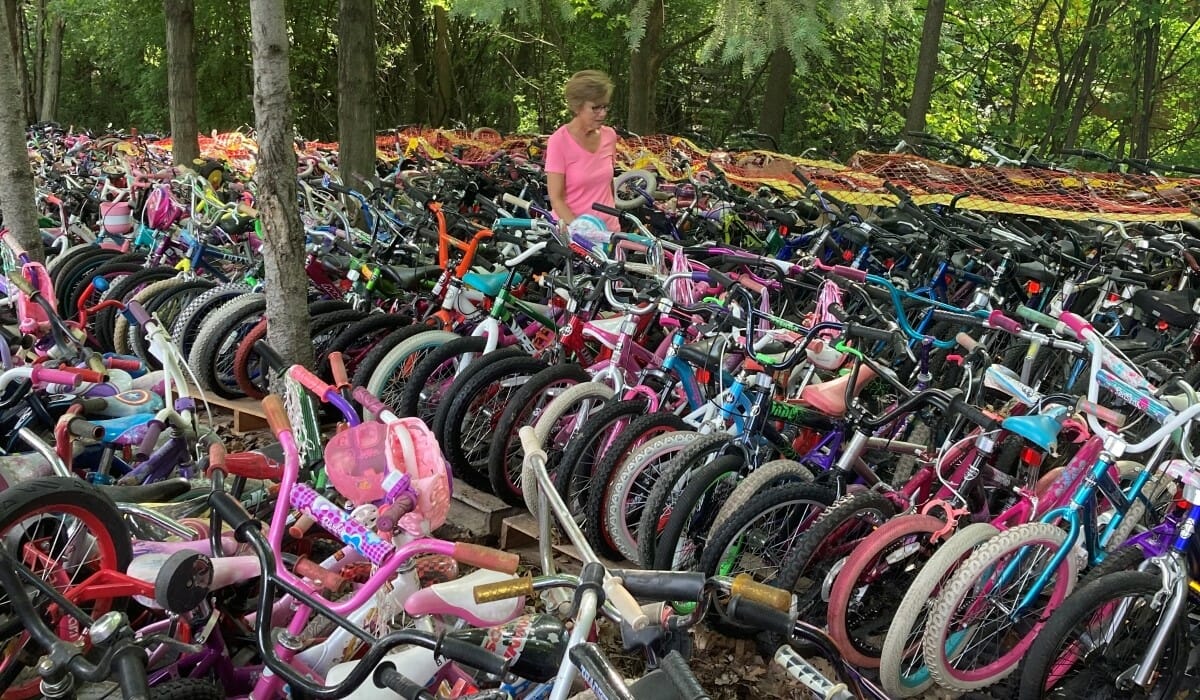 What do you want people to learn from your story?
I know obviously not a lot of people are able to do this on the scale I do it. But Free Bikes 4 Kidz are in many cities throughout the United States. All I would like people to know is there is opportunity for them to donate if they have a bike to any of the Free Bikes 4 Kidz sites. They're always looking for financial donations if they want to do that. There's all sorts of volunteer opportunities to sign up to help clean bikes and, if they have any mechanical bike skills, to wrench and fix the bikes, because every bike is gone over to make sure it's safe for the kids it have. 
Is there anything else you would want to share with anyone reading?
My message would be, find something you enjoy or are passionate about, then find an opportunity to volunteer to pursue that passion. It's an energizing and positive way to make a difference.  
Do you want to make a difference in your community like Deb? Find local volunteer opportunities. 
Share this post