Inspired by Grandmother's Message of Kindness, Volunteer Delivers Groceries Free of Charge Amid Pandemic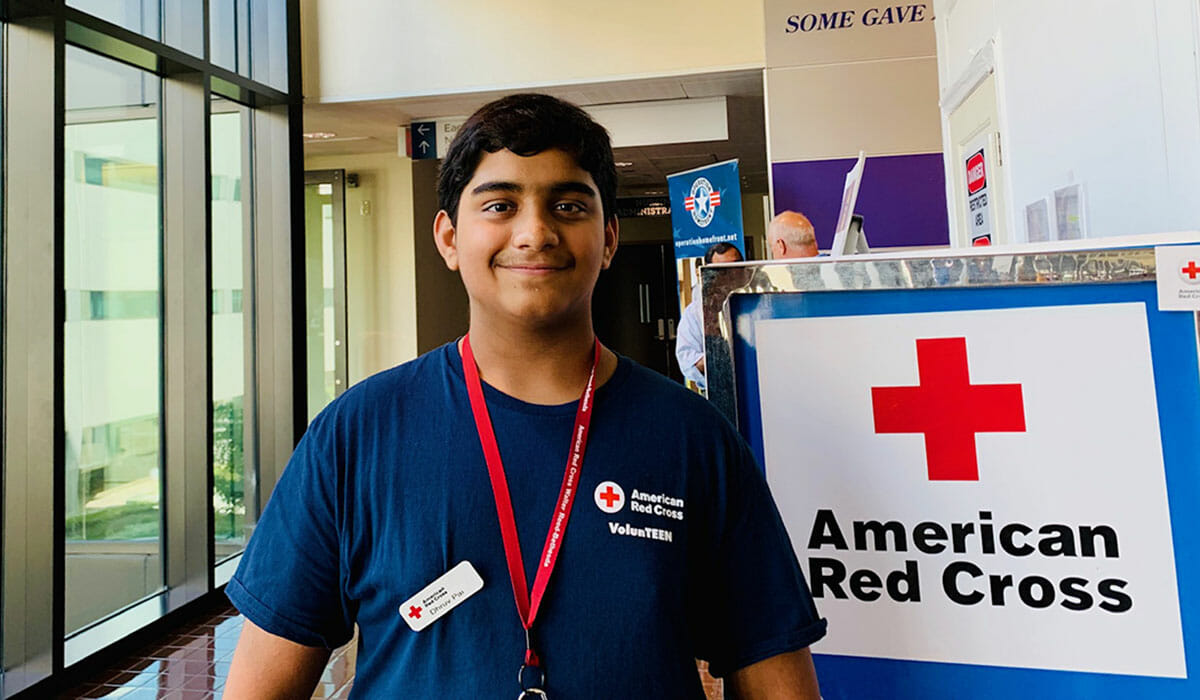 Meet Daily Point of Light Award honoree Dhruv Pai. Read his story and nominate an outstanding volunteer or family as a Daily Point of Light.
Dhruv Pai says his grandmother's common refrain of kindness – to help strangers on the street, was something repeated to him at each family gathering, a lesson drawn from his family's community and culture. As he began buying food for his own grandparents to lessen the risk they faced grocery shopping amid the COVID-19 pandemic, Dhruv was inspired by his grandmother's words to help others.
Launching Teens Helping Seniors in March along with a classmate, the Potomac, Maryland high school junior is now facilitating free 'no-touch' grocery and essential medications deliveries for seniors nationwide. Recognizing the struggle seniors faced to get food and other essentials as lockdowns began and grocery store lines snaked across parking lots, Dhruv is providing a cost-efficient way for seniors to receive deliveries from youth volunteers and in the meantime, form new connections with community members during what has been a very isolating time. Making over 2,300 deliveries thus far, Dhruv is helping people in need and is bringing generations together.
What inspires you to volunteer?
My grandma has always stressed the importance of helping a person on the street because you don't know their situation. Your act of kindness could change their life. It's a really prevalent lesson from our community and culture. I'm helping people because I recognize them as human beings, and our service brings a spark of joy to their day.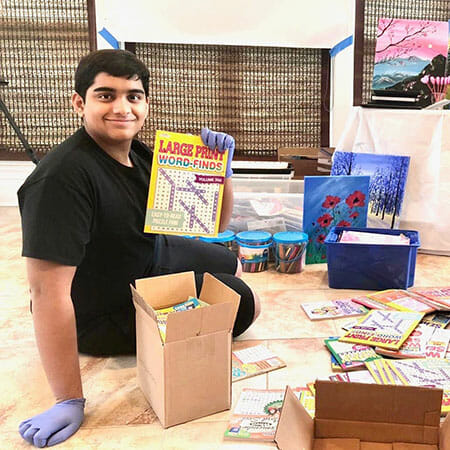 Describe your volunteerism with Teens Helping Seniors.
As co-founder, I'm managing communications and delivery requests. I am also delegating tasks to our coordinators. We rapidly expanded as demand for our services increased, and we now have 33 chapters in 16 states across the country as well as one in Montreal, Canada, with more than 750 volunteers, mostly teens, making deliveries. We've made over 2,300 deliveries thus far, and are currently making a few dozen deliveries each week to those in need. We started by helping seniors, but have partnered with organizations to expand deliveries to help people with chronic illnesses, disabled veterans and people with dementia.
Share one personal story with me from your volunteerism.
We're collaborating with a local organization to deliver to veterans, and I've continued delivering to this one elderly man because he suffers from mental health and physical issues. You rarely get to see the face of the person you are delivering to because it's contactless, so it's difficult to form a connection. After every delivery I'd give this man a call and ask him if the delivery went well. Gradually, we moved onto other questions, I'd ask him how his day was going, or if there was anything else I could help him with. These casual questions moved what was a delivery relationship to a real relationship between human beings. My volunteerism began because I dreaded the thought of anyone else having to go through what my grandparents initially dealt with in worrying about the virus and having to choose between their personal safety and getting access to essentials. Forming that connection makes me feel really really thankful, because even if I wasn't his delivery volunteer, there'd be someone else to support him.
Why do you think it's important for others to give back?
Especially during the pandemic, a lot of media narrative surrounding youth was decidedly negative. We heard stories about teens in Florida ignoring state guidelines, and I wanted to change the narrative that youth weren't interested in contributing to safer communities. What I found was that there were many teens interested, because they had a vested interest in altruism. They really wanted to help that stranger on the street, because of their sense of empathy.
What's been the most rewarding part of your service?
It's rewarding to meet other teens that are also interested in helping their community. In our case, they might be halfway across the globe, in Canada or Spain, and so we're bonding while helping other people. Also, we are getting to know seniors and people in my community through our service. Before this, I might have driven by their house once or twice going to school, but I wouldn't really know who they were. Through this volunteerism, we are forming a personal bond and getting to know one another.
What does your future volunteerism look like?
It's still really unclear when or if the COVID-19 pandemic will even be over. I want to continue this service because there are plenty of seniors who have difficulty getting to the grocery store, with or without the virus. In addition to my volunteerism with Teens Helping Seniors, I've volunteered for a number of other community organizations, including Arts-n-STEM4Hearts, Walter Reed National Military Medical Center Volunteen Red Cross program and the Congressional App challenge.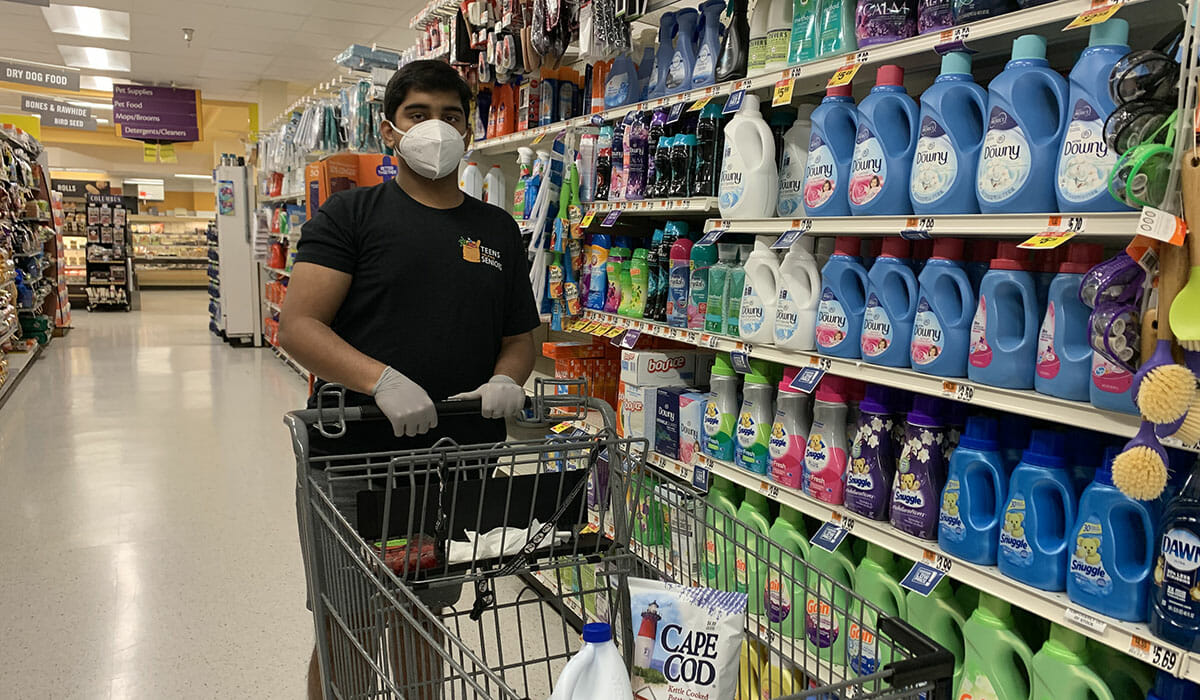 In one word, what does volunteering mean to you?
Altruism. Altruism is the most important aspect of volunteering.
When you're not busy going to school or volunteering, what do you do for fun?
I like spending time with my two cats. When I grow up I want to have a lot more cats hopefully. I also really love gardening, especially during the pandemic because it helps to take the stress off. I tried growing some ghost peppers but one came up and died just a few weeks into the growing season. I've had really good squash yields.
How can readers help?
Please visit our website for more information about how you can help.
Do you want to make a difference in your community like Dhruv Pai? Find local volunteer opportunities.
Share this post