Inspired by TV Story of Service, Teen Shares Love of Sport with Other Kids in Need
Meet Daily Point of Light Award honoree Donnie Stoltz. Read his story and nominate an outstanding volunteer or family as a Daily Point of Light.
Watching television one day, Donnie Stoltz says an interview featuring a man volunteering made an impression on him. Along with his mother, Donnie set off to help people in his own community, and when the now 17-year-old Donnie found a pair of basketball shoes that were too big for him, the lightbulb went off: he would donate them to a child in need.
Helping hundreds of kids in the Sioux Falls, South Dakota area, the high school junior is giving back through Donnie's Closet, offering gently used donated sports equipment to kids in need. Explaining the endless opportunities sports can afford a child, Donnie's service means that for a family who doesn't have the means to buy expensive equipment, their child has the opportunity to get into the game, building friendships and making lasting memories on the field. Distributing around 2,000 pieces of sports equipment to kids thus far, Donnie is making a positive change in his community and giving underprivileged young athletes the chance to participate.
What inspires you to volunteer?
I'm inspired by the smiles we receive from the kids when they get the equipment. Knowing that my volunteerism means they are able to go play their favorite sport with their friends, or make new friends, makes me feel like I am giving them the opportunity to change their life for the better.
Describe your volunteerism with Donnie's Closet.
As founder of Donnie's Closet, I volunteer with my mom to collect gently used sports equipment that other people in town don't need. We distribute those items to kids in need. We've held collection events and received donations of new equipment from local stores as well. We've also fundraised to support our community.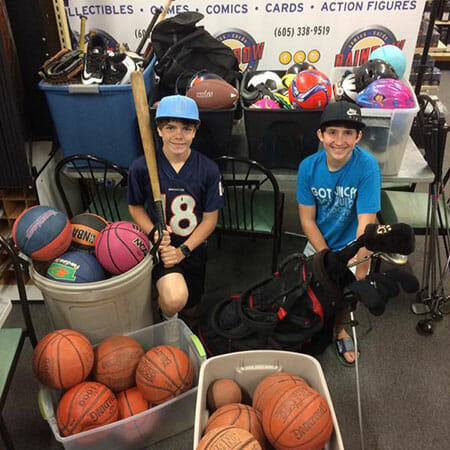 Share one personal story with me from your volunteerism.
We delivered a couple soccer balls and cleats to a child, and when we got to their house I noticed how ragged and impoverished the neighborhood was. I thought to myself, this (donation) must be a really big opportunity for them, because they might not have been able to play without this (equipment). Sports can be a whole mixture of things. It's having fun with your friend, and there's that competitive side where you really want to win and your friends help you with that. You have a more positive outlook on life knowing you have people to back you up, and our volunteerism is helping to make that all happen.
Tell me about the equipment you receive.
The most unusual piece of equipment we've received was a pair of skis that we got from our first collection event. They were the only pair we've ever received.
Why do you think it's important for others to give back?
Through service, people learn the impact of their choices and how it can change a person's life. Volunteerism shows people how they can increase the happiness of others just by doing one simple thing.
What's been the most rewarding part of your service?
It's rewarding to see the smiles. When I see the faces of the kids and their parents, I feel a whole world of joy because I know that I'm helping them do something they probably could have never done without our help.
How have you continued to volunteer throughout the COVID-19 pandemic?
We've still been distributing equipment throughout the pandemic. For a bit, I was volunteering at my church to broadcast their sermons while people weren't allowed to attend church in person.
In one word, what does volunteering mean to you?
Joy.
When you're not busy in school or volunteering, what do you do for fun?
I like to play with my friends online and sometimes hang out with them and play some sports.
How can readers help?
Please visit our Facebook page or email us for more information about how you can help.
Do you want to make a difference in your community like Donnie Stoltz? Find local volunteer opportunities.
Share this post