Inspired by Smiles, Volunteer Helps to Better Life for Thousands in Community
Meet Daily Point of Light Award honoree Brandi Rider. Read her story, and nominate an outstanding volunteer or family as a Daily Point of Light. 
42-year-old Brandi Rider says her family didn't have a ton of money when she was young, but her parents taught her to love and care for everyone. That lesson has stuck with the Hyde Park, New York resident, as Brandi now betters the lives of thousands in her community through service.
As a volunteer with Dutchess Outreach, Brandi's years of volunteerism have addressed needs across Dutchess County, from preventing food insecurity to providing clothes to community members in need and everything in between. Sharing that love and care her parents encouraged so many years ago, Brandi says it's the smiles from others that drive her volunteerism.  
Describe your volunteerism with Dutchess Outreach.
I serve on the Volunteer Committee and am a former board member. I am responsible for the yearly coat drive, the USPS postal food sort where community members can donate food in their mailbox, our volunteer recognition reception and The Lunch Box, which is our community meal program.  
What inspires you to volunteer?
Smiles inspire me. Doing the coat drive or food sort, having someone grab a bag of food and smile and say thank you, it means a lot to see a smile on someone's face. It doesn't matter their age, gender or race, every volunteer event I've done, [people] come out with a smile on their face, and that's what matters.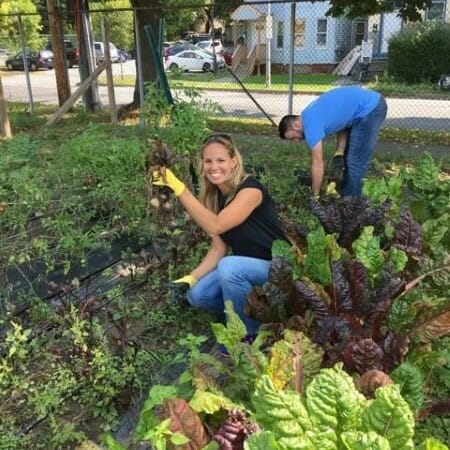 Share one personal story from your volunteerism. 
We hold an annual coat drive and give coats away in November. The coat drive is open to anyone, the client will come in and we tell them to go ahead and shop for a coat. Families will come in with their kids. Once, we had kids walk in and they looked sad. I tried to greet them as friendly as possible. [They started shopping,] I watched them smiling, joking and laughing, trying on coats and asking how they looked. They walked back with their parents wearing the coats and looked up to me with a huge smile. To some, it's their only coat. I have two kids and they volunteer at the coat drive with me. I show them if someone's hungry, you feed them, if someone needs a jacket, give them one.
Why do you think it's important for others to support their communities?
The smallest things can mean the biggest things to other people. My children and their friends have even joined in to help our volunteerism. It's important for us to volunteer and to teach others to do the same. The more hands and more volunteers, the better life is for everyone. 
How have you continued to volunteer throughout the COVID-19 pandemic?
We offered walk-up service for our hot meals and did popup coat drives instead of organizing the big event in one place. We observed an uptick in the number of people seeking help. Everyone was struggling [during the pandemic.] People lost their jobs and needed to provide for their family.  
Which saying guides your service?
I always like a quote by Helen Keller, "Alone we can do so little; together we can do so much." 
What do you want people to learn from your story?
It doesn't matter who you are or what phase of life you're in or what you have going on in your life right now, everyone needs help at some time or another. Look around —there's somebody else who could use a helping hand or a smile on their face. 
In one word, what does volunteering mean to you?
Love. 
How can readers help?
Please visit the Dutchess Outreach website for more information about how you can help. 
Do you want to make a difference in your community like Brandi Rider? Find local volunteer opportunities. 
Share this post