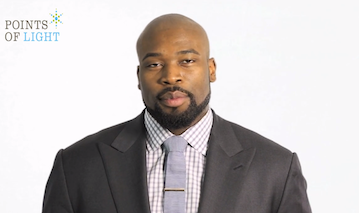 Israel Idonije has a reputation as a versatile, hard-hitting defensive end and tackle, most recently with the Chicago Bears and previously with the Detroit Lions. But the 10-year NFL veteran's truest love is far less public – community service.
Hear Israel Idonije talk about matching your passions with volunteering. (Click image to watch video.)
Since 2007, Idonije has devoted countless volunteer hours and substantial financial resources to the Israel Idonije Foundation, which provides support to thousands of kids through after-school programs, sports camps and medical missions. The foundation focuses on three places Idonije has called home: West Africa, the Canadian city of Winnipeg and Chicago.
A native of Lagos, Nigeria, Idonije moved with his family to Manitoba, Canada, when he was 4. His parents were Christian missionaries and founders of a local charity that distributed food to needy families; Idonije's earliest memories are of helping his parents serve the community. As a youngster, he did volunteer work through the local YMCA, and during his years as a student and star athlete at the University of Manitoba, he regularly volunteered at a high school after-school program.
Three seasons into his career with the Bears, Idonije launched his foundation – initially working solo from his garage. He started by asking a local high school principal, "How can I help?"
In Chicago, Idonije (known to locals as "Izzy") sponsors after-school programs through the IZZYz KIDz program.
Through a partnership with the Salvation Army's Ray and Joan Kroc Corps Community Center, IZZYz KIDz enables teens from more than a dozen Chicago schools to gather at the center after school. The students can receive academic help and lessons in recreational pursuits, such as painting and dancing.
Each year, the foundation sponsors "Shop With a Cop," which brings 200 Chicago kids from underserved communities together with 75 police officers and 50 volunteers and teachers for a day of fun, including bowling and pizza. The kids, paired with police officers, are given $100 gift cards and sent out on shopping sprees.
Idonije's foundation also heads an annual All-Star Football and Cheerleading Camp in Chicago and Winnipeg, attracting more than 350 kids from underprivileged neighborhoods each year. While participants learn football or cheerleading skills in a fun atmosphere, they focus on building healthy peer relationships.
In West Africa, the focus is humanitarian. Through its Africa Project, Idonije's foundation leads annual medical and community-building missions to impoverished communities. Since 2008, Idonije has traveled to Nigeria yearly with a team of volunteers to provide medical aid, community support and sports empowerment camps to kids in need. This year Idonije's team traveled to a village in Ghana where almost all the children needed treatment for malaria and other diseases.
"We believe every person on this planet has a role to play in using individual abilities to not only achieve personal dreams, but to also make our world better," Idonije says of his foundation. "Together we succeed."
Share this post