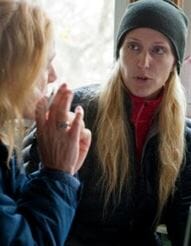 When Superstorm Sandy struck New York City in October 2012, devastating neighborhoods, Leni Calas moved into action to help victims.
"We knew almost at once that hundreds of homes were being destroyed, that hospitals were losing electricity and that streets were flooded," says Calas, of Queens.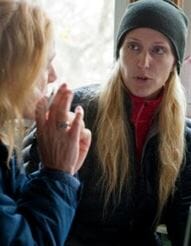 "There was no way government emergency services could handle it alone."
In the days and weeks that followed, Calas operated a food distribution center from her basement and worked with a volunteer from the hard-hit neighborhood of Rockaway to start a health clinic. When the most immediate needs of storm victims had been met, Calas took in a woman and two children facing eviction from a flooded apartment.
"I grew up here. When I was a child, my father took poor families into our home," says Calas. "When someone is in need … you simply do the right thing."
And knowing the community helps. After years working in the film and television Industry, in 2009 the mother of two founded The Mama's Network, an online service enabling parents in Queens to share information and learn about community resources. The network has since grown to include other parts of the city and suburbs, and operating it is now a full-time job for Calas. She says that neighbors helping neighbors is part of the fabric of Queens.
When Sandy hit, Calas learned quickly, just from reading posts on The Mama's Network, how severe the damage was.
The shortage of food and drinking water was the most urgent problem, so the distribution center came first, says Calas. She opened an online site through www.recovers.org, which provided a web platform to recruit volunteers and intake donations. Through this site and The Mama's Network, Calas was able to get 15 to 20 volunteers; together they were then able to recruit hundreds of drivers.
Calas and her volunteers worked 18-hour days at the food distribution center for weeks. Her husband and 13-year-old daughter Max pitched in to help, and Calas' mother even moved into the house and cooked for the volunteers at the end of each day.
While still operating the center, Calas learned on a trip to Rockaway that residents had little or no access to medical care.
"Bellevue and other hospitals were still closed," says Calas. "I met a relief worker in Rockaway who was responding by setting up a clinic in a flooded furrier's shop, so I partnered with her. Once the clinic was up and running, doctors and other medical professionals from around the city rushed to help us."
For two months, volunteers at the 20-by-20-foot makeshift clinic tended to 20 to 30 walk-in patients every day. Two mobile units operated by the clinic, along with individual doctors who offered to travel, helped another 50 patients daily.
When the need for food distribution and emergency medical service subsided, Calas wasn't finished. That's when she met Kizzy, a single mother living with two kids in an apartment with no electricity. Learning that Kizzy was about to be evicted, Calas rushed to negotiate with the landlord, then brought groceries to the family. But after inspecting the apartment and finding it crawling with mold, Calas invited the family to move in with her.
"It was an awkward situation, but my family was amazing when Kizzy came," says Calas. "The kids – even my 3-year-old – understood what was going on and did everything they could to help to make Kizzy's children comfortable. Max even helped Kizzy's older daughter with her homework. It was a complete family affair."
After staying many weeks at the Calas house, Kizzy was able to rent a new place of her own.
"It wasn't easy, by any means, having a family live with us," says Calas. "But it needed to be done, and I'm glad my kids went through the experience. It's one thing to talk to children about doing the right thing. But when you show them, it's indelible."
Share this post