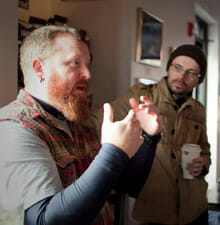 On a given day in Topeka, Kansas, you might find Jude Quinn and one of his "troops" of volunteers handing out care packages of toiletries to homeless people or cleaning trash from a park. In the winter, they drive the streets dispensing free coffee to anyone who looks cold. In the summer, bottled water is the offering. And if a specific community group or facility has an urgent need, Quinn assembles a troop by putting out a call to his network of volunteers via Twitter and the web.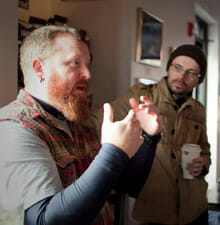 If this mission seems broad, that's precisely what Quinn intended when he founded SilverbackKS in 2011. Aside from a few regularly scheduled activities, SilverbackKS is primarily a kind of online and social media clearinghouse that enables people with busy schedules to pick and choose where and when they can pitch in to help.
In just over a year, more than 150 people have registered with the SilverbackKS web database to receive Quinn's regular updates on where donations and volunteer help are needed – information he receives directly from a growing list of organizations responsible for food drives, halfway houses, beautification programs and other vital services.
"I'm a locomotive engineer who's on call 365 days a year," explains Quinn. "My wife and I also have six children. When I moved to Topeka, I was eager to help the community, but my schedule didn't allow me to volunteer for any one service organization for, say, a fixed number of hours each week. As I discussed this with friends, I learned that many of them were in the same situation."
Quinn says he met most of his friends in Topeka through Twitter groups and discussions, and realized he could use Twitter as a means of recruiting volunteers for immediate community needs.
"If someone can help on a given day, that's great," Quinn says. "But we understand that everyone's free time is scarce and valuable."
Quinn named the organization after the silverback gorilla, the elder in every gorilla troop in charge of guiding, providing for and protecting the other troop members.
"We started almost spontaneously during a heat wave in 2011," says Quinn. "My friends and I saw people sitting on their porches because their houses were too hot, and others walking on the streets looking miserable. We decided to get bottled water and start giving out to everyone we saw. When winter came, a local coffee shop, PT's, agreed to give us free coffee and cups, and we started delivering it every Sunday to the homeless, to halfway houses and to anyone else we saw along the way. We didn't want it to be just charity. We wanted to help one big community that is Topeka."
Quinn believes their high visibility during these early deliveries helped them greatly when he later started recruiting volunteers online. And the coffee runs were so popular that they've become a permanent Sunday activity, "SilverbackKS Sunday," for which a full troop of volunteers is always signed up months in advance.
As the number of volunteers grew and became well acquainted with Topeka's homeless population, Quinn created a spinoff program called SilverBAGS. Using the Web, he solicits donations of toothpaste, shaving cream, bandages and other small-sized essentials. Volunteers then package them and distribute them to the homeless on SilverbackKS Sundays.
There have been two other spinoff programs – SilverMOMS, an invitation-only online group that enables Topeka parents to support each other, and the environmentally minded SilverTHUMBS, which helps with regular beautification projects in Topeka.
"It's immensely gratifying to witness what our volunteers accomplish," Quinn says. "And the feeling keeps coming back because every project we've started has been successful."
Share this post