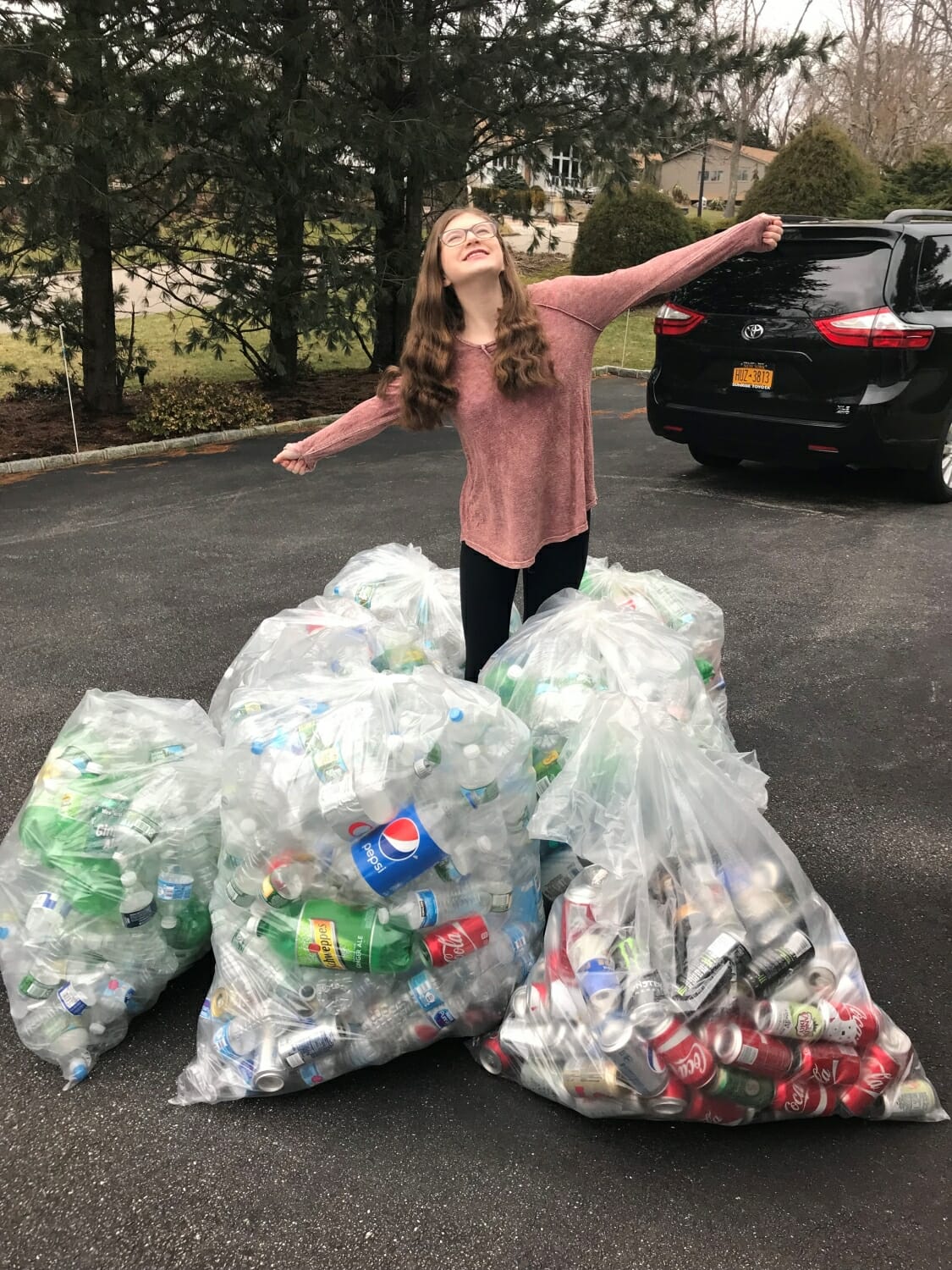 New York teen Janna Zilkha is paying kindness foward with her recyclying program, Bottles for Buddies. When she was 12-years old, a volunteer from New York Friendship Circle's buddy program began spending time with her cousin, who has special needs. The subsequent friendship between her cousin and the volunteer showed Janna the positive impact volunteers can have on the lives others. Janna is today's Daily Point of Light, and she talked with Points of Light about her motivation for giving back.
What organization do you volunteer with?
During the summer of 2013, I created my own recycling program, Bottles for Buddies. I redeem recyclables, worth 5 cents each, and donate every penny to the New York Friendship Circle (FCNY), which sponsors programs uniting teen volunteers with children with special needs.

To date, I have recycled over 37,000 bottles and raised over $1800 dollars through recycling. By giving speeches at local organizations and through my public Facebook page, I have encouraged members of the community to recycle. Two members of the community have matched my recycling dollars. In January 2018 and 2017, I funded and lead "Teen Sceen" programs using crafts and music to bring FCNY volunteers and teens with special needs together.

What inspired you to give back?
When I was almost 12, I was preparing for my bat mitzvah, and I wanted to do a project that would be important to our local community. At that time, my cousin Roi, who has special needs, was living with me and my family. My mother found out about the New York Friendship Circle, and signed Roi up for their Friends At Home program.

Once a week, a teen from our local high school came to spend time with Roi, as a friend. This made Roi so happy, which in turn had a positive effect on the rest of the family. Although I knew I could never directly repay the Friendship Circle for making a difference in our lives, I decided that I wanted to raise money for the organization.

What is the most important lesson you have learned through your experience as a volunteer?
The most important lesson I learned is that one person really can make a big difference, and that a simple idea can have far-reaching effects.

Why do you think it's important for other people to volunteer?
I think it's important for other people to volunteer because there are always opportunities to bring more goodness into the world. I feel very proud of all that I have done though my volunteering to improve our environment, and the lives of hundreds of children with special needs.
Do you want to make a difference in your community like Janna? Visit All For Good in order to find local volunteer opportunities.

Share this post