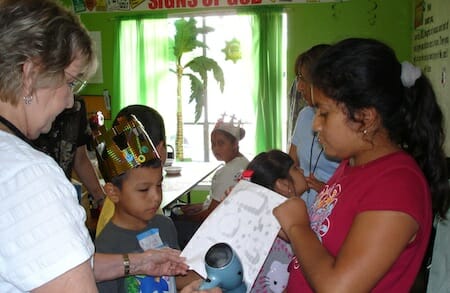 This week – in coordination with the National Education Association's annual Read Across America Day, March 2 – Points of Light and First Book are honoring volunteers who are teaching children to read. Meet Jeannette Winkelman, today's Daily Point of Light Award winner, and nominate someone you know as a Point of Light.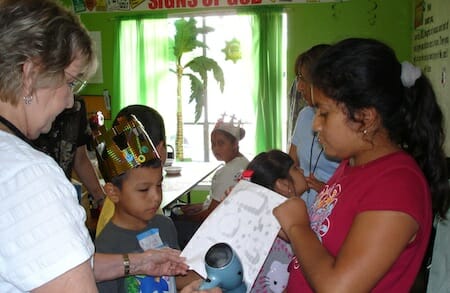 Jeannette Winkelman, left, of Richardson, Texas, interacts with local children through an educational church program.
Retirement didn't sit well with Jeannette Winkelman, who taught French and English as a Second Language, or ESL, for 20 years.
"All of a sudden I had nothing to do," says Winkelman, of Richardson, Texas. "I wasn't ready to retire."
Volunteering had always been a big part of her life and most of her volunteer activities had been through her church, First United Methodist Church Richardson. She felt that would be a good starting place to seek out her next role.
"Our church has a Church and Society committee that I went to and we began kicking around the idea of teaching ESL classes," Winkelman recalls.
Members of the church passed out flyers at local restaurants and centers and soon the small church meeting room was full of students wanting to learn English. The class got so big that Winkelman and her fellow volunteers had to find a bigger space to hold their lessons.
The ESL classes moved to a nearby apartment complex in the Richardson School District, where Winkelman had taught. Moving to the apartment complex served as a catalyst for Winkelman's church to start a new program that went beyond ESL classes and into developing and sustaining children's reading skills.
Vacation Church School was established, taking place in June after the official school year ended. Winkelman helps to enlist mothers to organize recreational activities, refreshments and crafts – activities these women were not comfortable taking part in during the school year because of a language barrier.
"These women used to withdraw because they were uncomfortable with English," Winkelman says. "With our Vacation Church School, they feel more comfortable and take a bigger role in their children's education."
Vacation Church School also spawned another new program for the church, called Read With Me. This program enlists volunteers to come and read with children during the summer to help maintain their reading skills. Volunteers work with 25 kids a day and even provides children with books they can keep.
Winkelman has helped more than 50 adults improve their English. Because she has been so faithful in teaching ESL classes and helping build programs, her church offers free English classes every year.
"I enjoy the work," Winkelman says. "I thought that everyone in the apartment complex knew each other, but that wasn't so. We built a community and grew into a group that cared about each other."
Share this post