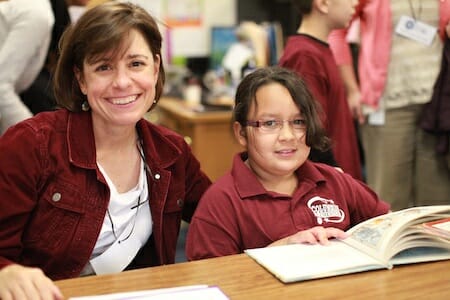 This week – in coordination with the National Education Association's annual Read Across America Day, March 2 – Points of Light and First Book are honoring volunteers who are teaching children to read. Meet Nina Nelan, today's Daily Point of Light Award winner, and nominate someone you know as a Point of Light.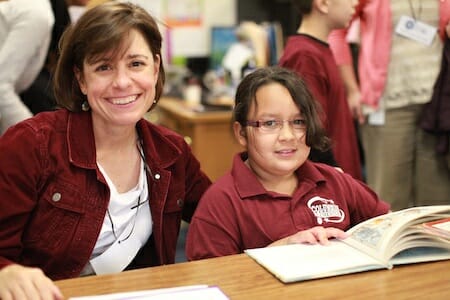 Nina Nelan, left, with her reading buddy, Anastasia Medina
Every week Nina Nelan hops on a school bus with her coworkers for a power lunch unlike any other.
Through the Power Lunch program – a collaboration of the Denver Public Schools Foundation, Mile High United Way and Denver Public Schools – area workers are matched with second- or third-grade "reading buddies." Coworkers visit weekly as a group – sometimes aboard an actual school bus – to meet with their buddies for 45-minute reading sessions.
"We are in a high-pressure work environment and there are often times when it's Friday morning and people feel like they're too busy," says Nelan, a tax director at PwC, a global network of firms that provide assurance, tax and advisory services. "But as soon as you get on the school bus, it's pretty much immediate that you leave the stress behind."
Roughly two years ago, Nelan was looking for a way to incorporate her love of reading and her employer's commitment to employee volunteerism and youth education. She found the Power Lunch program. Nelan conducted an informal office poll to gauge interest; the idea was a hit.
In the Denver area, many first and third graders need to improve their reading skills in order to score a minimum level of "proficient" on standardized state tests. Many of these students are also in need of positive and reliable adult role models.
Nelan and her PwC colleagues participate in the Power Lunch program at Columbian Elementary, a Denver public school serving about 300 students from preschool to fifth grade. At Columbian, 91 percent of students qualify for free and reduced lunch, 94 percent are minorities and just 58.5 percent scored proficient in reading in the 2013-2014 school year.
"The third grade has been identified as the critical year where you go from `learning to read' to `reading to learn,'" Nelan says. "So if we can get these students there at the end of third grade, they are set up for success as they continue through school."
PwC has been a partner at Columbian Elementary since 2012, providing the school with financial, in-kind and volunteer resources. And since then, Nelan has engaged more than 100 volunteers in early literacy at Columbian.
"The first year it took six weeks to get 42 people lined up," Nelan says. "This year we had a wait list of 32 people within five days." Nelan leverages the company's volunteer policy to encourage staff to take time once a week. "We are eligible for unlimited volunteer hours for activities and organizations that are committed to youth activities and development." Nelan also works to get the company's partners to participate.
Nelan says the weekly school bus ride to Columbian is an opportunity for the PwC staff to build community: "We share silly stories about our buddies, what they say and do. It improves morale and we see the true impact of corporate social responsibility through our people and our resources and expertise."
An accountant, Nelan loves to see the numbers. The volunteers saw from last year's data that the kids who were reading below grade level moved up on average 1 1/2 grade levels.
"They learned in one year what would take others a year and a half," Nelan says. "It always feels good to know you're doing something."
Share this post