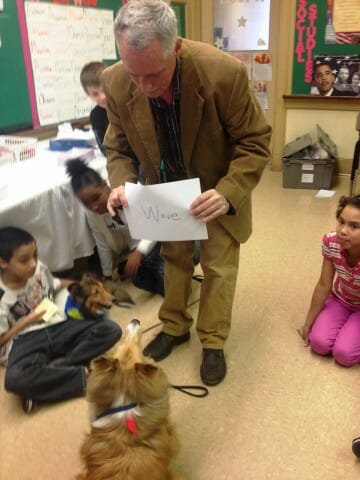 This week – in coordination with the National Education Association's annual Read Across America Day, March 2 – Points of Light and First Book are honoring volunteers who are teaching children to read. Meet Terrance Brown, today's Daily Point of Light Award winner, and nominate someone you know as a Point of Light.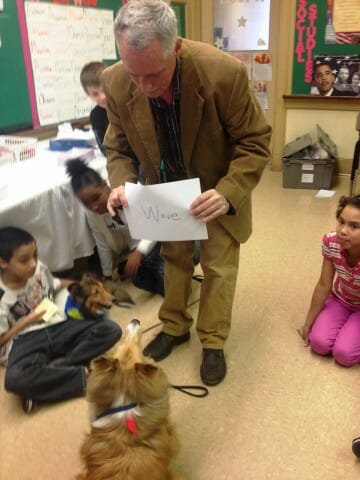 Terrance Brown shows elementary school kids a trick with his dog, Ziggy, during which Ziggy appears to be reading.
As a Vietnam War combat veteran who suffered from post-traumatic stress disorder, Terrance Brown knows firsthand the healing power of dogs.
"When I retired from the Army Reserves my wife gave me a dog," says Brown, who writes a regular feature about local soldiers for the Albany Times Union. "When the dog died after 14 years, [my wife] noticed that during the entire time I had that dog I had no PTSD relapses. That dog was clearly very therapeutic."
Brown also realized that dogs had another special talent: They could help a child read.
"My granddaughter has Asperger's syndrome and was very late in developing her reading skills," Brown says. "She refused to read to her parents, so my wife and I encouraged her to read to the dog. Slowly but surely over time her reading skills improved."
These two personal experiences have shaped the volunteer work Brown does today, helping kids enhance their reading skills. He got his dogs – Shetland sheepdogs named Ziggy and Jenna – trained as therapy dogs. Dogs that receive such training provide comfort to people in need, such as someone who is recovering from an injury, or someone who is grieving the loss of a loved one.
Brown and his dogs joined a therapy group chapter and ended up at a seminar in Schenectady, New York. The local school district had invited volunteer groups to show what they do for the community.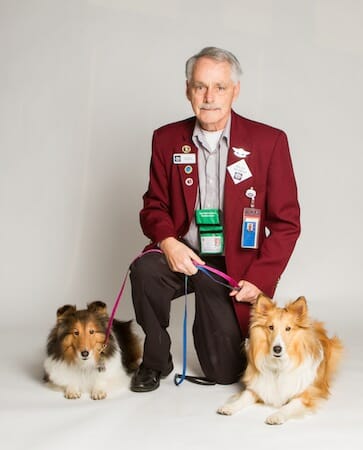 Terrance Brown and his dogs
"There we were, walking around when a bunch of youngsters came up to us, excited about the dogs," Brown recalls. "At that session, I pointed out the importance of reading. I did a demo with Ziggy, and the kids and adults were astonished at what Ziggy could do."
Astonished, because it looked like Ziggy could read.
Brown has trained his dogs to recognize words on paper using sleight finger motions that only his dogs can see. If he holds up a piece of paper that says "sit," the dogs sit.
"I pointed out the importance of listening and staying focused, and showed how Ziggy was focusing on me," says Brown.
The principal of FDR Elementary School saw the kids' reactions and was intrigued. She followed Brown around that day and soon asked him to participate in a weekly reading program at the school with his dogs. Three years later, Brown, Ziggy and Jenna visit the school every week for an hour or so.
Brown engages 120 at-risk children from low-income households attending first through sixth grades, seeing kids in small groups. The students read books or text they've written to Brown and his dogs. Students who typically avoid reading clamor for their turn to read to the dogs, and they show improvement in reading over the course of a school year.
"The dogs are patient, giving the youngsters confidence to read without being criticized," Brown says. "There are several kids who witnessed violence during home invasions and had issues focusing. They lacked confidence and spending time reading to the dogs helps them to relax and focus."
Share this post