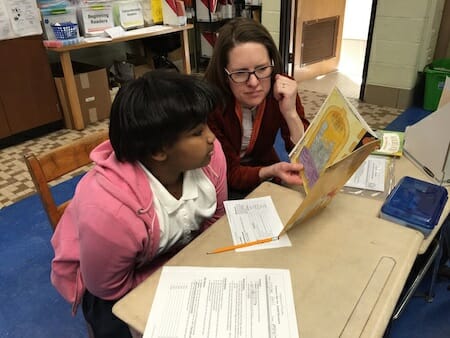 This week – in coordination with the National Education Association's annual Read Across America Day, March 2 – Points of Light and First Book are honoring volunteers who are teaching children to read. Meet Tiffany James, today's Daily Point of Light Award winner, and nominate someone you know as a Point of Light.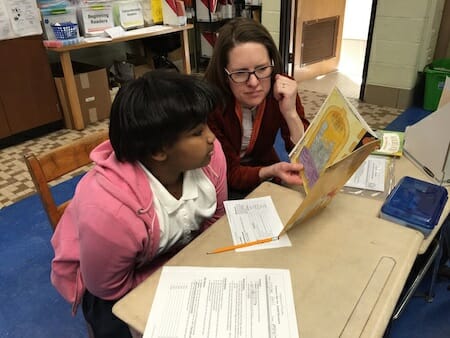 Tiffany James, right, tutors third grader Crystal.
Tiffany James thinks about her daughter when explaining why she is so passionate about teaching kids to read: "My daughter's favorite book when she was little is all taped up and half the pages are gone. It was so loved, she sort of made it her friend. I just want more kids to be able to love reading as much as my daughter did."
James, who works for the city of Baltimore's Parking Authority, began volunteering as a tutor two years ago, when the mayor made it possible for city employees to tutor third graders in reading two hours a week without having to use personal time. The city's program, Third Grade Reads, works with the nonprofit Reading Partners to match volunteers with third graders.
James persuaded her boss to volunteer with Reading Partners; he in turn invited the organization to give a presentation for employees. Nine more signed up to tutor kids.
In Baltimore, the majority of third graders aren't proficient in reading. Without solid reading skills, it will become increasingly harder for those students to keep up in school and reach their full potential.
"Literacy is important to help broaden your options in life," James says. "I want to provide that opportunity to as many kids as possible here in Baltimore."
James helped organize a book drive that collected 2,413 books for the children being tutored, who get to take a book home after each session. The book drive, which was implemented in city garages, was so well received that some of the garage operators placed donation boxes in garages they privately managed.
In addition to the hands-on, one-on-one volunteer time James spends tutoring, she is also busy building support for Reading Partners. Her efforts have led to interest from two additional principals and a city official.
"If you make it easy for someone to do something good," James says, "they usually rise to the occasion."
Share this post