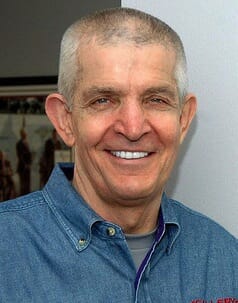 Meet Jim McIngvale, who was awarded today's Daily Point of Light Award in Houston by President George H. W. Bush, Points of Light's founder, and Neil Bush, chair of Points of Light's board. Read McIngvale's story and nominate someone you know as a Daily Point of Light.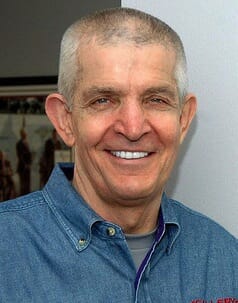 He's known as "Mattress Mack" for his successful furniture business, but it's Jim McIngvale's longtime commitment to public education, military personnel, natural disaster victims and programs supporting those in need that has endeared him to fellow Houstonians.
In 2000, McIngvale began his most personal service mission when his daughter Elizabeth – 13 at the time – was diagnosed with severe obsessive-compulsive disorder (OCD). For more than a year, Elizabeth had been hiding behaviors such as compulsive hand-washing from her family and friends. Elizabeth was admitted to the Menninger Clinic in Topeka, Kan.
As Elizabeth slowly began her recovery, McIngvale devoted himself to supporting her and other OCD sufferers, raising public awareness of OCD and donating millions of dollars to organizations devoted to treatment and prevention of mental health disorders. He began ongoing support of the Menninger Clinic, including a multimillion-dollar donation that helped the clinic relocate to Houston.
In 2006, as she continued to get better, Elizabeth became the first spokesperson for what is now the International OCD Foundation. That same year, the McIngvales created the Peace of Mind Foundation to provide support and resources to OCD sufferers and to educate the public about the condition. Subsequently, the family launched a website for OCD sufferers, ocdchallenge.com. Elizabeth ultimately attended college, earning her master's degree, and is now a Ph.D. candidate.
"We believe Elizabeth has been instrumental in helping move towards the removal of the stigma associated with mental illness," says McIngvale. "We see more awareness, understanding and acceptance of those with mental illness of all kinds. We definitely see many who personally reach out to us, either as sufferers or caregivers."
McIngvale also has a special interest in public education – particularly in helping students in low-income areas of Houston. In 1992, he assisted actor and former karate champion Chuck Norris in funding KICKSTART KIDS at four Houston middle schools. The program uses martial arts training and personal guidance to help kids avoid drugs and gang participation, and encourages students to remain in school and attend college. McIngvale continues to support KICKSTART KIDS, which is active in 40 middle schools and has served more than 70,000 students throughout Texas.
"The program is great as it teaches discipline, a good work ethic and gives the kids great mentors," says McIngvale. "It has changed many kids' lives and made a real difference to so many, and the most impressive thing is how the staff members and instructors dedicate themselves to these kids."
In 1994, McIngvale provided startup funding for Houston's Knowledge Is Power Program, known as KIPP, a nonprofit that helps students from low-income households develop the academic skills and character traits necessary to graduate from high school, attend college and succeed professionally. Nationally, KIPP is a network of 141 public charter schools serving 50,000 students.
McIngvale has also furnished USO facilities around the world and provided furniture to thousands of veterans and victims of Hurricane Katrina; provided housing for several hundred Katrina evacuees; bought and distributed 10,000 holiday toys for children in need; and provided Thanksgiving dinner for thousands of people.
McIngvale says his commitment to community service is grounded in family and faith.
"First, my father was a shining example of giving," he explains. "He taught us to care about others. Second, my greatest satisfaction, outside of my children and family, is seeing the faces of children and adults when they receive services or needs. I have been so greatly blessed in my life and feel you owe helping others while you can."
Share this post