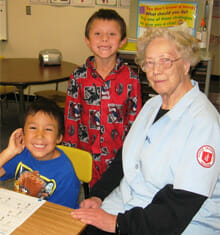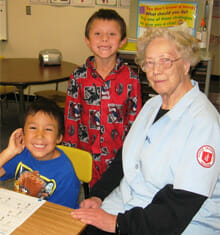 Marian Gallipo (Grandma Marian) serves at Lincoln Elementary School in Aberdeen, South Dakota to improve student-reading scores through extra one-on-one and small group assistance and support.
Grandma Marian is a member of the Volunteers of America, Dakotas' Foster Grandparent program, which provides community service opportunities for seniors to work one-on-one with children giving them individual attention to promote physical, social, emotional and mental growth. The Foster Grandparent program has had an ongoing relationship with Lincoln Elementary since 1974. Grandma Marian became a Foster Grandparent on October 1, 2005 and has volunteered at Lincoln Elementary the entire eight years that she has been involved with the program.
As a Foster Grandparent, Grandma Marian serves as a role model, mentor, and friend to children with exceptional needs, thereby allowing her to stay active by serving youth at Lincoln Elementary School. She works with students identified by the classroom teacher as needing assistance to improve their reading, and focuses on reading and literacy skills using games, worksheets, reading and writing assignments, and books supplied by the teacher.
The assistance that Grandma Marian provides to the students empowers them to do their best, and helps them develop the skills, confidence and strengths to succeed in life.
Over the years, Grandma Marian has consistently worked with students to improve their academic skills. The students and teachers she works with as well as the Foster Grandparent staff and fellow grandparents love her.
In 2011, Grandma Marian received a President's Volunteer Service Award for volunteering over 4,000 hours during her lifetime. In May of 2013, she participated in the first-ever Mayors Day of Recognition for National Service along with Aberdeen's Mayor, Mike Levsen, who read to first graders at Lincoln Elementary School.
Share this post