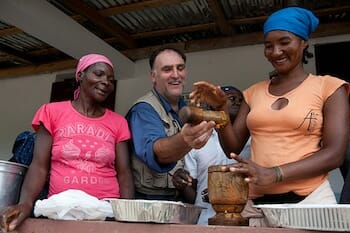 When a massive earthquake decimated parts of Haiti three years ago, acclaimed chef José Andrés was vacationing with his wife in the nearby Cayman Islands.
"There we were, surrounded by every comfort, and we were learning of this terrible disaster that had left people with nothing. I wanted to help," says the James Beard Award winner. "That was the seed for World Central Kitchen."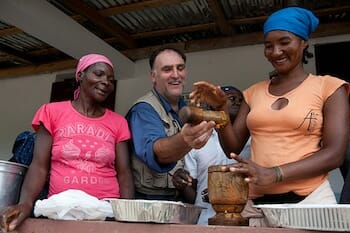 Before he began his global humanitarian work against hunger, Andrés had been helping the hungry locally as a volunteer for the nonprofit D.C. Central Kitchen, from peeling potatoes to concocting new recipes.
Washington had embraced the Spanish-born chef, who had become one of America's most celebrated restaurateurs – by popularizing traditional and avant-garde Spanish cuisine at chic, award-winning restaurants in D.C. and other major cities.
Andrés had learned much from his experience at D.C. Central Kitchen, which works to feed the hungry by using sustainable methods, such as partnerships with food providers, recycling of leftover food and job training for the homeless and unemployed. The organization prepares and delivers 5,000 meals each day to food banks and other nonprofits in the Washington, D.C., area and provides daily meals for eight local schools.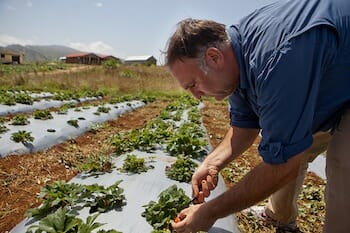 After the Haiti earthquake in 2010, Andrés decided to broaden his fight against hunger. Using the models of sustainability he learned at D.C. Central Kitchen, he founded World Central Kitchen, which teaches communities in poor countries to grow and prepare their own food using sanitary and energy-efficient methods, including solar-powered stoves. (According to the World Health Organization, nearly 2 million people in developing countries die each year from illnesses associated with traditional cooking methods that emit harmful smoke.)
"I feel blessed that I have had a good life, but it is tragic that so many suffer simply because of where they were born," Andrés says. "I feel it's my duty to help as many as possible, and to empower as many as possible."
After he launched World Central Kitchen, using his own funds and a grant from the Vilcek Foundation, Andrés made a relief trip to Haiti, the first of 14.
"First, I went to learn," he says. "And I became convinced I could help make communities self-sufficient."
World Central Kitchen has undertaken three major relief programs in Haiti. In the town of Palmiste Tampe, the organization is constructing a kitchen and community garden at the local school to feed its 300 students. When the kitchen is completed, community members will be trained on clean cook stoves to prepare locally grown food.
In Port Au Prince, Andrés and his team of volunteers designed and renovated a bakery at the Zamni Beni orphanage. World Central Kitchen has trained five bakers to work at Zamni Beni and is now teaching the community to increase bread production so that bakery will both serve the orphanage and become self-sustaining by selling its products.
World Central Kitchen is also in the process of creating the Elie du Bois Culinary School in Port Au Prince. Using a curriculum designed by Andrés, the school will help Haitian women to become self-sufficient by teaching them food preparation, sanitary cooking techniques and a variety of other skills aimed at helping them find employment in the Haitian food and restaurant industry.
Andrés hopes to expand World Central Kitchen to serve new communities in Latin America and Africa. He also speaks worldwide on hunger issues and the need for safe cooking equipment.
"The best part of the experience for me is seeing the smiles," he says. "Nothing sends a more powerful message than the smile of a child. They know you are there for them, trying to help. When someone can give you a smile even when they are amid continuing hardship, it truly puts things into perspective for me."
Share this post