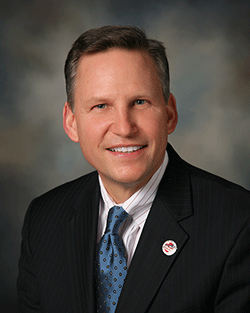 Joseph Dean of Port Washington, Wisconsin is chairman and founder of Stars and Stripes Honor Flight (SSHF), a Wisconsin based non-profit that flies World War II veterans to see their memorial in Washington, DC at no cost to the veteran. SSHF is comprised completely of volunteers.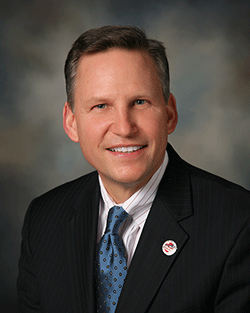 Dean's connection to this organization is personal. His father was a World War II veteran serving in the navy in the South Pacific. As his father's health declined with Alzheimer's, Dean traveled with him to a number of reunions of the Land Invasion Operation Navy (LION) and recorded his war stories, growing fascinated with his own father's story while learning and preserving other World War II veterans' stories as well.
Four years ago, Dean heard about the Honor Flight program on television, and took the initiative to start the first Honor Flight chapter in Wisconsin. To date, the SSHF team has launched four other Honor Flight hubs in Wisconsin, flying nearly 5,000 WWII veterans.
Dean's volunteerism has not only solved the need of Wisconsin WWII veterans to see their Memorial in Washington, DC and discuss their service, many for the first time, but has ensured that these heroes, who are in the 80's and 90's are not forgotten about by their community. He has inspired his local community to thank these WWII veterans for their service and honor them in ways that have a lasting impact on the WWII veterans and their families. On every trip, Dean lets the WWII veterans know that it is the promise of Stars and Stripes Honor Flight that their service and their sacrifice will never be forgotten. Part of the promise is taking their stories to their families, neighbors, community and state and throughout the nation so that people will know about their contributions. To live up to this promise, Dean has been a mentor to other Honor Flight hubs both in Wisconsin and nationally.
Share this post