As we approach Memorial Day, we honor fallen heroes and the volunteers who serve their families. Read about Daily Point of Light Award winner Judy Mathewson and nominate an outstanding volunteer you know as a Point of Light.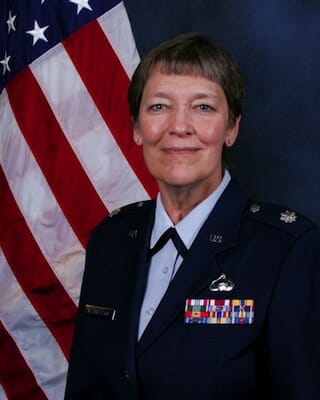 Judy Mathewson
For many kids, Memorial Day is just a day off from school, a taste of summer break. But for some children, it can be a reminder of a loved one lost in the line of duty.
That's where Judy Mathewson comes in. A retired school teacher and member of the Arkansas Air National Guard, Mathewson for two decades has been an integral part of the TAPS (Tragedy Assistance Program for Survivors) Good Grief Camp.
During the annual camp, children who have lost a parent, sibling or other close loved one in the military meet each year in the Washington, D.C., area over Memorial Day weekend.
Young survivors are paired with active duty military mentors who teach them about how the country honors fallen heroes. The campers see they are not alone in their sadness, making new friends and participating in special sessions geared toward their age to help them manage their grief.
"Children and teens meet others of their own age group to share and learn together," Mathewson told Counseling Today. "[They] have fun while discovering how to cope with the pain they are experiencing. They learn a lot from each other."
In addition to the Memorial Day weekend camp, TAPS also holds local camps throughout the year across the country. The Arlington, Virginia-based organization also has a host of services designed to address the emotional well-being of military families who have suffered a loss.
Since TAPS was founded in 1994, Mathewson has volunteered her time, using her training working with special needs, disabled and grieving children to bring comfort and care to families. She has been instrumental in providing urgent care for children in crisis, including intervening in cases of troubled teens and special needs children.
Mathewson's background in special needs and mental health was crucial to the development and evolution of the Good Grief Camp program, which began in 1995. Through her volunteer work with TAPS, she has helped more than 300 families.
The feedback from Good Grief Camp participants shows what kindness and understanding can mean for someone in grief. One 4-year-old camper said:
"I got to meet a lot of other little boys and girls whose mommy or daddy is in heaven so I don't feel like I am the only one who doesn't have a daddy. I love my daddy very much and will never forget him."
Want to honor heroes on Memorial Day? Volunteer! Find local opportunities at AllforGood.org.
Share this post