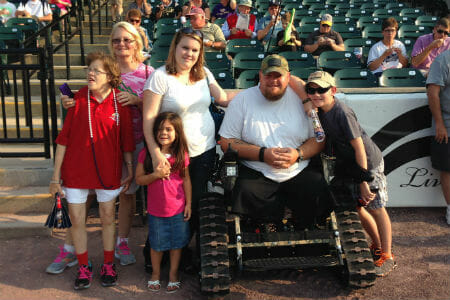 This week, in honor of Veterans Day, we celebrate the men and women who have served our country and those who are striving to make a difference in their lives. Meet Daily Point of Light Award honoree, Kate Fisher.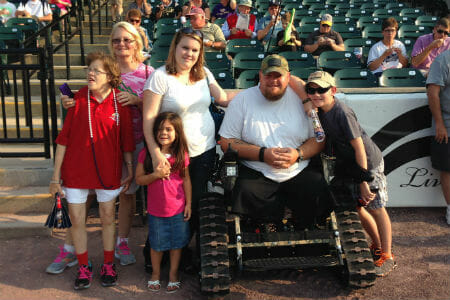 Kate Fisher, upper left, participates in a LEEK Hunting and Mountain Preserve fundraiser, joined by volunteers.
Military families understand the challenges that face veterans who are recovering from war-related traumas, visible or otherwise. Kate Fisher, whose husband served in the Army for 27 years, knew she could help, dedicating her life to boosting the confidence of wounded and disabled veterans through therapeutic outdoor activities.
Fisher's family founded the nonprofit LEEK Hunting and Mountain Preserve, which leads wounded warriors on fishing and hunting expeditions on 278 acres in Oswayl, Pennsylvania.
As LEEK's coordinator, Fisher operates under the principle that we should encourage our wounded heroes to focus on their abilities instead of their limitations, and to encourage them to discuss openly the issues that many of them face.
"I would not be able to do my work that I do for LEEK without the hundreds of people who work with me," Fisher says.
LEEK's volunteers cook meals, do building maintenance and provide transportation for participating veterans to and from the preserve, often directly from the medical facilities where their rehabilitation takes place. The volunteers take the vets on hunts, some of which last almost a full week and usually end in pheasant and venison feasts.
The vets who visit the property come from all over the country. One recent hunt included vets from Mississippi, Alabama, South Carolina and New York.
Fisher spends most of her time doing outreach to garner support for the nonprofit. The group has started the first phase of establishing a multipurpose facility that will include a kitchen, a mess hall and a cozy meeting area.
Recently, Fisher was walking with her daughter behind a couple of new arrivals fresh from a hunt; the men were laughing and sharing inside jokes with each other. Kate began to smile, and her daughter asked her why. Fisher replied, "I'm smiling at the laughter, because the healing's begun."
LEEK has been healing to Fisher and the volunteers, too.
"I believe that human nature wants to help, we just don't know where to go," Fisher says. "When you find a cause, and it lights your heart afire, it's a wonderful thing. You get joy out of it."
Share this post