Kaupo Villager Turns Personal Tragedy into Mission to Help Others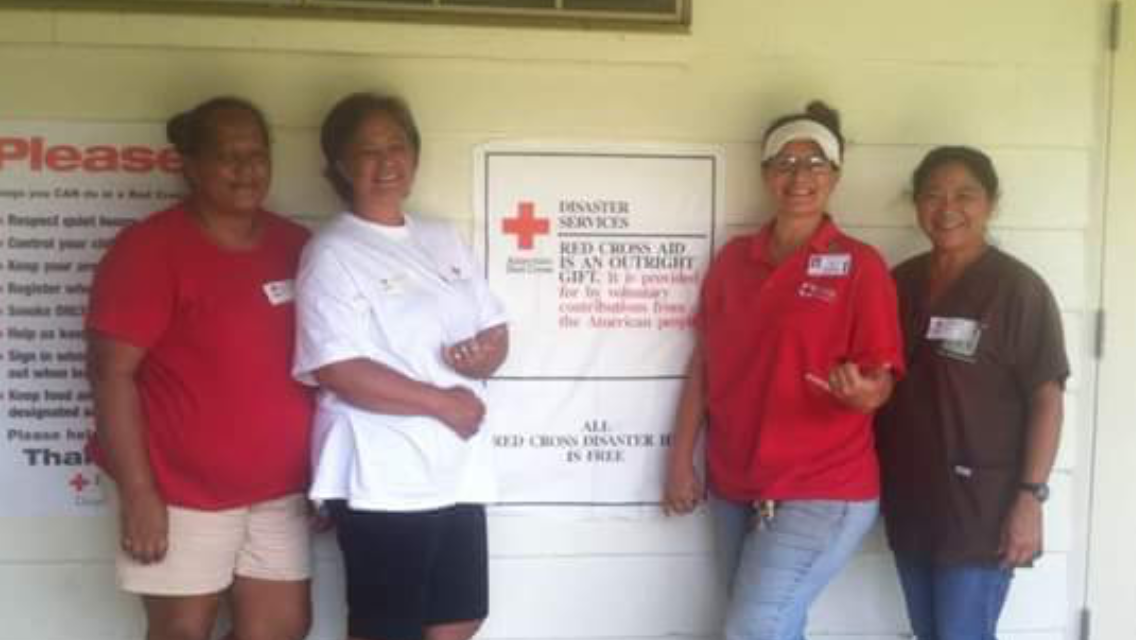 J. Alohalani Smith knows personal tragedy firsthand. Living in the remote Maui village of Kaupo, a faulty propane tank burned down her entire house in 2005. She and her husband had three small children at the time and needed to rely on others for help. "It gave me a greater appreciation for my community," Alohalani said. The American Red Cross was also there to help with resources in addition to family and friends.
Alohalani's family was slowly rebuilding their house when a 6.7 magnitude earthquake struck East Maui. The earthquake cut off access to Kaupo for two years.
Again, it was the Red Cross that came to help, was flying in fuel, water and food.
It was through her own personal tragedies that inspired her to volunteer with the Red Cross. Now as a seven-year Red Cross volunteer, Alohalani is a shelter lead coordinator for Molokai, Lanai and Maui. She helps to open shelters and leads logistical planning should a disaster hit the area.
She has also worked in shelters on disaster teams for Hurricane Harvey, Irma and Maria. In addition to offering a safe space and distributing resources, Alohalani provides comfort in time of need.
"I can remember at a Florida shelter walking past a woman in a wheelchair crying," Alohalani said. "I stopped and talked to her. I told her I knew how she felt, as I had been there too. I listened to her and shared my story. Sometimes people just need someone to help push them forward. I am thankful I can help others, because I have been there."
She says one of the most rewarding parts of her volunteer work is seeing people rebuild their lives.
Alohalani's Red Cross volunteer role also involves sitting at the table with national and local agencies planning communications and services for future mass disasters. "It is not a matter of if a disaster hits, it is when a disaster hits."
She says it is important for others to give back because life is so unpredictable and you never know when your life will come to the lowest point and you will need someone to help pick you up and move forward. "Giving back helps you be a better and stronger person," she said.
Alohalani gets emotional as she recounts the early humanitarian work of Princess Ka'iulani and the Hawaii Red Cross that began as early as 1898, when 300 women cared for sick and wounded soldiers in route from the Philippines during the Spanish-American War. She is proud to be part of that heritage.
As she puts on her American Red Cross vest, she says it makes her proud to serve and work with others who have the same passion for helping others.
Alohalani has learned just how fragile life can be and how important it is to help service those in need. Just this month, she was deployed to help assist with the Hawaii volcano eruption, Kilauea.
She says when she looks at the American Red Cross flag, she remembers Queen Liliuokalani who sewed a Red Cross flag that soared above Iolani Palace during World War I while volunteers rolled bandages in the Throne Room. The Queen said, "The flag is an expression of my warm and hearty sympathy with the cause of humanity and an abiding faith in the work of the patriotic women in Hawaii."
This description is an accurate representation of the warmth and sympathy Alohalani brings to her volunteer work every day.
This post was written by Karen Cohen.
Do you want to make a difference in your community like J.Alohalani? Visit All For Good to find local volunteer opportunities.
Share this post