"Lasagna Love" Sparks International Volunteerism to Feed Half a Million Hungry Amid Pandemic
Meet Daily Point of Light Award honoree Rhiannon Menn. Read her story and nominate an outstanding volunteer or family as a Daily Point of Light.
Rhiannon Menn was at home in San Diego, California when her community started shutting down because of the COVID-19 pandemic. The mother of three says when she realized how many people were truly struggling and going hungry, she evaluated what she could offer.
"When everything shut down, I felt incredibly helpless," says Rhiannon. "There were no volunteer opportunities because everything was closed. I love to cook and genuinely felt I needed to do something because there were so many people hit hard in the early days. Cooking to me made sense, so much to my husband's chagrin, our kitchen was a disaster for months straight. There was sauce on the walls, cases of noodles everywhere I could store."
As the founder of Lasagna Love, 38-year-old Rhiannon, now of Kihei, Hawaii, is helping thousands of volunteers across the United States and internationally to positively impact their communities through homemade meal delivery. First posting about her initiative to help families in need on Facebook groups during the pandemic, the organization has since facilitated the delivery of more than 120,000 lasagnas, with 20,000 volunteer "chefs" feeding nearly half a million hungry mouths. Helping to deliver nourishment during a worldwide crisis and strengthen community bonds, Rhiannon says lasagna is really just the start of how she's uniting communities.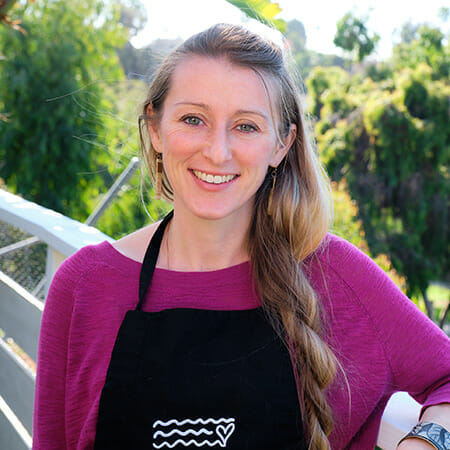 "Lasagna to me is comfort food you bring to someone when they're going through something, whether it's a celebration or something hard. It shows love and comfort and I wanted to deliver that in addition to delivering a meal. Many people use their own lasagna recipe, but at this point, some people don't even use lasagna anymore. We empower people to cook what their comfort food is. (Our volunteerism has) become about kindness and putting kindness into our communities. That's at the core of what we're doing."
Connecting neighbors with neighbors, Lasagna Love matches families/volunteers to other families nearby or in their communities who are in need of a meal and kindness. As there's no age requirement for cooking up kindness, Rhiannon says she has volunteers of all ages, including an 8-year-old chef who spotted a news segment about the organization on TV, and asked her mom to join the effort. Even getting her children, daughter Cimorene and son, Moseah involved, Rhiannon is seeking to eliminate stigmas associated with asking for help, particularly with other moms when it's needed the most, she says.
"Early on, a mom reached out because her family's fridge was broken. She couldn't afford to have it fixed because she had lost her job due to the pandemic. She was taking care of her six-month-old baby, mother and sister, and told me she'd been eating ramen noodles for two weeks. My heart just broke. I remember driving up to her house and seeing the white fridge right outside her door and just wanting to do more. I tried to bring a lasagna to this family at least once a month in the beginning, and I would drop off extra baby food pouches for her daughter. That story stuck with me and stories like that are what keep me going, even when I'm exhausted and things are crazy."
Amidst the craziness, Rhiannon says her lasagna recipe is one thing that remains consistent: a blend of turkey and brown beef, sauce from scratch, cheese and two secret ingredients: grated zucchini and yellow squash. It's her recipe for spreading kindness, love and care during such an unpredictable time, says Lasagna Love volunteer Angela Rosenblatt, that is constantly evolving to positively address hardship around the world. Angela, a San Diego, California resident and one of the original Lasagna Love chefs, has made around 1,500 lasagnas with her 6-year-old daughter since the start of the pandemic.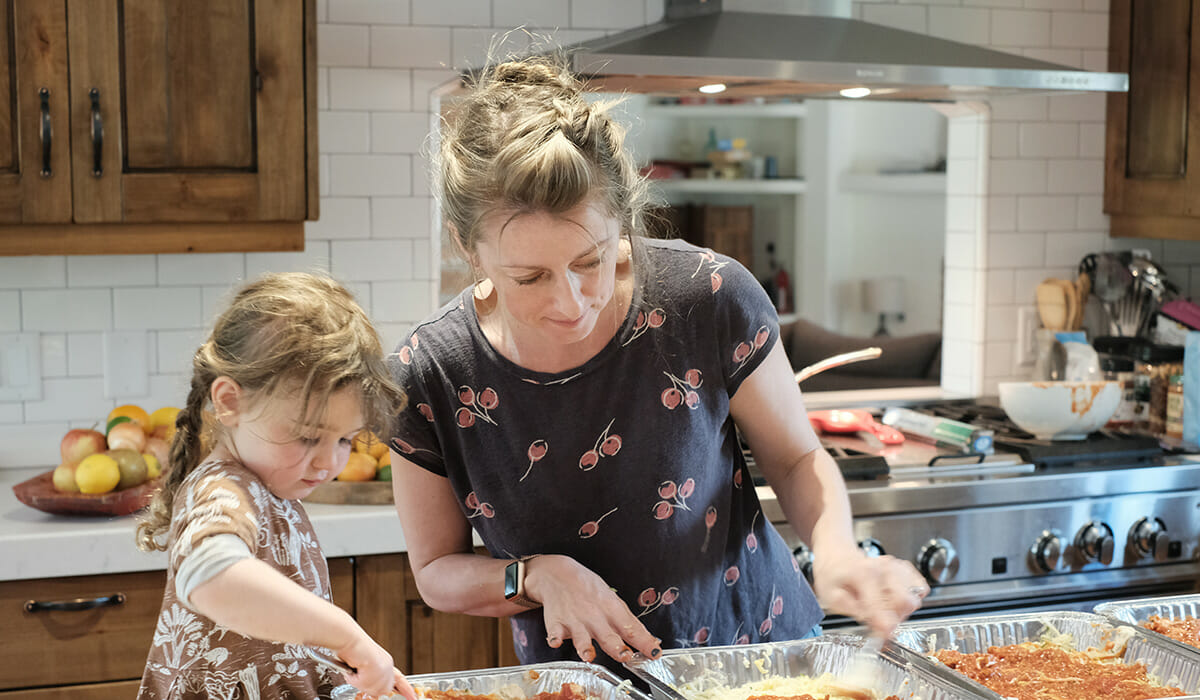 "People were really struggling, and in the midst of time where people were facing food insecurity and insecurity overall, Rhiannon was able to confer hope to people," says Angela. "The world was in absolute turmoil for many reasons, and a simple opportunity, somebody you don't even know is able to provide a meal to you, and they care enough to buy something tangible for your family, is really impactful. (It's a) trickle down impact, one person shows kindness, so what other ways can we show kindness in our community."
Her heartfelt volunteerism has made a tremendous impact with families in need, and is changing the lives of recipient families and volunteer families alike. Just as rewarding, Rhiannon says, is how personally fulfilling her service is, as she helps others and shares a lasting experience with her own family about the importance of giving back.
"(My daughter,) this adorable little girl, learned how to layer noodles, and learned how to help people when they needed it most. We'd talk about it in the car, about how some kids didn't have dinner to eat that night, and what it meant to help families that were struggling. It makes my heart feel full and it gives me hope because I know from talking with (recipients of our lasagna) that it's not just the meal, it's that a stranger would provide that random act of kindness, that gives them a feeling of love and hope. And I think that's just as important as the meals we're providing. That kindness we're putting out into the world has a huge impact."
Do you want to make a difference in your community like Rhiannon Menn? Find local volunteer opportunities.
Share this post