Launching a Nonprofit with the Mission to Aid Unhoused Populations in Ohio and Beyond
Meet Daily Point of Light Award honoree Diannah Pennyman. Read her story and nominate an outstanding volunteer or family as a Daily Point of Light.  
Diannah Pennyman has been volunteering in various capacities for most of her life. But in recent years, this Winchester, Ohio resident has elevated her service by establishing her own nonprofit, The Imani Center. Now, Diannah spends most of her weekends packaging up hygiene kits and other items for unhoused individuals and setting up tables to pass these kits out to people within her community. 
Read on to find out what inspired Diannah to start The Imani Center, her future goals for the organization and how you can get involved with its mission. 
Describe your volunteer role.
My service goes way back. I don't remember specifically where I started; volunteering has always been a part of who I am. I can remember when I was younger, volunteering on a teen suicide hotline in the local area. The Imani Center just kind of evolved out of all those experiences. I lived in Atlanta and volunteered at a shelter there. I can't even explain the experiences there – I saw the best examples of giving. 
I live in Ohio now, and The Imani Center just kind of sparked from a project I was working on. I was finishing my graduate studies and had just finished a strategic planning class. One of the final projects was to create a nonprofit. I remember being so scared, but it made me face my fears. When I realized my nervousness was coming from tapping into all my fears and my dreams, I realized at that point that it was a God-given dream within me that I had to trust.  
For the project, we had to write a mission, a vision and a strategic plan for five years and 10 years for our nonprofit. Often as adults, we have things we want to do but we don't think we'll be able to, for whatever reason. I challenged myself to start by just writing out the plan for the center as if there were no limitations. And it was hard because of these fears!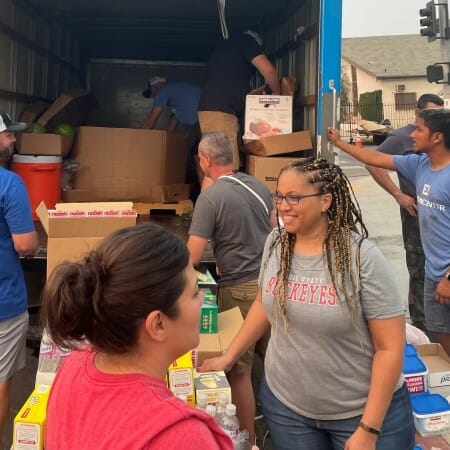 Now the name is special. Imani means "faith" in Swahili. It's one of the seven principles of Kwanzaa; it's the principle for the seventh day. It's about believing in your community, believing in your leaders, believing in your people. So The Imani Center was born. And it's a statement of faith. It's a journey, and I'm learning. We're not where I want us to be five or 10 years from now – we're operating out of my garage – but it will grow. 
What kinds of things does The Imani Center do for the community?
It started off small. I would go to The Dollar Store and just pick up some deodorant, some tissues, some toothpaste. I'd create these little bags to have in my car – most people call them blessing bags. So instead of giving money when I stop at the corner, I can give out this blessing bag. I was also involved with outreach at my church. And groups of people at the church started doing these blessing bags to give out to unhoused people.  
Then we started this blessing box project. I got my church to start doing it too. You host one of these blessing boxes, and the concept is to leave non-perishable food, or household items, or baby supplies like diapers. It's an honor system: leave what you can, take what you need. We started this in an area that's considered affluent, so I didn't know if it would go well, but it stays constantly replenished. There are people in need and we don't even realize! 
Eventually, I started The Imani Center after I got an A on my project. We go wherever we see a need. Typically this means street corners with a lot of homeless camps, usually in an open lot. We pull out a table, set things up and hand out blessing bags. Over time, we started realizing we needed to break down the bags a bit more. We want to be good stewards of the resources we're giving. And we noticed that not everybody was needing everything in each bag. So now we have a sock kit. A dental kit. A shaving kit. And so breaking these donations down into smaller kits works out really well in terms of minimizing waste. 
We give candles, blankets, coats and shoes in colder weather. We partnered with a local pantry to set up there, and we're continuing to build partnerships with other local nonprofits. 
What keeps you volunteering when you face challenging times?
We've been out in rain, snow, single-digit temperatures. It's hard. But you keep the perspective of the fact that you're out there for an hour, an hour and a half max. Then you're going to get into your warm car and then you're going to go to your warm house.  
I feel that The Imani Center is my purpose. It's something bigger than me. I work full-time. I was in graduate school when I started the nonprofit. I was trying to build this organization, and it's a lot to think about. How do you get a solid financial structure? How do you get a good team in place? What keeps me going is thinking about the people we've helped. Delivering a bowl of chili to someone in a wheelchair. Talking to people who just want to have a conversation, just want to be seen. I know what it's like to feel lonely.  
This mission is bigger than me. And don't get me wrong – there are times I want to give up, but there's always something that happens that encourages me, right in that moment. I have no volunteers that day, and suddenly someone texts me because they saw a post.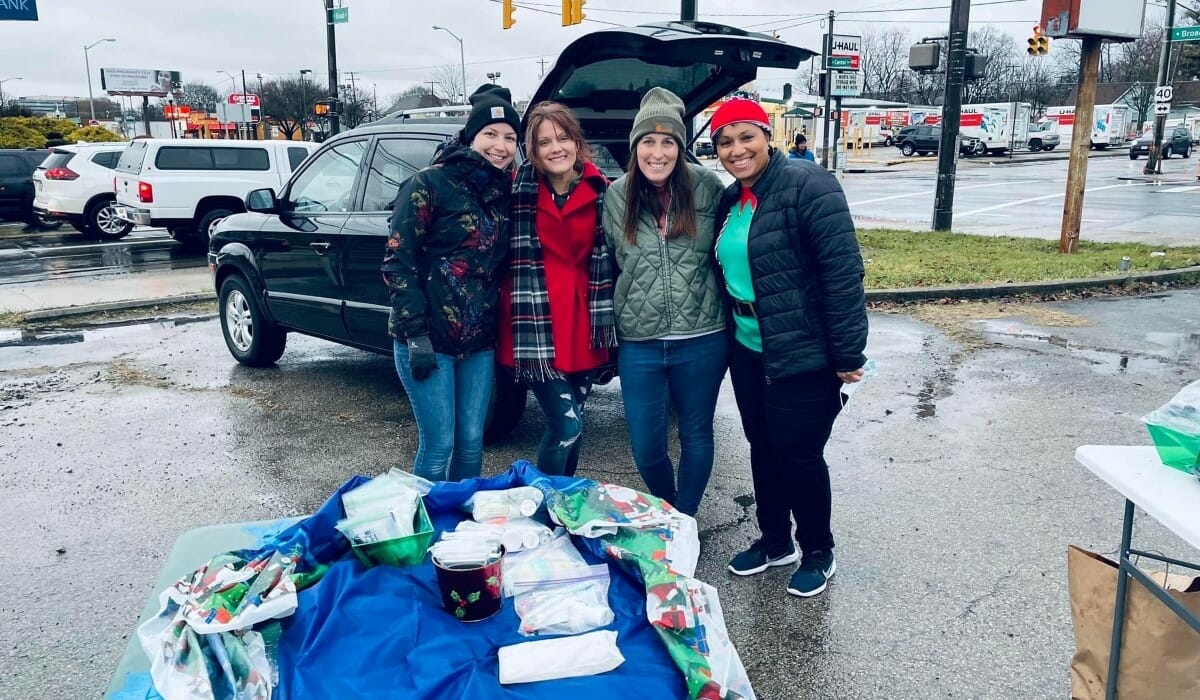 Any rewarding stories from your work?
When I lived in Atlanta, at the shelter where I volunteered, there was a man who was freezing. In this shelter, you had to sign up, and it was a first come, first serve policy. One man was on the list, he was next, but he gave up his spot to someone who needed the meal much more than him. He gave up his spot for this other man to have the meal, which meant that he had to sleep outside. Many times, I left heartbroken and crying. You see so many people in need. You're seeing people at some of the most vulnerable times in their lives. It really left an impression on me. 
We see men who are sleeping at the bus stop. Women with no shoes, who we strongly suspect are being trafficked. And we've also met a lot of people who don't fit the stereotype of homelessness. There are families. There are children. There are many faces of homelessness.  
Little things make a big difference. People come from their campsites because they've heard that we have a certain item that they need. Giving a man a razor and a little pack of shaving cream, and he tells us that it's just what he needs because he has an interview the next day! These are the rewarding stories that keep us going. 
Anything you're looking forward to in the future?
At The Imani Center, our goal is to eliminate homelessness, but we know that may not be possible on a broad scale. So instead, we help eliminate homelessness for one person, one family at a time. We equip one individual at a time. Homelessness is an issue globally, so one organization is not going to be able to end it on its own. We want to make a dent in homelessness. 
Our goal is to have a transitional housing facility, a financial literacy program, a charging station for phones, GED classes. We hope to have job prep. These things will come in stages, but we truly hope for it to become a full-service center that helps people live in a healthy state, in a safe environment. We want to help them live physically, mentally and emotionally well. We're still looking at what all this will look like, what relationships we will need to build with other nonprofit partners.  
We're continuously asking unhoused people what they need so that we make no assumptions. We don't know what's best. We ask, "What's meaningful to you?" We don't want to give them something that isn't impactful. They voice to us what they need, and we can design The Imani Center around those needs. 
What's your advice for people who want to start volunteering?
Some of it is just stepping out and doing it. When people finally come and volunteer, they often say, "Wow, this is so much more than I thought it would be." So just doing it, even when you're going through a tough time. Sometimes you get so much more out of it than you give. I've gotten so much more out of mission trips than I even gave. Volunteering gives you so much more perspective.  
I'd encourage people just to do it. Find what your passion is. At The Imani Center, we try to ask people what they like, what they're good at, and then create the volunteer experience they're looking for. Find something that works for you, something you can be committed to. 
How can people help?
We do have an Amazon Wishlist that goes directly to the organization. As another way to contribute, people can make cards – a great activity to do with kids – and mail them to us to include in the blessing bags! Homemade cards give the messages of "you are loved" and "you are seen."  
We have financial needs, so we always appreciate donors. And we can make a dollar stretch far! We're looking for nonprofit partners. 
In terms of the organization, we're looking for someone who's great at social media. We're looking for someone to help with our website. There are so many needs! You can contact us via our website. Everything helps. 
Do you want to make a difference in your community like Diannah? Find local volunteer opportunities.  
Share this post