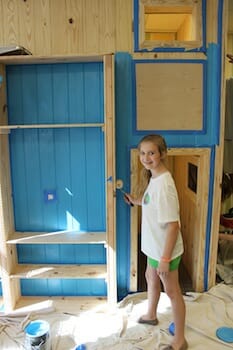 Meet Laura Grace Henry, today's Daily Point of Light Award winner. Read her story and nominate someone you know as a Daily Point of Light.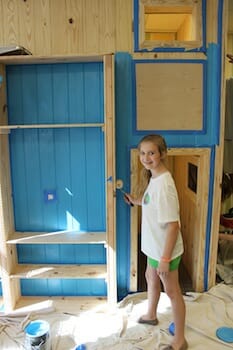 Laura Grace Henry paints a kids' clubhouse at a center for domestic violence victims.
Laura Grace Henry of Prattville, Ala., began volunteering when she was just 5, when she heard about the Children's Miracle Network Hospitals. The organization raises funds for 170 children's hospitals throughout the U.S. and Canada.
Laura Grace was impressed, and began going door to door in her neighborhood to raise money for the group.
"Her father and I didn't even know she was doing it," says DiDi Henry, Laura Grace's mom. "She's always looked at the world very maturely. When she sees a need, she wants to act, not step back and say, 'I wish someone would help.'"
A few years later, DiDi, who works for Montgomery County, Ala., took Laura with her to see the One Place Family Justice Center, a nonprofit that provides free assistance to domestic violence victims and their children. Laura was again impressed, but she didn't think the center's design would help kids feel comfortable.
"It was very big," says Laura Grace. "I thought that in a room like that, I'd feel sad and want to be in a more secluded place."
Laura Grace decided the center needed an indoor clubhouse for kids and set out to raise the funds. By holding bake sales and garage sales and running a lemonade stand, Laura Grace raised almost all the money for the clubhouse on her own. It was built in 2013 and opened this year. Laura Grace recruited about 25 children to help paint and decorate.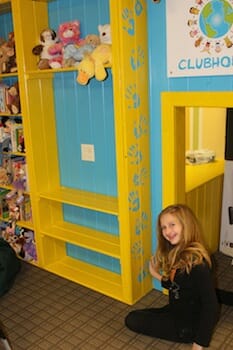 Laura Grace Henry shows the completed clubhouse at the One Place Family Justice Center.
"It looks very nice, now," says Laura Grace. "It has a TV, arts center, Xbox 360 and Wii."
Laura Grace, now 11, has raised nearly $7,000 for One Place Family Justice Center. Along the way, she was inspired to write a book, "It Starts With One! Kids Can Volunteer, Too." And in 2012, she launched her own foundation, It Starts With One, to encourage kids to volunteer in their communities.
Since she began working to help the justice center, Laura Grace has logged almost 1,800 volunteer hours, has earned the President's Youth Service Volunteer Award for four straight years and has raised $22,000 for national and local charities. For her efforts, Laura Grace has also received a Prudential Spirit of Community award and Hasbro Community Action Hero Award.
By talking to children locally and spreading her message through a foundation website and Facebook page, Laura Grace promotes community service activities children can do.
"I try to help kids find what they're interested in," Laura Grace says. "I feel that more children should step up and volunteer. They'll feel really good about the difference one person can make."
Share this post