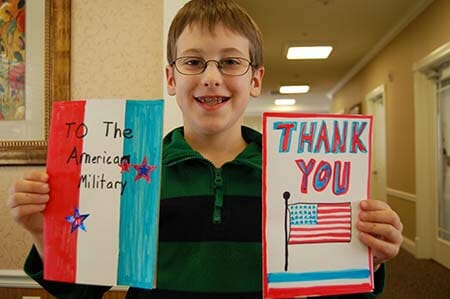 "My family came over right after the fall of Saigon," says Tran Smith, founding member of Little Helpers, today's Daily Point of Light Award winner. "We grew up without very much at all and basically had to start over." Smith remembers families she'd never met coming to their house, bringing with them toys and clothing: "For us it was such a big deal. Just that feeling that someone cared about us."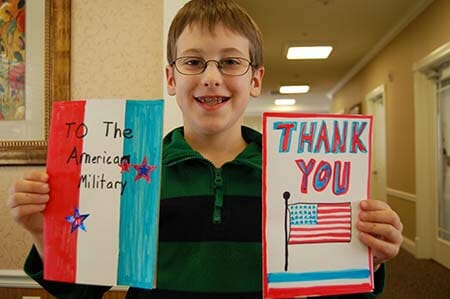 "Little Helper" Michael Landsgaard shows cards he made to send to veterans.
At the time, Smith didn't realize that the kindness of strangers would leave a permanent impression.
As Smith grew older, she found herself becoming more and more involved in charitable works, from serving on boards to doing more hands-on type service. "Feeling that sense of gratitude to what we had also opened my eyes to what so many people don't have."
The mother of two children, Jackson, 9, and Ava, 7, Smith remembers looking around at all her children's toys and thinking, "They'll never know what it's like to not have… that's a wonderful thing, but I want them to have a sense of appreciation and see their blessings."
In December 2010, Smith along with two of her friends, Kristen Terrell Landsgaard and Pat Mitchell Worley, started Little Helpers, a family volunteering group for children of all ages.
"It's more of an idea, like a movement… a kindness movement to teach children and to become good adults."
Little Helpers is designed to help young people understand the value of volunteering, recognize the blessings in their lives, broaden their community perspective and feel the sense of accomplishment received from lending a helping hand.
"On average we have about 30 kids involved per project," says Smith, who at the time lived in Memphis, Tenn., "the ultimate goal of the program is to raise confident children who see giving back to the community as a normal aspect of their lives."
With chapters across the country including cities in New York, Colorado, Tennessee and North Carolina, Little Helpers, has plans to expand and is currently planning a program in Atlanta, Georgia.
The group has been recognized with proclamations from New York State Senator Ted O'Brien, Memphis Mayor AC Wharton and Shelby County, Tenn., Mayor Mark Luttrell.
"My goal has never been to make it big. It doesn't matter to me if there are two families or 200 families," says Smith, "We're simply a family volunteer group."
Share this post
---