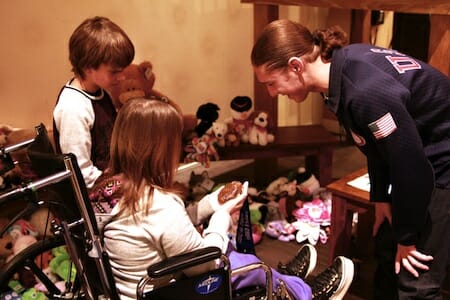 Meet Daily Point of Light Award honoree Jason Brown. Read his story and nominate an outstanding volunteer you know as a Point of Light.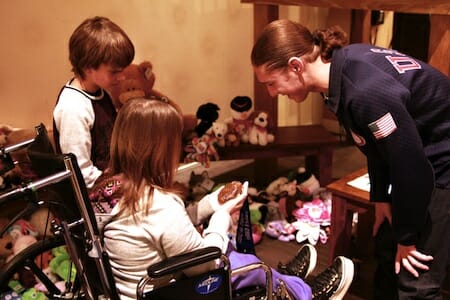 Jason Brown, right, shows his Olympic medal to children staying at a Ronald McDonald House in Chicago in November.
After figure skater Jason Brown competes, fans show their adoration by tossing stuffed animals on the ice.
With those keepsakes in hand, the 20-year-old Olympic bronze medalist recently showed his admiration for sick kids. He visited Chicago and Winston-Salem, N.C., locations of the Ronald McDonald House – which provides families of seriously ill children in treatment a place to stay close to the hospital – to donate the stuffed animals and visit the children.
"Being part of something bigger than me is really important," says Brown, a 2015 National Figure Skating Champion. "There's nothing more amazing than knowing that something you are doing is helping people, especially children when you see their smiling faces and hear their stories. And they inspire me to do more."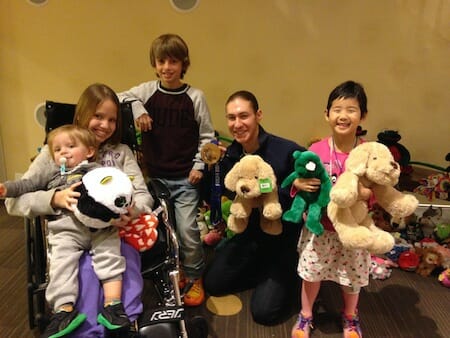 Jason Brown, center, delivers toys to children staying at a Ronald McDonald House in Chicago in November.
From renovating schools in need with Chicago Cares to spending time with Alzheimer's patients at nursing homes, Brown's loyalty to volunteer service began when he himself was a kid.
His involvement with Chicago Cares, part of Points of Light's HandsOn Network, started when his older sister wanted to do something more meaningful than a traditional party for her bat mitzvah, a coming-of-age tradition for Jewish girls (bar mitzvah for boys).
With the help of their parents, his sister set out to help renovate a school through Chicago Cares and have the party – complete with a DJ – in the school gym as the guests finished the project.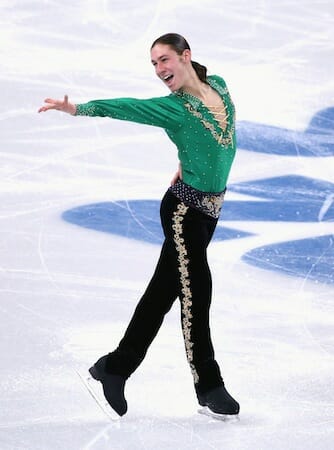 Jason Brown performs in the 2014 Winter Olympics.
"I was so inspired that I did the same thing for my bar mitzvah, renovating another Chicago school – Shiloh Park Elementary School in Zion – through Chicago Cares," Brown says. "It was so cool to see 300 guests pitching in to make a difference at the school by painting hopscotches, designing murals, planting flowers and creating mosaics. And we had the wonderful opportunity to meet the principal and the teachers who were so appreciative of the work we did and the positive influence the renovation would have on the children."
A native of Highland Park, Illinois, a Chicago suburb, Brown grew up in a family that believes in the power of volunteerism as a way to bond while helping others.
"I love when people come together for a cause," he says. "No matter what you do for a living, what your background is, how old you are, how young you are – volunteering brings everyone together as one, as a community. It's teamwork at its best."
Share this post