Louisiana Family Affected by Flooding Continues Giving Back to Those in Need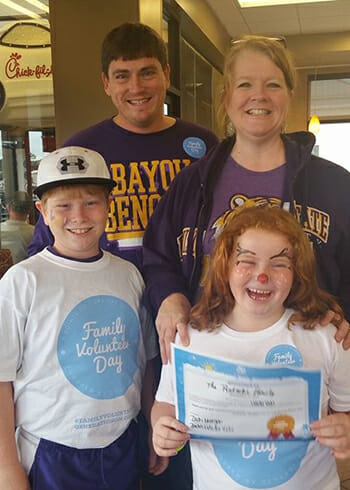 In honor of Family Volunteer Day, Nov. 19, Points of Light and Disney are recognizing families with the Daily Point of Light Award. Meet today's winning family, the Rutecki family of Denham Springs, Louisiana, and nominate someone in your community.
Growing up, Melanie Rutecki's family owned a small business, so they were always finding ways to give back to the community and get involved. When she and her husband, Kenny, started their family, they knew giving back would be part of the way they raised their children.
In 2013, their son Andy's friend started a charity called Lidz for Kidz, which raises funds and collects hats for children at St. Jude Children's Hospital and local clinics. The Rutecki family immediately got involved. Andy was 9 years old at the time, and his 5-year-old sister, Molly wanted to get involved, too.
"We've been so blessed to be included in Lidz for Kidz from the beginning," said Melanie. "From the first hat drive and holiday wrapping party, it's given my children perspective on how difficult life can be for some kids. To see these situations has made them more empathetic, it really pulls on their heart strings."
Every year, the Rutecki family has been involved with multiple Lidz for Kidz events, including Family Volunteer Day.
Melanie said volunteering together has not only given her family the opportunity to lead with their strengths but also to develop new skills. Melanie is creative, and loves working on face painting and crafting at events. Andy, who Melanie describes as giving and gentle, loves working on programming and helping support those most in need. Molly loves chatting with other kids and making them feel included, while Kenny comes out of his shell and takes a leadership role when they volunteer.
"It's amazing to see the whole family blossom," she said. "Volunteering is an event for the whole family, and we all look forward to it."
Zach Morgan, the founder of Lidz for Kidz, couldn't be happier to have the Rutecki family supporting him and his organization. "I can always count on them," said Zach. "They are always willing to help out and do whatever is needed to make each and every Lidz for Kidz event fun and successful."
Their community faces even greater needs this year after the severe flooding in Louisiana. In fact, the Ruteckis were severely impacted by the floods and currently reside in a camper outside their home while they work to repair the water damage.
Despite their current situation, they haven't slowed down on their volunteering efforts.
"To tell the kids 'I know we don't have our house but look at what we are still able to give' becomes a strong story to tell your family. Ten weeks in a camper, we still are positive and know we will still be so active in Family Volunteer Day because it gives the kids perspective, a way to relate to the world. It helps center yourself," said Melanie. "No matter where you are, you can always do something."
See how your family can get involved on Family Volunteer Day.
Share this post