Family Starts Bi-Coastal Nonprofit, Donating More Than 40,000 Books to Kids in Need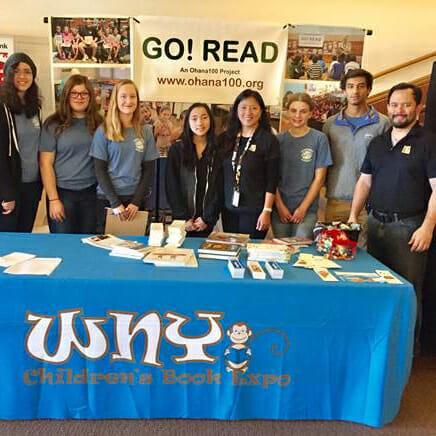 In honor of Family Volunteer Day, Nov. 19, Points of Light and Disney are recognizing families with the Daily Point of Light Award. Meet today's winning family, the Mattson family of Clarence, New York and Honolulu, Hawaii, and nominate someone in your community.
When Elizabeth and David Mattson started a generationOn Kids Care Club, Kids Doing Wonderful Things, with their daughter Catherine a few years ago, it was to encourage their children and their children's friends to share books and the experience of reading with other children. Elizabeth never imagined it would turn into her running a full-time, bi-coastal nonprofit organization.
As the founders of Ohana100, which is dedicated to promoting literacy in underserved areas in both Western New York and Hawaii, the Mattson family is doing just that.
"I consider myself an advocate for kids," Elizabeth said. "I didn't expect my family to have our own nonprofit, but I saw a need and started to fill it. There's a huge need; we serve populations in dire need of support, including Title 1 schools, poverty stricken areas of Hawaii and rural areas in New York."
While splitting time between Hawaii and New York, the entire Mattson family has made this dream a reality. Elizabeth's sister, Rose, lives in Hawaii and manages the operations there, including collecting and storing books for donation, and managing their volunteers who read to students weekly. Elizabeth's now 22-year-old son David Matthew, was involved heavily in Ohana100 as part of his community service at the University of Hawaii. Now, as a member of the U.S. Coast Guard, he continues to support the organization by making connections with the community.
Elizabeth's daughter Catherine has taken a starring role in the organization. Though she's only in 6th grade, she now leads the Kids Doing Wonderful Things club, working with her friends to collect and distribute books, and reading to kids. This year alone, Catherine has read to more than 500 children. Catherine also joined Elizabeth on a trip to Cuba and the Philippines to distribute books to young students.
The family has truly started a movement. The volunteer-run organization has provided more than 40,000 books to kids in need. In New York, volunteers between the ages of 70 and 87 currently read to 100 kids each month. In Hawaii, an army of volunteers ages 5 to 92 are reading to more than 750 kids each month.
Elizabeth said anyone can get involved, you're never too young or too old. Ohana100 is currently working on a program at an inner-city school in Buffalo, New York, where children read to each other. She believes sharing the importance of reading and giving back can never happen too early.
"Helping people is something you have to learn," said Elizabeth, who says she was inspired by her own grandfather's lifelong commitment to service in Hawaii. "You have to show it to your kids. It's important to instill those values early in life, because it's not something that comes naturally, especially to children. In order to make this world a better place, we need to get kids involved earlier."
When asked which moments have stood out the most, the family agreed it's the response from the kids when they receive their very own book. "To see their excitement when you say, 'This is yours to keep, it's your book forever' and their eyes light up, it just tugs at my heart," Elizabeth said. "I've seen it in so many places, and it just shows me the true need. And there's so much more to do."
The Mattsons encourage others get involved. "There is always a child in need for someone to read with them," said Elizabeth.
Catherine echoes her mom's sentiments, making a crystal clear call to action: "Pick up a book and go read!"
See how your family can get involved on Family Volunteer Day.
Share this post