New York Family Volunteers Together, Finding Projects That Fit the Passions of Each Member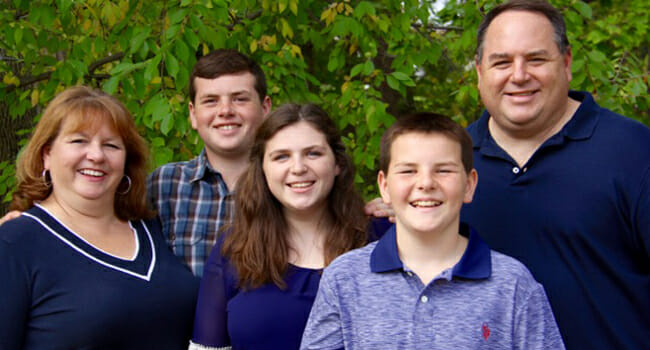 In honor of Family Volunteer Day, Nov. 19, Points of Light and Disney are recognizing families with the Daily Point of Light Award. Meet today's winning family, the Martini family of Nanuet, New York, and nominate someone in your community.
As the Martini family starts sharing their volunteer experiences and favorite moments, it's clear that a passion for helping others is deeply entrenched in their family.
"We volunteer for so many organizations," Sharon Martini said, recounting stories of volunteering adventures with her husband Mike and their three children, Katie, David, and Dylan. "We do a lot as a family, but we volunteer for many different things that include everyone's passion."
The family is very active in the Girl Scouts and Boy Scouts – all three kids are scouts, and both Sharon and Mike are troop leaders. They do midnight runs to feed the homeless in New York City, preparing and serving hot meals to more than 140 people so far. They are very involved in their church and youth group. And, as a former director of programs and services for Meals on Wheels Rockland, Sharon has gotten the children involved there as well.
In addition to the work they do together, Sharon and Mike encourage the kids to follow their own passions, too.
Katie, 17 years old and in her last year of Girl Scouts, recently completed her Gold Award project, focusing on gender inequality in the work place. The project was such a success she was chosen to represent the Lower Hudson Valley region as a delegate at the Girl Scout's national convention.
Sixteen-year-old David recently completed his Eagle Scout project, planning and completing a cleanup effort at a local school. "There were all these over-grown bushes, which were not only ugly, but plagued with bees and poison ivy, so they were dangerous and we had to take care of that for the school," he said. "We cleaned up the whole area to make it safer and more beautiful."
Dylan, the youngest sibling, is only 12 but is already very involved in the community. In addition to being a Boy Scout, he is involved with several community projects, including helping Katie with the children's choir at church. He also volunteers with Keep Rockland Beautiful. "Once we did a big clean up and it made the area look so much better," Dylan said. "Every time I drive by there I think, 'I did that.'"
Sharon said a lot of her passion for giving back comes from her parents. "We just always volunteered, it was just something that we always did growing up, and we were just doing. It was just part of our lifestyle. It's trickled down to Michael and I teaching our children about doing the right thing and giving back in the community."
"The true genuine kindness that radiates from this family is amazing," said Elena DeForest, volunteer vanager at Volunteer New York "Sharon and Michael do not treat volunteerism like a lesson they need to teach their children, but rather, giving back is a part of who they are as people and that has led them to raise children who have naturally learned the value of giving back, and who have taken their own paths to volunteering as well."
They all agree they love how volunteering makes them feel, whether they're doing it together or supporting their own projects.
"When I'm volunteering at Meals on Wheels, I'm thinking there are people that are actually depending on me to make their food," said David. "It just takes a few hours on a Sunday but makes a huge difference in people's lives."
And the biggest benefit, according to Sharon and Mike, is to see how their children have grown and changed.
"When you see your kid put in a role and they have to take leadership of something and you see them do it and succeed, it's so rewarding," Mike said. "It's amazing to see them change the world."
See how your family can get involved on Family Volunteer Day.
Share this post